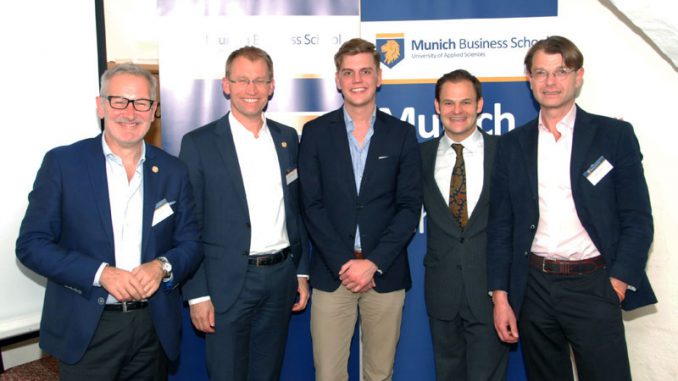 How can companies overcome the already present and still increasing talent gap in business management? What do today's talents attach importance to when thinking of life in general and work in particular? What options are there to acquire talent that perfectly fits a company's needs? "The Future of Talent" – that was the motto of the recent MBS Dine & Discuss event on March 12.
The event was held for the 19th time already and took place at restaurant Hofer – der Stadtwirt, located in the city center of Munich right next to Marienplatz, in a cozy, classy atmosphere. More than 50 people had gladly followed the call by the organizers, Academic Program Director MBA General Management Prof. Dr. Marc-Michael Bergfeld and MBA Program Coordinator Layla Eberle: amongst them the MBS university management, MBA students, alumni as well as MBS lecturers. Additionally, the international guest lecturers of MBS Master International Week attended the event.
Two presentations focusing on "The Future of Talent" were scheduled, to be held by Marcel Rasche and Martin Franssen, both being experts from corporate practice.
To start the evening, Prof. Dr. Bergfeld warmly welcomed the wide variety of guests. Soon afterwards, the first of three courses was served, followed by the first presentation held by Marcel Rasche.
Generation Y – Who are they?
Marcel is Chief Generation Y Officer at Consulting cum laude, a management consultancy focusing on Generation Y talent. In his presentation "Talkin' bout my generation" he painted a picture of Generation Y: their needs and desires, their values and their understandings of work – just to name a few of various aspects.
According to Marcel's research, Generation Y members can be divided into six prototypes that attach importance to different ideas of life and, as a consequence, work. Surprisingly in Germany, the "Proper Conservative" prototype is very well represented amongst young talents with 30 per cent of researched people. Still, Generation Y representatives have high expectations of freedom, personal success and happiness paired with demands such as living and working in a city. Marcel also addressed upcoming challenges going along with that: How can smaller businesses located in the countryside attract young talent? How can businesses in general find engaged up-and-coming managers?
Interim Management – specialized talent
After the main course, Martin Franssen was presented as the second expert speaker. The founder and Managing Director of Interim Excellence is an experienced interim manager himself and has turned his knowledge into a business: His firm is running an online recruiting platform for interim managers and companies.
Martin presented his business model to the audience and explained how companies can benefit from specialized interim managers to cope with specific challenges: Be it a personnel gap that has to be bridged at short notice or the need for a management specialist (e.g. for developing new markets or restructuring a company) – according to Martin, professional and experienced interim managers can help companies to acquire talent that is perfectly suitable for specific business challenges.
An international view on talent
After the audience had pleasantly enjoyed both presentations, the dessert was served and discussions arose. The international guest lecturers shared their view on the topic, the experts answered various questions from the audience. Prof. Dr. Bergfeld thanked both of them for their interesting presentations and eventually said goodbye to the participants: "I hope that everybody has enjoyed an inspiring Dine & Discuss this evening. We always try to provide speakers that focus on innovative topics, just like Marcel and Martin did today. I am already looking forward to the next edition of the event and another enjoyable presentations as well as fruitful discussions."