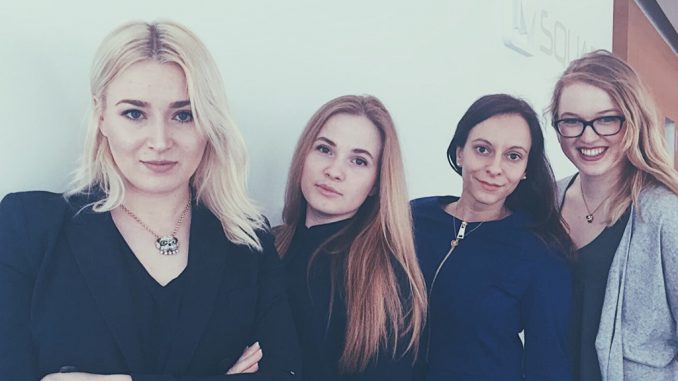 As reported earlier, a group of MBS Master International Business students of the Luxury Management concentration is currently competing in "The Mark" Luxury Business Pitching Competition, organized by MBS' partner institution International University of Monaco (IUM). The challenge features 75 participant teams with 234 students and represents 33 business schools from 16 different countries.
We are very proud to announce that one of the five MBS teams entering the contest, Team SIELU, featuring the Master students Marilla Grönholm, Iuliia Morenets, Margherita Sensale and Dana Bailey (f.l.t.r. in the image above), has entered the final round of the competition, a feat achieved by just seven teams in total.
The business idea of Team SIELU is described as follows: "SIELU is an online platform and mobile application for continuous circulation of luxury fashion pieces. We offer a library full of 'smart-casual' ready-to-wear outfits where the customer can rent an outfit with all elements included with just one click. After the outfit has fulfilled its duty, our pickup service will collect it back and put it back into circulation. We strike back against the unsustainability of the fashion industry without compromising style."
The team will travel to Monaco and, on April 25, present its business idea in front of a professional jury, including potential investors, community leaders, and other influencial personalities in the fields of premium and luxury services.
Congratulations to Team SIELU for their amazing feat & good luck for the final round!