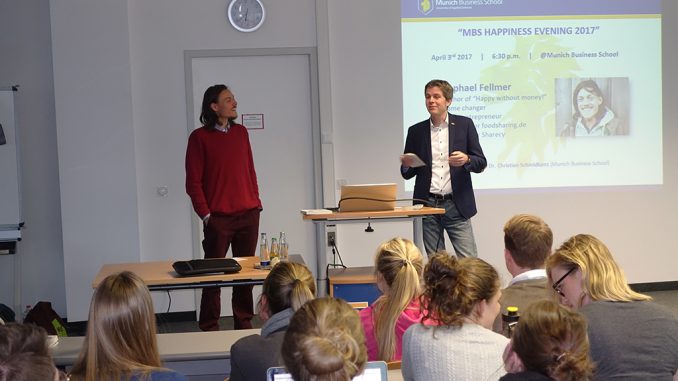 The "Success Factor Happiness" course, organized by MBS Professor Dr. Christian Schmidkonz, is not only the most popular elective course amongst Master International Business students, but most likely also the most exceptional one. A vital part of the course is the "Happiness Evening", held once per semester and featuring a special guest every time.
For the first edition of the event, Prof. Dr. Schmidkonz had welcomed a trio of "Happiness experts": Prof. Dr. Michael Bordt (Institute for Leadership and Philosophy at Munich School of Philosophy), Wolf-Ingomar Faecks (CEO Germany SapientRazorfish; President of GWA, an association of leading German communication agencies) and ZEN Teacher André Daiyû Steiner; the second and third editions featured publisher, philantropist and venture capitalist Dr. Florian Langenscheidt and Emilie Normann, the Vice Consul of the Danish Consulate General in Munich, respectively.
"Money Refusenik" and Foodsaving Pioneer
The special guest of this year's edition of the "Happiness Evening" event held yesterday at MBS was Raphael Fellmer. Raphael has become famous for being on a five-year money strike from 2010 to 2015, aiming to raise awareness for global issues such as hunger and environmental destruction (you can download his book on this experience,"Glücklich ohne Geld", here; free of charge, of course, but German only). Furthermore, Raphael is the co-founder of foodsharing, a non-profit initiative dedicated to save and share surplus food across Germany, Austria and Switzerland. Just recently, Raphael has established the social business start-up SirPlus (to date named Sharecy) which facilitates the connection between the different actors of the food value chain (from producers to end customers) to take part in the surplus food saving and sharing via a distinguished marketplace, an online community platform, a delivery service and other activities.
Raphael held an inspiring presentation in front of MBS Bachelor, Master and MBA students. He described the experiences of his self-imposed but happy life without money, and also provided the students with insights on his impetus: to raise awareness for the responsibility of mankind to save the planet – not only for their own, but future generations as well. In addition, he convincingly depicted how the waste of food and energy, the lifestock industry (also see this blog article by MBS Professor Dr. Chris Weilage on the topic), and other issues of the modern age take a huge toll on the destruction of planet earth.
Raphael continued his impressive presentation by sharing his experiences as a co-founder of foodsharing and provided insights into his current project SirPlus as well as his "new life" as a social entrepreneur. He concluded the evening with a plea to the business students to approach their venues in a different manner, based on the idea of "conscious business", thus achieving their very own Happiness.
If you want to follow and support Raphael's venture, have a look on his social media channels (Facebook, Twitter, Youtube).