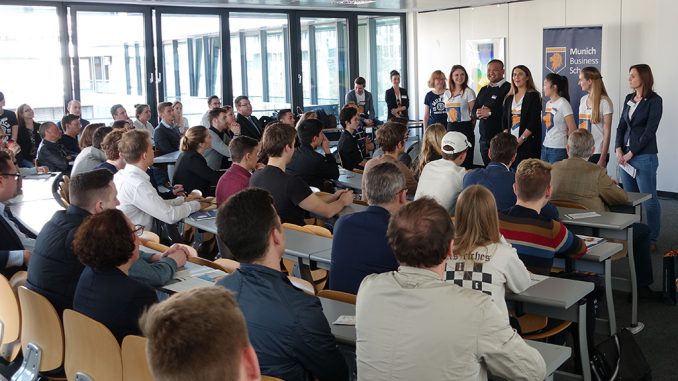 On Saturday, April 1, Munich Business School once again opened its doors for its annual Open House event. Lots of prospective students and parents seized the opportunity to experience the "MBS Spirit", take a closer look at the various study programs and get a picture of what studying at MBS is like.
To start the day, Prof. Dr. Stefan Baldi, Dean of MBS, and Daniel Hutagalung, one of the Student Representatives, welcomed the guests of the event. The then following Open House schedule featured info sessions on the Bachelor, Master, MBA and DBA programs offered by MBS, held by the respective Program Advisors and Academic Program Directors; in addition, the guests were provided with the opportunity to visit trial lectures on business topics held by MBS professors, e.g. on "Success Factors for Doing Business in China", "Leading Virtual Teams in an International Context" and "Social Entrepreneuship – Doing Well by Doing Good?".
Furthermore, the MBS International Center had lined up to present the international university network of MBS as well as the Dual Degree options, and also provided advice on the semester abroad. Two MBS students, Kathrin Stauber and Karla Rus, shared insightful experiences of their semesters abroad at MBS' international partner institutions Brock University in St. Catharine/ Canada and Universidad Finis Terrae in Santiago de Chile, respectively.
Another option for the guests of the Open House event was to take a campus tour and get a closer look at their probable future study location. In the MBS Lounge, the visitors could get in touch with current MBS students, lecturers and staff while enjoying a coffee and some snacks. Also in the MBS Lounge, the three MBS alumni Rut Sarai Abril, Nicolas Stahlhofer and Kilian Spiedt provided some insights into their professional career starts after graduating from MBS.
Munich Business School wants to thank all its guests, student helpers, alumni, lecturers and staff for a great day at MBS!