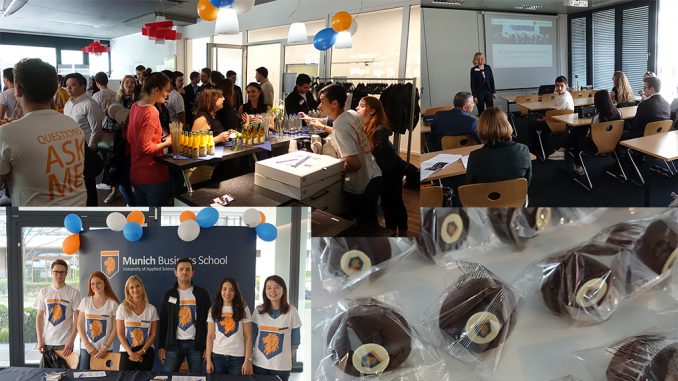 On Saturday, April 14, it was once again time for the annual MBS Open House event. Prospective students and parents seized the opportunity to experience the Spirit of MBS, take a closer look at the various study programs, and get a picture of what studying at MBS is all about.
To start the MBS Open House 2018, students of different nationalities welcomed the guests in their respective mother tongues, followed by Prof. Dr. Stefan Baldi, Dean of MBS, who provided an overview of Munich Business School in his welcome address.
Subsequently, the guests had the opportunity to attend various info sessions on the Bachelor, Master, MBA, and DBA programs offered by MBS, and visit trial lectures on business topics held by MBS professors, e.g., on "Success Factor Happiness", "Leading Virtual Teams in an International Context", and "Sports Business: Why you should stop being a spectator and get in the game!".
In addition, the MBS International Center had lined up to present the international university network of MBS as well as Dual Degree options, and provide helpful advice on the semester abroad. Another option for the guests of the MBS Open House event was to take a campus tour and get a closer look at their probable future study location.
Also present were several MBS alumni – Jessica Lechner (Bachelor International Business), Rahul Agarwal (Master International Business), Amelie Schroth (Master Sports Businss and Communication), and Christian Quack (MBA General Management) –, who shared their experiences of studying at Munich Business School.
In the MBS Lounge, the visitors could get in touch with current MBS students, lecturers, and staff while enjoying snacks and drinks in a cozy athmosphere.
Munich Business School wants to thank all its guests, student helpers, alumni, lecturers, and staff for a great day at MBS!