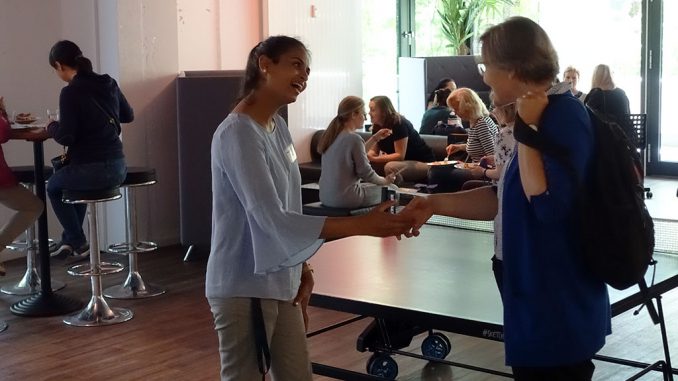 Being a genuine Munich university, MBS has always been committing to giving back to the local community. For example, MBS supports a Munich-based welfare service in the framework of its annual Graduation Gala, and MBS students have been organizing the raffle of the Munich Aids Concert for the last six years alread, raising money for the Munich Aids Help Service.
Another inherent part of Munich Business School's social committment is the MBS Social Day. Last year, MBS employees supported a local nursery by refurbishing their playground; this year, MBS was happy to support the InitiativGruppe – Intercultural encounter and education, a local welfare group dedicated to migrant education while also offering social activities and various services for other groups of underprivileged inviduals.
On Wednesday morning, MBS welcomed a group of about 30 migrant women to support them in their efforts to (re-)enter the job market. The guests were warmly welcomed by Professor Dr. Stefan Baldi, Dean of Munich Business School, followed by HR Manager Manuela Szabó, who presented MBS as an employer. After the welcome session, MBS Professors Dr. Gabriella Maráz, Dr. Barbara Scheck, Dr. Eva Stumpfegger, and Dr. Christian Schmidkonz held workshops on topics such as "Self-confident communication", "Intercultural communication", "Happiness and Mindfulness", and "Design Thinking". Afterwards, the guests as well as MBS employees came together for lunch in a pleasant atmosphere.
If you want to know more about the "InitiativGruppe – Intercultural encounter and education", and/or want to support them, head to their website.
Thank you for visiting us, it's been a pleasure to host you!