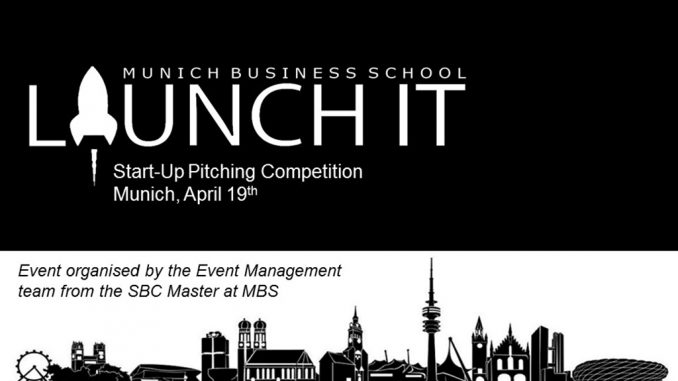 Yesterday evening, the MBS Lounge was the venue for the first ever MBS Start-up Pitching Competition MBS LAUNCHIT, organized by the Master Sports Business and Communication Event Management class. A total of seven groups of MBS students presented their business ideas in front of a jury comprising MBS professors Dr. Barbara Scheck, Dr. Todd Davey, Dr. Gottfried J. Schäffner and lecturer and founder of klarx, Florian Handschuh, as well as a supportive audience, which also had the power to vote.
The event was kicked off by a keynote held by jury member and serial entrepreneur Florian Handschuh who provided insights into his business founding experiences and encouraged the students to pursue entrepreneurial careers.
Seven Teams, Seven Business Ideas
Following that, it was about time to take the stage for the first contender of the pitching event: The student team of DigiZoo, represented by Simon Doser, showcased their business idea of an app taking the zoo visitors experience into the 21st century by providing digital tickets, route planning with GPS support, detailed multilingual information on animals and vendors and many more features.
Next was the team of ThinkIT, comprising the students Darya Navaseletskaya, Bruno Biehler and Oliver Albach. They presented their online platform that connects freelance marketeers and SMEs. By hosting marketing competitions, the platform enables freelancers to present their work to a wider range of potential customers, and at the same time, offers SMEs the opportunity to create cost-efficient campaigns by outsourcing their marketing departments.
Another team, another online platform: Nadia Häusler, Nicole Rier and Raul Wessely joined the competition with their business idea, S.O.F.A. The platform offers university professors the opportunity to allocate their excess academic work to registered students who, in return, get the chance to earn some money while working in an academic environment alongside their studies.
After a short break, Fabian Konrad of team FITFLY took the stage to present an innovative cycling helmet. The smart wearable focuses on increasing the safety of cyclers by providing a backlight function and a GPS-based SOS mode, also featuring a bluetooth connection to mobile and several other smart functionalities to enhance the joy of cycling.
Up next: Football! Minh Tran and Alexander Sichert showcased almi, a tool to analyze and scientifically calculate the performance of football players using extensive data. The product enables businesses and associations related to football to improve their match analyses, and media to step up their coverages to exploit the full potential of the gathered information.
Mr. Quark, in the person of Bastian Kout, presented a high-protein low-fat fitness drink made of natural ingredients that provides everything you need after an exhausting workout.
And last but not least, the student team of Rebecca Eble, Christine Segers, Oliver Albach, Christoph Gschwendtner-Roth and Robin Kraus came up with Recovery Shot, an anti-hangover drink created with a scientific background and based on standards of modern medicine as well as traditional Chinese medicine. Who wouldn't want to have that available after a tough night?
Time to Vote!
After the altogether great presentations by the student teams, it was up to the attending crowd and jury members to make their votes. Team S.O.F.A. was able to win the favor of the audience and prevail in the crowd voting followed by Mr. Quark and ThinkIT.
Even more important was the jury's decision as the winning team chosen by the jury will represent MBS in the University Startup World Cup  in Copenhagen, Denmark, and has the chance to be awarded with 25,000€ to further promote their business idea.
And the jury's winner, relegating Mr. Quark and S.O.F.A. to places #2 and #3 respectively, is: FITFLY! Congratulations to the team and good luck in Copenhagen!
MBS and the MBS LAUNCHIT team want to thank the sponsors of the event: Mercure Hotels, Playa Games, Red Bull and shizoo (special thanks for providing us with your freshly prepared and delicious sushi!).
Here is a video of the event (© Elena Galan Muros):