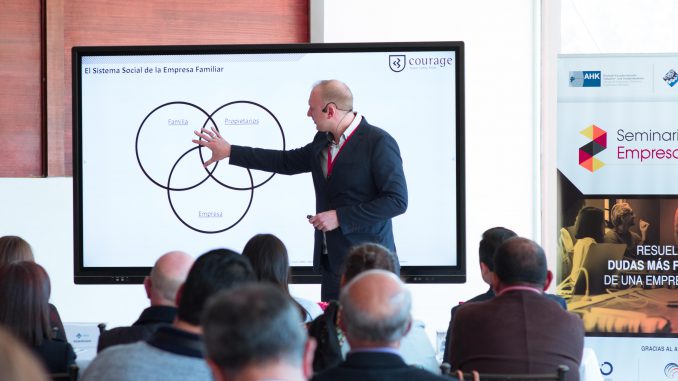 On the 31st of July the Courage Institute organized a Family Business Seminar in Cuenca together with the German-Ecuadorian Chamber of Industriy and Commerce (www.ahkecuador.org.ec) and the local Chamber of Industry (www.industriascuenca.org.ec). The event that was sponsored by PwC and ProCredit Group featured MBS lecturer Johannes Ritz as key note speaker, sharing insights on how German business families stay successful over generations. Professor Claudio Müller from the University of Chile added the Chilenean perspective of successful governance. Pablo Groeger from ProCredit Group and Jose Navas from PwC completed the presentations for the audience of over 90 business owners.
On the 1st of August Johannes Ritz and Claudio Müller also shared their experience on good governance practices with over 50 members from business families in Quito during a breakfast event hosted by the Courage Institute and the German-Ecuadorian Chamber of Industriy and Commerce.
During both events Johannes Ritz also shared details about the upcoming Global Week hosted by Courage Center and Munich Business School with the participating business families.
More details can be found on www.courage-institute.com/global-week