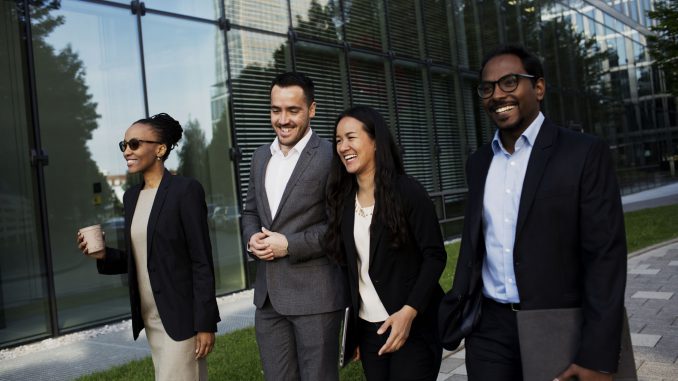 It has always been Munich Business School's claim to provide its students with a sound foundation of business and management knowledge, to support them in becoming globally minded, responsible, and entrepreneurial leaders, and to prepare them for a successful career. Yet there are students, especially in the MBA programs, who already command advanced knowledge and skills, and often possess extensive work experience. For them, their studies are all about extending their skillsets, preparing for new fields of work, or entering the German job market – just to name a few motives.
A great example for this kind of professional journey is MBA graduate Vladimir Ivanov. Born in Baku, Azerbaijan, Vladimir is a Mechanical Engineering graduate of Baku State University, and – while still being of young age – can already look back on an impressive 10-year career as Mechanical Engineer and Maintenance/Installation Project Manager in the international oil and gas industry, executing projects in Kazakhstan, Russia, Singapore, the US, his home country, and the like.
Additional Education Is the Way for Further Personal Development
In 2017, Vladimir moved to Munich to start his full-time MBA studies at Munich Business School. "The oil and gas industry is very dependent of the global market situation, and every five years there is some kind of crisis. I eventually got tired of this, and started thinking about the possibility of switching industry. I came to the conclusion that additional education would be the proper way for this, and decided to do an MBA," Vladimir recalls.
"I gathered information on universities and their MBA programs all around the world. During my research, I got aware of Munich Business School's MBA. It met my requirements as I wanted to do a program focused on international management rather than a specialized MBA like in finance, for instance. Of course, other factors such as financial aspects and the living environment also played a role. After all, I have a family, which I had to take into account when making the decision for a university and thus, a new city. In the end, Munich and MBS were a great fit," Vladimir illustrates his decision to move to Munich and do his MBA here.
Starting Another Career
"During my studies, I regularly visited the Career Center events at MBS, which offer a great opportunity to directly get in touch with representatives of companies that are located in Munich, or have a subsidiary here. Dennemeyer, a company dedicated to intellectual property consultancy and services, appealed to me because I have always found the topic very interesting, they are an international company, and English is their corporate language. We had some good conversations, and eventually I started working there alongside my MBA studies," Vladimir describes his entry into the German job market.
Towards the end of his MBA studies, Vladimir started looking for management jobs in Germany, but also in other European countries as well as in Russia and the US. Ultimately, he decided to stay in Germany for now, and joined MAN Energy Solutions, the world's leading provider of large-bore diesel and gas engines and turbomachinery. "Me and my family moved to Augsburg for my new job. It is somewhat different from Munich, I especially miss the great parks that Munich offers, but Augsburg has its own benefits. It is cheaper than Munich, and it was much easier to find a kindergarten place for my kid compared to Munich. It is a great place to live for me and my family," says Vladimir.
At MAN Energy Solutions, he now works as Market Intelligence and Business Development Manager in the strategy department. "The company was in search for expertise in the oil and gas field in order to bring its products to this specific market. In addition, they want to strengthen their position in the markets of Russia and other post-Soviet states. Being a Russian-speaking engineer with lots of project management expertise in the oil and gas industry, I met all their needs. For me personally, the position offers me great opportunities to further develop myself and work on a more strategic level while being able to contribute my operational skillset," Vladimir explains the mutual benefits of his job at MAN Energy Solutions.
A True Lifelong Student
What about his future plans? Despite already being a highly educated engineering and business expert, Vladimir is very open to further develop himself. "I want to deepen my knowledge in the finance field in the future, and probably start my own business somewhere along the way. For now, I am working on further improving my German skills, which in my opinion is vital if you really want to experience a country to the full extent. Besides of that, I am enjoying my work, and having time for my family," Vladimir tells about his future plans.
Great to see our graduates still being hungry for more, even after having accomplished that much on the educational as well as the professional level. All the best for your personal and professional future, Vladimir!