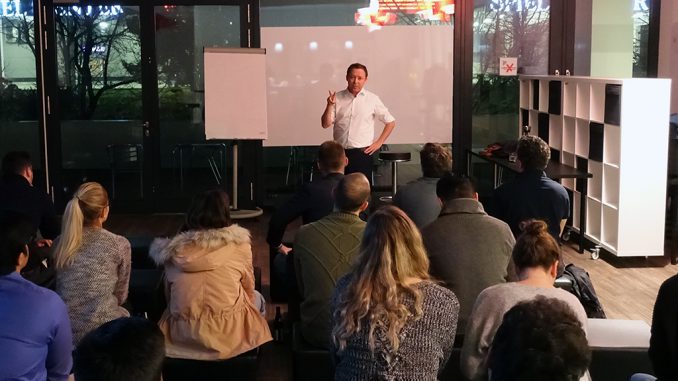 Yesterday's MBS Alumni Career Talk event featured 2005 Diplom graduate Claudio Chiandussi, who visited his alma mater to share his career experiences with current Bachelor, Master, and MBA students in a cozy athmosphere at the MBS Lounge.
Claudio, Associate Partner EY Transaction Advisory Services, was accompanied by his colleague, Jonas Reiner, Consultant at EY and another MBS alumnus.
During his presentation, Claudio looked back on his student days and shared his vast experiences as a consultant in the M&A and Private Equity fields, having worked for KPMG for over a decade before recently joining EY.
Alongside providing insights into his everyday work, Claudio also had some valuable advice for the students such as to build a professional network early on, and to proactively develop one's own career – and called on the students to build on their privilege of enjoying a great education to become responsible leaders and role models for others.
After his very inspiring words, the evening continued with a get-together, at which the students got the opportunity to gather additional information from Claudio and Jonas, who just recently started his professional career after having graduated in 2017.
We would like to thank Claudio and Jonas for visiting MBS, and for sharing their insights with our students!