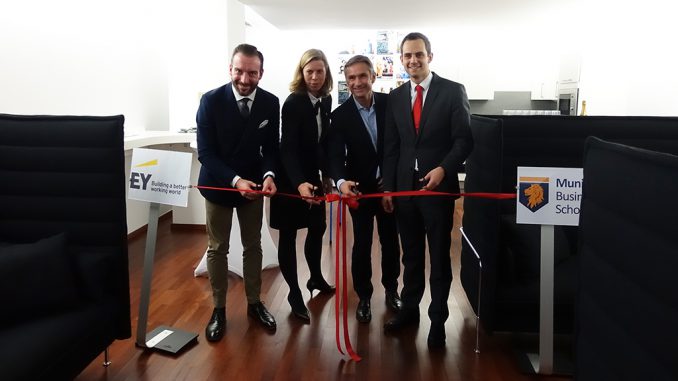 MBS Alumni, Now Working for EY, Give Back to Their Alma Mater
On November 29, 2017, the newly established EY Lounge was opened on the second-floor Executive Area of Munich Business School in a festive ceremony. The EY Lounge features a kitchen as well as a cozy couch area, providing MBS students with an additional location for recreational as well as studying purposes.
The furniture of the EY Lounge was generously provided to MBS by the Munich branch office of consultancy firm Ernst & Young on initiative of MBS Master International Business alumni Roman Gronau, Julian Fuchs, and Denis Day, now all working at EY in Munich.
The alumni, accompanied by Konrad Meyer, Head of EY Bavaria, and Ramona Proksch, Marketing Project Manager Events & Sponsoring, didn't want to miss the opportunity to come to MBS to single-handedly cut the ribbon and inaugurate the EY Lounge.
"It is a pleasure to return to our alma mater and give something back. I have a lot of good memories when thinking of my student days at MBS. It is great to see that the university has been ever-growing since back in 2009 when I started my Master studies there. At EY, when we heard that MBS was about to expand its campus and looking for a sponsor for their new lounge, we immediately wanted to get involved," stated Roman Gronau, who joined EY in 2011 right after his graduation.
Denis Day, MBS graduate of 2016 and working for EY ever since, added, "I'm always very happy to return to MBS, which shaped my personality and where I met many inspiring people. Since I had the chance to complete my Master thesis in cooperation with EY and MBS, I'm very happy to see the relationship between both parties grow. EY – especially we as alumni – are always happy to help the current students in any way possible."
EY has been a long-year partner of MBS. For instance, the MBS Graduation Ceremony is traditionally held at the EY premises in Munich.
Munich Business School wants to thank EY for their continued commitment and support as well as the MBS alumni for giving back!