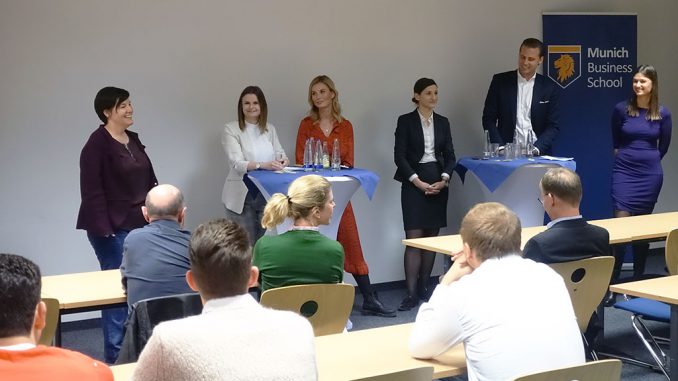 Yesterday evening, another edition of the popular "Alumni Careers" event series took place at MBS – featuring four MBS Bachelor International Business and Master International Business graduates eager to share their career experiences with current MBS students.
The alumni quartet was welcomed by Martina Dengler, Alumni Relations Manager at MBS, and Stephanie Raschen, Manager Career Center, the organizers of the event. Following, the alumni introduced themselves to the student audience by providing some insights into their very diverse career paths.
Then, it was on the current MBS students to participate, and to ask their questions to the alumni foursome. Many topics were touched, from "How did you get your first internship/job?" to "Which soft skills do you consider most relevant in your job?" to "Should I follow up with Master studies after my Bachelor's degree?".
In addition, the alumni shared their advice on aspects such as how to establish oneself at the workplace, how to plan a career in the long run, what to focus on when creating application documents, and many more topics.
The evening was then continued with a get-together at the EY lounge, where the students got the opportunity to further get in touch with the alumni while enjoying some snacks and beer.
We would like to thank our alumni for visiting MBS, and for sharing their career experiences with our current students!