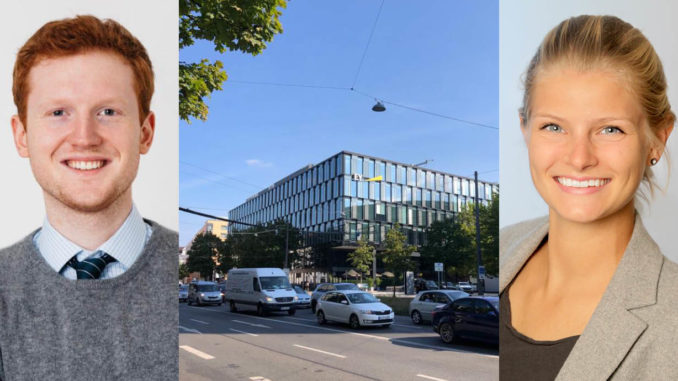 Thanks to Munich Business School's collaboration with professional services network Ernst & Young (EY), MBS students have had the opportunity to apply for two exclusive internships at EY over the past year. Many students applied for the positions, but it was Caroline Baumann from our Master Innovation and Entrepreneurship program and Maximilian Felmayer from our Master International Business program who were selected for the two internships. Stephanie Stangl, Manager of the Career Center at MBS, met up with the two (now former) MBS students for an interview to discover how their internships at EY went and how their career paths have developed since. Here's a quick spoiler for you: while they might have completed their internships, Max and Caroline's EY journeys are far from over.
---
Stephanie Stangl: Hello Caro, hello Max! You both secured your internships through the collaboration between MBS and EY. Could you tell us a little about how it went and why an internship at EY appealed to you?
Maximilian Felmayer: Thank you, Stephanie – we're delighted to hold this interview with you! You're right, our internships came about as a result of the close relationship between MBS and EY. Apart from the various talks and discussion forums hosted by and with EY at MBS, there are also a number of highly experienced EY partners and employees who teach at MBS. As a result, EY and MBS are very closely connected. For students, it's really helpful to be able to make contacts with experienced people from the world of business in the course of your studies. Ultimately, Caro and I were selected following an application process with numerous candidates.
Caroline Baumann: I completely agree with Max. The internship was an incredible opportunity for us, both in terms of what we did and in relation to the company and the people. Looking back, I'm really glad I applied!
Stephanie Stangl: You were both placed in the EY GSA Executive Team. How exactly did you support the team and what were your responsibilities?
Caroline Baumann: Exactly – perhaps we should briefly explain what that means. GSA is a region made up of Germany, Switzerland and Austria. We supported executive management in all kinds of different areas. Our main task was conducting economic analysis on the topic of quantum computing, which is a key area of interest for EY. This is also shown by the EY WaveSpace in Munich, where EY promotes corporate strategies and technologies in a highly collaborative environment. Quantum computing technology is currently the subject of intense debate and promises major breakthroughs in future, which made it particularly exciting and forward-looking to engage with the topic.
Maximilian Felmayer: Our duties were also very varied and included calculating internal KPIs, supporting implementation of corporate strategy and conducting market analyses. We were able to take part in various team meetings, which was a lot of fun and gave us valuable insights. Interaction with other people was very important, particularly in view of the pandemic.
Stephanie Stangl: You've mentioned the pandemic, which is actually the subject of my next question. You started work at EY in the midst of the coronavirus pandemic. Did that have an impact on your internship, and if so, how?
Caroline Baumann: We were lucky because we started in the summer of 2020 and the regulations at the time meant that we were sometimes able to come into the office. Towards the end of our internship, however, we worked from home a lot of the time. In this respect, the pandemic did have an effect on our internships. Fundamentally, however, working remotely at EY – just like studying remotely at MBS – worked brilliantly; we were always in (virtual) contact with other people and didn't have to miss out on interaction with colleagues. Working from home also makes it possible to work more flexible hours, something EY also supports, which was a great help when it came to combining work with our studies and time off.
Stephanie Stangl: You've now finished your internships at EY. What lessons and insights were you able to take from the experience?
Caroline Baumann: A whole host of things; we were both able to develop a lot. All in all, I think we took three things away with us. First, the ability to work in a structured and organized manner under time pressure. We learned to coordinate numerous projects and pieces of information at the same time and at a fast pace while still keeping a structured approach – the definition of management in the real world. In addition, we learned to condense information and present it to provide a valuable overview as quickly as possible. We also gained insights into management functions, which was invaluable.
Maximilian Felmayer: Second, we learned to value the people at EY – we met a lot of very impressive individuals. In such a large international company, there are quite simply experts for everything. When you work at EY, you have access to an unbelievably wide network of intelligent people and valuable information. And, last but not least, we obviously learned an unbelievable amount about quantum computing. It's actually a very promising technology and we're looking forward to following developments surrounding quantum computing in future.