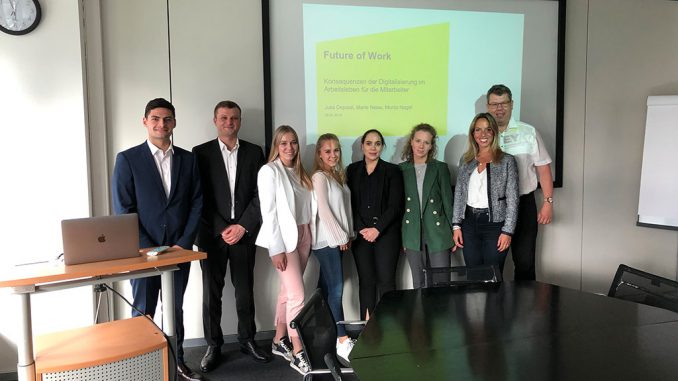 The sixth semester Bachelor students with business concentration in International Human Resources Management and Leadership, under the direction of MBS Professor Dr. Arnd Albrecht, presented the findings of their Business Project, in which they focused on Work 4.0, to managers of the international consultancy EY. They also included and discussed recommended actions for setting up a new workplace design centered around questions such as: how to motivate employees, how to tackle new working methods, and how to integrate employees into Work 4.0 concepts?
The findings, compiled during the 2019 summer term, were presented in a professional and concincing way by the Bachelor students: "The students delivered a great presentation! They were able to derive the commissioned tasks, and presented their insightful findings via well-structured charts!"
Very satisfactory to hear such words from experienced consultants! You can't get any better reputation! We are very happy to hear that EY has already requested to start another set of HR and leadership projects in 2020 with our Bachelor students!