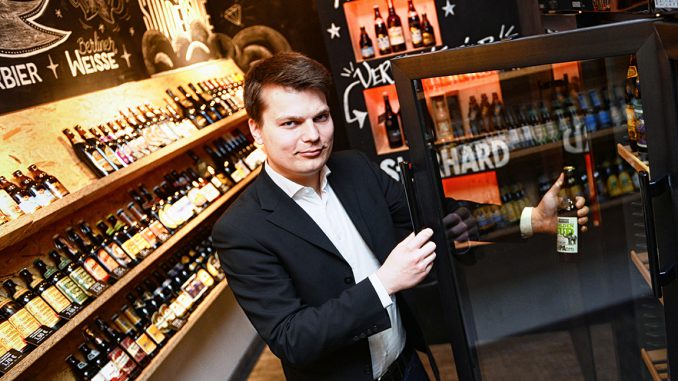 How MBS Alumnus Christian Klemenz Became Germany's First "Beerpreneur"
In the course of his Bachelor studies at Munich Business School (MBS), Christian Klemenz discovered within himself a strong entrepreneurial spirit. The passion for beer is anyway an inborn character trait of Christian, who was born in Upper Franconia: The region has the world's greatest density of breweries.
"So why not connect both elements?" Christian asked himself. With his proprietary, export-focused beer brand, an ever growing network of beer shops and the vision of enhancing awareness and appreciation for the product beer, Christian emerged as Germany's first "Beerpreneur" within a few years. And as if that were not enough, Christian has been passing on his knowledge as a business founder and entrepreneur to other MBS students as well as supporting young startups with help and advice. But let's start at the very beginning…
When Christian started his Bachelor International Business studies at MBS in 2006, he did not have any clear vision of his career yet. "But during my studies, it turned out very quickly that the mindset of entrepreneurship and business founding fascinated me; this also applies to and includes all the processes that come along with setting up a business: innovation, business plans, raising capital, things like that," recalls Christian the beginning of his academic career. "Later during my studies, I did an internship at Holtzbrinck Ventures, a large venture capitalist. At this point at the latest, my passion for the adventure of founding a business had awakened."
From then on, things got really busy: Christian founded MBS Innovate (presently: MBS Entrepreneurship Society), a student association for prospective business founders. As a next step, working together with the MBS university management, he launched the Munich Venture Summit, the biggest startup congress in Munich. By now, the event has taken place six times – and ever since was enthusiastically perceived by the Munich startup scene with renowned guest speakers such as, for example, Oliver Samwer or Anil Gupta.
From Theory to Practice
After obtaining his Bachelor degree and doing an internship in the U.S. (in Silicon Valley, where else?), while preparing for his Master's degree, the bright idea came to Christian: "In 2010, I spent a semester abroad in India. It struck me that the national market there did not offer one single dominating export beer. That was how the idea of an export-oriented beer brand 'made in Germany' emerged, and St. ERHARD was born," reports Christian about his company's beginnings. It did not even take one year before the first Kellerbier bottles left for India from the filling lines in Hallerndorf, a small town near Bamberg/Franconia.
Five Years of St. ERHARD
But back to the present: Just recently, Christian celebrated the five-year anniversary of his beer brand. With an output of approximately 1,000 hectoliters per year, St. ERHARD today is one of the biggest craft beer producers in Germany: "By now, we are exporting our beer to 12 countries on four continents. In addition to our first export market in India, St. ERHARD is now also available in New Zealand, Japan, Hong Kong and Mexico, amongst others," says the "Beerpreneur", as Christian calls himself.
"We Aim to Dominate the Beer Specialty Business" 
Christian's second business, too, has been blessed with ongoing growth – and is of course also connected to beer: In 2014, the congenial Upper Franconian opened his first Bierothek (Beerotheque) store – a vinotheque for the beer drinker, a "boutique for special beers".
There, beer lovers not only find Christian's own brand, but also a huge assortment of beers from countries all over the world, altogether more than 300 types. The Beerpreneur also sells these external brands internationally, exactly like the St. ERHARD beers, and the Bierothek serves as a sales platform.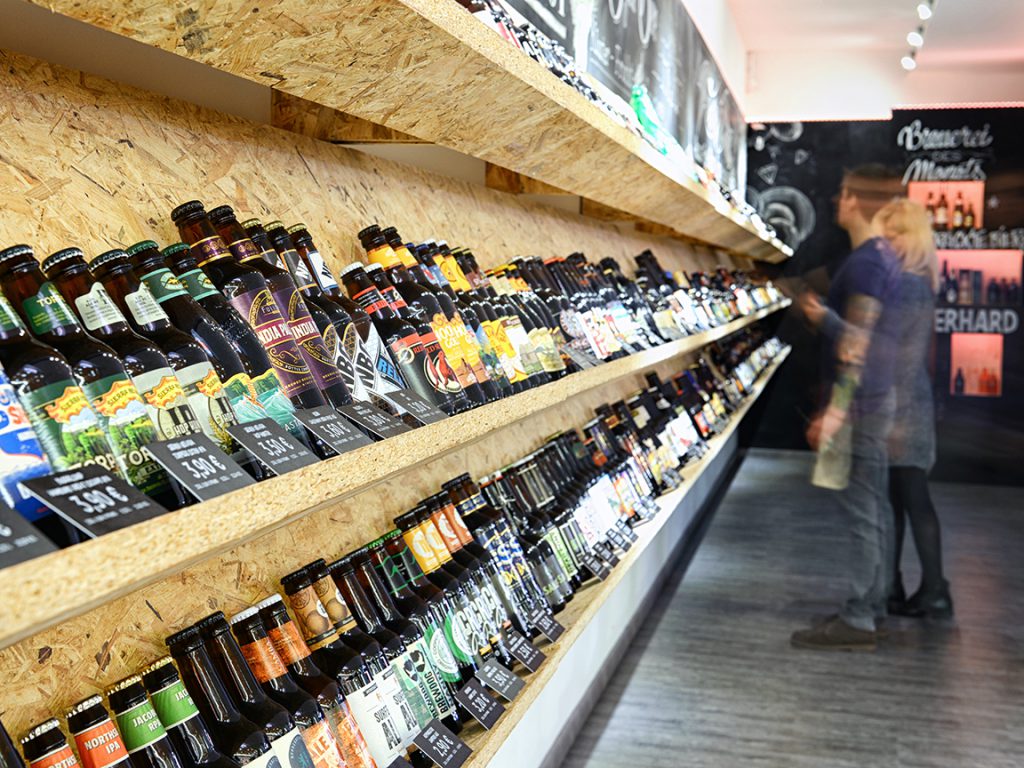 In addition to an online shop, there are already six Bierothek stores within the region of Franconia (Bamberg, Erlangen, Nuremberg, Fürth), and also in Frankfurt and in Erfurt, with a staff of altogether 30 people. "The Bierothek is more than a store for beer specialties. We want to be the first address for everything that is connected to beer. We offer beer consultation, and we offer beer and brewing workshops," Christian explains the concept of his bricks and mortar business. "It is our goal to enhance the prestige and the image of beer."
Today, Christian and his Bierothek stores already lead the market of German beer specialty shops. And he wants to take this successful concept even further: "Presently, we are planning four more Bierothek stores. In addition, we have a few franchise inquiries, also from abroad," explains Christian his future plans. His ambitious goal: "We want to become the No. 1 in the beer specialty business. One day, there should be a Bierothek in every larger city!"
Return to the Alma Mater
Until just a few years ago, Christian was himself an inquisitive and ambitious young student with the keen intention of starting his own business. In the meantime, he is passing on his impressive knowledge to the next generation: Christian holds lectures on starting a business at trade fairs and various universities. At his own alma mater, MBS, he works as a lecturer in the MBA programs, focusing on "Management in Emerging Markets – India".
"A university such as Munich Business School offers the perfect framework for becoming a business founder. The professional advice of my professors and the networks from the time I studied were the basis for my first own enterprise," is Christian's advice to prospective business founders. "For me, it was the right decision to start my own business while still being a student."
In addition, Christian supports ambitious business founders with his investment company, Brand Passion Ventures, which he founded in 2013: "My passion not only belongs to Franconian beer, but also to entrepreneurship and start-ups." This is how it's meant to be for Germany's first and only Beerpreneur.
All photos are © Martin Rehm