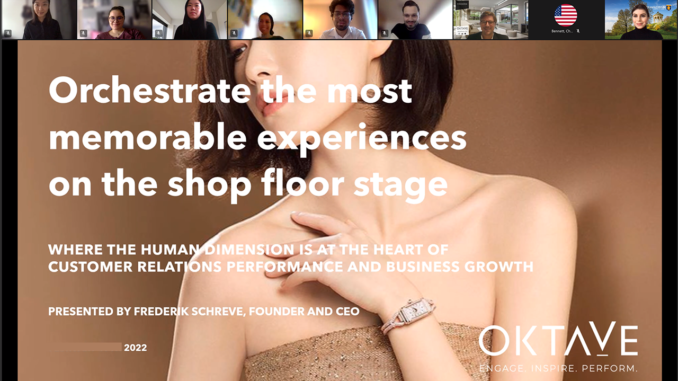 At this year's Luxury Insight Talk, Frederik Schreve, founder and CEO of OKTAVE, provided insight into the topic of luxury retail.
---
This year's Luxury Insight Talk in the master's program in International Business was all about luxury retail. Dr. Julia Riedmeier, module leader of the Luxury Management master's focus at Munich Business School, invited Frederik Schreve, founder and CEO of the consulting company OKTAVE, to talk about "Orchestrating the most memorable experiences on the store floor stage. Where the human dimension is at the heart of customer relations performance and business growth." The talk was organized digitally and exclusively for the luxury students of the second master's semester.
Frederik Schreve founded OKTAVE with the mission to help luxury retail teams reach the next octave of performance. His passion for music and his Nordic roots are reflected in OKTAVE's brand name and energy. In his talk, he highlighted the parallels of luxury and hospitality and spoke about why "brick and mortar is immortal", the principles of exceptional customer experiences, the power of team engagement, and the secrets of boutique orchestration.
MBS student Zhihan (Isabella) Zhao was even inspired by Frederik Schreve to a new definition of luxury: "I've always seen luxury as the beauty and the artistic side in the business world. Mr. Schreve gave an even better explanation: 'If selling is an art, then luxury retail selling is a masterpiece.'"
The students could feel the power of energy and the importance of memorable souvenirs. Frederik Schreve let us dive into the world of emotions in luxury retail and gave the students valuable tips on how to transfer the elements of a unique store experience to their studies as well.
"Frederik Schreve adapted his presentation to our needs by making relevant parallels between what he experienced and the reality of our industry. I loved his energy, the presentation's content, and his talents as a storyteller! It was a privilege to have him with us at our luxury course."

MBS student Morgane Frain
"The presentation really let us dive into the retail experience of luxury houses. In class, we had learned about flagship stores and how the design of such boutiques is well-thought-out to attract customers. However, this presentation offered a new perspective focusing more on the 'inside' of these retail shops and the importance of good hospitality to create memorable experiences to the clients."

MBS student Kenza Kareche
Many thanks to Frederik Schreve for his time and valuable insights! It was a pleasure having you!
The Luxury Insight Talk is a series where students of the Luxury Management concentration in the International Business master's program can ask professionals and former students in respect to career advice, personal development or course related topics.
The author is responsible for the content and form of this article.