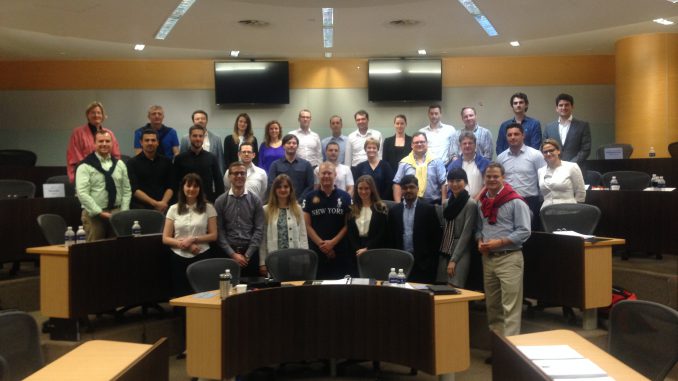 The MBA General Management students of Munich Business School have just completed their Intensive Week at Singapore Management University. Under the leadership of Prof. Dr. Marc-Michael Bergfeld, who grew up in Singapore, the students received lectures at one of the region's leading business schools, and met with leaders from business and politics.
"I believe that a thorough understanding of the dynamics, structures and cultural different in Asia is essential for every business leader. At MBS, we want to empower our Executive MBAs to be one step ahead of their peers in this regards and be able to look at Europe and their home countries with an outside perspective", says Prof Bergfeld.
Singapore Management University's Executive Education department provided cutting-edge lecturers for MBS's program:
Professor Srinivas Reddy, Professor of Marketing and Director, Center for Marketing Excellence at SMU, kicked off the week with "Lessons from Business and Marketing Innovation in Asia", specifically looking into the Indian market and covering market entry cases such as Oreo Cookies and Gilette in India.
Les Buckely, Affiliated Faculty of Strategic Management at SMU and a former senior executive in the beverage industry of the region, covered "Corporate Innovation in Asia" and shared his over 25 years of experience in building businesses in the region with the class.
Frank Siegfried, adjunct professor to SMU and formerly with Daimler and Deutsche Telekom Venture arm explained "The Asian Ecosystem and Potential for Growth: Venture Capital and Entrepreneurship in Asia" and shared his personal journey with the students, now also being a venture investor himself, based in Singapore.
Professor Desai Narasimhalu, Director of the Institute of Innovation and Entrepreneurship at SMU, took the students on a deep dive into "Singapore Entrepreneurship", explaining the strong support structure that the Singaporean government has established to become an Innovation and Entrepreneurship Nation", and some of the companies that have been established as a result. The students were thrilled to hear that a former speaker to MBS's students, for example, is already underway to a 100+ Mio USD IPO of a firm created 3 years ago.
Professor Augustine Tan, professor of economics at SMU and former member of the Singaporean Parliament for over 20 years, spent an entire day with the MBAs, discussing the global dynamics of exchange rates, the current "comatose" state of the global economy and the position of India, China and South-East Asia in the context of these political and economic developments between the East and the West. He challenged the students to reflect: "There is one world describing the problems of the world: Debt – Private debt, household debt, and especially government debt". On the contrast to government debt, especially in Europe and the US, there is the trade surplus and the build-up of foreign reserves in Asian countries, such as e.g. Singapore. Professor Tan put the rise of China, the re-rise of India and the difficult state of Japan in context to the global distribution of debt. Spiced with Prof. Tan's personal experience in the building of Singapore, and the challenging questions he put to the students, the day became a "total change of perspective" for the students, which they enjoyed very much.
Daryl Arnold, Entrepreneur, CEO of Newton Circus, Founder of Padang &Co and especially Silverline Mobile, a multi-faced communication, protection and assistance service for elderly people, based on usage of Big Data, discussed the entrepreneurial setting of the "Smart Nation" and how he and his team are working with Big Data in Singapore to promote the wellbeing and health industry of the country. With Daryl's expertise of running Hackathons and incubating innovative projects over years in Singapore, an interesting discussion developed about the usage of private data, the interaction and continued integration of the elderly parts of society, and the value in serving the health and wellbeing market developed. Here, especially those students of the MBA program that are physicians and health industry professionals themselves, could raise questions relating to their fields of expertise.
Professor Tan Chin Tiong, Senior Advisor and Professor of Marketing at SMU, explained "the real Singapore". Beyond the flashy places such as Marina Bay and the Central Business District, he drew the class's attention to the "real Singapore", with 85% of population living in public housing and 75% being of Chinese origin – a part that is often overseen and not discovered by short-term visitors. Together with Prof Tan, the class then emerged into the world of the "New Asian Emperors", analyzing family businesses in Asia, most of which have Chinese roots, and how the families drive their businesses to global importance, increasingly also investing in the US, Europe, Africa and South America when opportunities arise. The case of Li Ka Shing, with a net worth of estimated 31,3 Bn USD, and his Hong Kong-based conglomerate Cheung Kong taught the students how to understand the long-term strategies of Asian business families better.
In addition to all the above, MBS's Executive MBA students ventured into the local business environment by meeting leaders of various companies and the German Embassy. "We are very happy to have deep links into the Singaporean business and political environment", stated Prof Bergfeld, "and can therefore offer the students a hands-on perspective and true in-depth meetings with experts that would normally not be so easy to access".
Sandeep Bhargava, General Manager South-East Asia for Hewlett Packard Enterprise shared the morning with the MBS MBAs, discussing Hewlett Packard's core business areas, a > 50 Bn USD business, and the strategies and approaches in the region the firm defines as Asia – spanning all the way from India to the Philippines, and from China to Australia. Hewlett Packard started out in Asia in Japan in 1963, then moved to Australia in 1967 and relocated to Singapore in 1970 today, it employs approx. 73.000 employees in Asia. Discussing doing business in the area, Sandeep mentioned: "In today's environment time to value is priority #1, especially as the time horizon from idea to value creation and the planning horizon for IT investments has shifted from 5 years previously to 1 year + today." At the same time, "going from the original question of a client to turnover and profit in Asia will always be an interesting journey: While conceptualization, discussion and finding agreement might take long, especially in diversified conglomerates, once it is agreed, insights and value shall be delivered rapidly by looking into diversified data and getting rapid insights. This is when you really have to be able to deliver fast – and we are." Essentially, Asia is fast moving, highly competitive and rapidly changing. The new Hewlett Packard is set up well for this context, as it strived to be "partnership first, bias for action, innovators at heart!"
Alfred Pong, Managing Director of SES – Strategic Executive Search, an executive search firm with 6 office across Asia, came in straight from a client meeting in China the evening before, to share his insights on the talent market in Asia and the opportunities that can be leveraged in the region. Prior to being an executive search expert, Alfred was the 1st employee of WebEx, which went public in the end of the 1990's. Alfred advised the students on how to match their personal strength and enjoyment with the developments in the macro environment, i.e. which opportunities will develop from the devaluation of the Chinese Renminbi, the slow-down of China, the changing global economic context, and also the stalling of Europe. In short, "South-East Asia is still growing in global comparison and there is great technology dynamics. Opportunities in Asia remain, but it is very different to the "expat-situations" a decade or two ago." Becoming a highly sought after talent in China is much harder today, Alfred explained, because many companies in China now prefer highly qualified local hires. In South -East Asia, however, "international talent is still highly appreciated, especially if the working language is English." Here, Europeans can play to their advantage and the existing perception of their value, when they are planning to shift towards Asia are: "The "unspoken" characteristics of German talent, for example, is still that they are analytical and precise, and care about quality and processes." The ideal approach to changing career paths from Europe to Asia would be to leverage internal transfer programs within the existing employers and then build local knowledge and network in Asia. "From there, you can be head-hunted away, based on your first track record in Asia", explained Alfred.
Yi Zhou, CEO of Deutsche Telekom in Asia shared two hours with the students, explaining the dynamics, the size and the relevance of the Asian market, even for Germany-HQed enterprises like Deutsche Telekom: "Communicating with business partners in Asia is becoming more important for, e.g., European companies, and vice versa, for Asian businesses, communicating with Europe. To enable this type of business, the connection and network has to span the globe – i.e. through us". Deutsche Telekom assures that its customers are very well taken care of while communicating in between Asia and other parts of the world. Further, as Asia has become more important for large multinational companies, "the decisions are taken more often in Asia, for example in Singapore, Hong Kong and the rest of the region. We therefore need to follow the customer to where they take their key decisions today, and we have to assure that our customers from Europe are very happy with our service even here, as they move into and communicate with Asia more extensively." As a great example of Telekom's business success in the region, the class discussed the project of fully equipping the Singapore Sports' Hub Stadium, the currently largest Public-Private-Partnership project in the world. "The biggest challenge in doing business in Asia", Yi explained, "is to choose the right opportunities to go after, because there are simply too many opportunities to do projects." Evaluating projects deeply and selecting the right ones to go after, becomes a key capability. In general, dynamics are very positive in infrastructure development, smart nation solutions, and the promotion and consciousness of health. Further, "we see a lot of innovation developing in Asia, so part of our business also is to introduce these innovations to the rest of our organization." 5 years ago European engineers would not welcome innovation from Asia. Today, they do – and that is not only for price, but also for their quality of innovation, agility and flexibility. Finally, Yi gave the students a personal advice: "If you have the chance, spend 2-3 years in Asia. It will be a very valuable learning experience, and a great opportunity in addition. In anything you do at a later stage of your life, it will be of great value. Also, when coming to Asia, be genuine and yourself, and communicate in a respectful way – you will embark on a great learning journey and advance personally."
Dr. Steffen Koch, Deputy Head of Mission of the German Embassy, and Min-Kyu Jang, First Secretary for Financial Affairs and Representative of Deutsche Bundesbank in Asia met the MBA students for 2 hours and discussed the political and macro-economic situation in South-East Asia and set it into relation to Europe. Being the second most densely populated sovereign state after Monaco, it has retained 20% of GDP in the production sector over time and is moving to the "innovation and entrepreneurship economy". Singapore's main business relationships are maintained with USA, China, ASEAN and also Europe. The role of Europe and Germany as a political partner is important for Singapore and the countries in the region. Europe, however, is not necessarily seen as strong political entity at present, due to its current internal topics. The students then discussed the wealth of selected Asian countries, their approach to investing internationally and the opportunities for building German-Asian partnerships. A great dynamic in the discussion evolved and all together discussed way beyond the original time plan.
Upon an initiative of an MBS Alumni, Mr. Bernhard Lieder, who now works at BASF in Singapore, BASF's Vice President of Talent Management, Magali Simon, and Christian Mombaur, Senior Vice President Construction Chemicals of BASF invited the students to BASF's Learning Campus, a beautiful location in three newly renovated heritage houses and tugged away in a lush green park with old trees and lots of nature. Mr. Mombaur introduced BASF's global business to the class and explained the company's activities in Asia, including personal experiences and recommendations to anyone who would want to venture into the region. The generous invitation and sharing of knowledge was complemented by a tour of the amazing facilities and living through a tropical monsoon rainstorm on the balcony of the heritage "Black and White House", continuing a very open sharing of experiences with these top managers.
As a last minute surprise, the students were invited to visit the incubation space BASH – Build Amazing Startups here, the biggest facility yet to help grow startups in Singapore. Upon invitation of Heng-Soon Pang, the General Manager of Infocomm Investments, the Venture Capital arm of Singapores Media and InfoComm Development Agency, and Zach Tan, the Director of the London office of Infocomm Investments, the students got a private tour of the facilities and discussed Singapore's initiatives to building an "entrepreneurship nation" with Mr. Pang. BASH will incubate a approx. 100 companies per year and nurture the successful ones of these all the way to Series A investments and even beyond. The student were impressed to get this "backstage" view on the hands-on implementation of the countries strategy to drive innovation and entrepreneurship.
Completing the week with a sundowner drink at 1Altitude Bar, the world's highest alfresco bar, the students reflected on a great week: "Great lectures and diverse characters, great insights into Asian business and culture, very well organized and great expansion of our horizons" were just a few comments at the end of an intense 5 days. "We at MBS hope to have provided you with a fresh and different view on the situation in Asian and how it compares with other regions in the world", concluded Prof. Bergfeld. "We hope you can now venture into your future and know more about Asia and how it will impact your life, than many others. Good luck!"