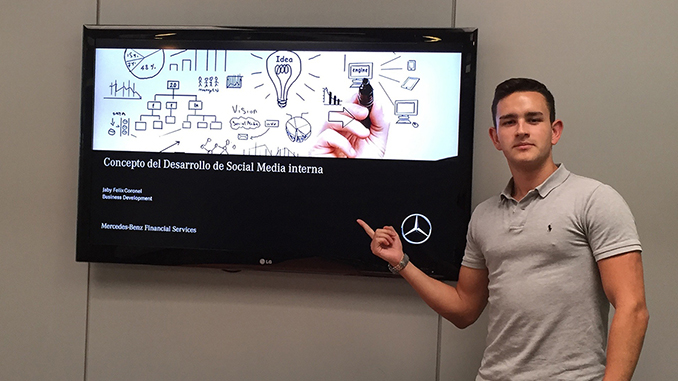 BACHELOR International Business Student Jaby Felix Coronel Reports on his Internship Abroad at Mercedes-Benz Financial Services España
The study programs at Munich Business School (MBS) are characterized, amongst other features, by their international and practical orientation. This is why the semester abroad at one of MBS' international partner universities is an important part of the curriculum – as are the integrated internships which the students can also spend abroad.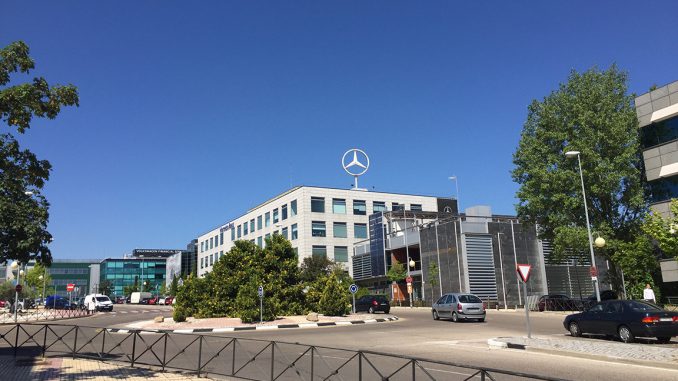 Jaby Felix Coronel, BACHELOR International Business student, has just completed his internship abroad in the business development department of Mercedes-Benz Financial Services España in Alcobendas/ Madrid. Below, he shares his experience.
Hello Felix, nice to meet you! Let's talk about your internship right away. How did you get in touch with Mercedes-Benz Financial Services España?
Thomas Waggershauser from the MBS Alumni Network caught my attention. He is an MBS diploma graduate of 2003, and is now the Commercial Director of Mercedes-Benz Financial Sercives España. I contacted him directly by email and asked him if there was a possibility of doing an internship at Mercedes-Benz España.
At that time, I attended European Business School in Madrid for my semester abroad. So he instantly offered me a meeting. Then, we quickly found a task that was suitable for me and thus I was able to start my internship in the field of business development in June 2016 already. I am really thrilled that the alumni network enabled me to find access to the economy so easily, and such a great internship slot.
Could you please describe your tasks during the internship?
I worked on several projects. On the one hand, I responsibly developed my own strategic concept for value-added utilization of the internal social media channels. For this purpose, I analyzed the status quo, developed processes building on that and submitted detailed recommendations for future approaches in this area.
The second project was to conceptualize a network catalogue of regional licensees. After comprehensive analysis and research work, I developed a base template and created the catalogue.
Additionally, I worked on two other projects of Daimler Financial Services and the business development department.
How did you get the idea of doing an internship specifically in the area of business development?
During my studies, I quickly recognized that I am especially interested in the areas of strategic management and business development. I can get really enthusiastic about advancing a company strategically according to my own concept, all the while cooperating with other departments. Not only the internship at Mercedes-Benz Financial Services España, but rather all the interesting academic modules in the areas of strategy, management and corporate governance showed me that these will be the preferences for my professional future.
You had already done an internship at Sixt SE before and gained insights into the automotive sector. Do you believe that this a particularly interesting industry in which you could also see yourself in the future?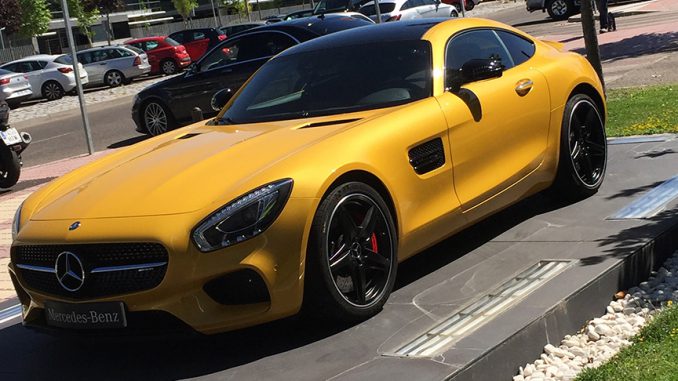 Yes, I am very much interested in the automotive sector. In the German economy, the automotive segment represents a core industry that is not only constantly growing and securing jobs, but is also innovative and future-oriented. I can really imagine very well, indeed I really wish to be working in the international automotive sector in the future.
What do you think is the greatest benefit of this internship for you?
I found it inspiring to be able to directly apply the theory I acquired in my studies to practice. This opportunity for us, the students, to gather valuable experience in the real business world while still studying is essential for a successful career later. In addition, I am thrilled by the self-reliance and self-responsibility I enjoyed during my internship.
The many insights into the various business areas that accompanied this practical professional experience were another great plus. I was able to apply and develop my strengths in business administration and also could improve my language skills.
Did you feel that your studies at MBS prepared you well for the tasks of your internship?
By all means, yes! The modules I completed in the study program allowed me an outstanding start with the internship. My knowledge in business administration and also, for example, the intercultural competencies and negotiation skills I had acquired were highly advantageous. At this point, I also want to compliment the excellent language training at MBS, as all communication within the company and also my empirical concept at Mercedes-Benz España were completely in Spanish.
Is there any special event, a funny incident perhaps or something surprising during your internship that you would like to share with us?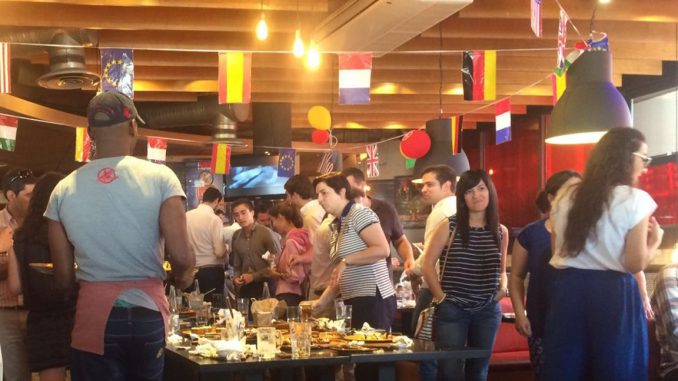 At Mercedes-Benz España, I really liked the nice tradition of staff members and bosses to bring along a culinary specialty from their home regions for occasions such as birthdays or weddings. The classic, in most cases, were empanadas (puff pastries filled with e.g. bacon and cheese) or other treats from the Spanish cuisine. As it should be, I introduced the excellent German cuisine to my Spanish colleagues in the form of a small snack when I started working.
Do you already have any plans what you will do after your graduation? What direction do you want to take professionally? Are you planning an international career?
After my Bachelor's degree, my next milestone will be a Master's degree. Before I enter the working world, I want to go deeper into the areas of strategy and management. This is precisely the reason why I picked the business concentrations of International Governance and Marketing & Sales for the upcoming fifth and sixth semesters of my Bachelor studies. After my graduation, I can really see myself working in the international business world, or even establishing my own company.
What were the reasons that you decided to study at MBS?
At first, I had started studying at another university of applied sciences and then changed to MBS in the third semester. Even back then, I realized that I would be able to expand and deepen my knowledge at MBS. What convinced me to change to MBS were, above all, the possibility to specialize after the fifth semester, but also the practical relevance which is guaranteed by three integrated internships. Moreover, during my first internship at Sixt SE in Munich, I fell in love with the city.
What do you like best about your MBS study program?
In the beginning already, I liked the friendly welcome at the university by lecturers and fellow students alike. Although I was the "newbie" dropping in at the third semester, I was most cordially welcomed into daily routines and life at MBS. It really did not take long to get connected during this semester, and the same happened – later – abroad. I really like the friendly and family-like atmosphere at MBS, in the academic as well as in the social sense, and the high subject-specific knowledge of its lecturers.
Thank you very much, Felix, for the interview, and much success for your studies!
[wp_geo_map]