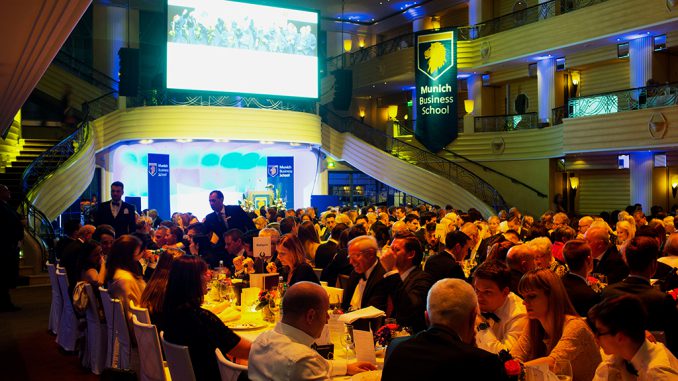 More Than 160 Students Celebrate Their Graduation at Hotel Bayerischer Hof
On Saturday, 24 March, Munich Business School (MBS) once again bade farewell to over 160 graduates of its study programs at the MBS Graduation Ceremony & Gala 2018. In the morning, the students-turned-alumni received their diplomas, in the evening they gathered for the grand Graduation Gala in the ballroom of  Hotel Bayerischer Hof, located right in the Munich city center.
The Graduation Ceremony began at EY's Munich offices, where MBS traditionally awards its graduates their diplomas. This year, the consulting company once again provided its premises for the event. Prof. Dr. Stefan Baldi, Dean of MBS, welcomed the graduates and their friends and family members, and congratulated them on their graduation.
Then the graduates received their diplomas and collectively celebrated the "Throwing of the Caps", a vital part of any graduation ceremony.
In the evening, it was time for the highlight of the festivities, the MBS Graduation Gala at Munich's venerable establishment, Hotel Bayerischer Hof. In a festive atmosphere, the graduates seized the opportunity to celebrate their graduation with fellow students, friends, and family. The guests were once again welcomed by Prof. Dr. Stefan Baldi, followed by Dr. Alfred Gossner, President of MBS, who sent his congratulations to the graduates.
Supporting the Ronald McDonald House Munich
Social responsibility is one of Munich Business School's core values. Accordingly, MBS has been supporting a welfare service in Munich every year in the framework of its Graduation Gala. This year, the Ronald McDonald House at the German Cardiac Center Munich received a donation. The institution, with which the Bachelor students of MBS have been working for several years as part of their Social Project, offers relatives of children with severe illness a "temporary home", in which they can reside during their children's treatment. As in previous years, it was a special moment again this year when Bachelor graduate Nico Zwick and Dr. Alfred Gossner handed over a 5,000 Euro check to Tanja Forderer-Barlag, Manager of the Ronald McDonald House Munich.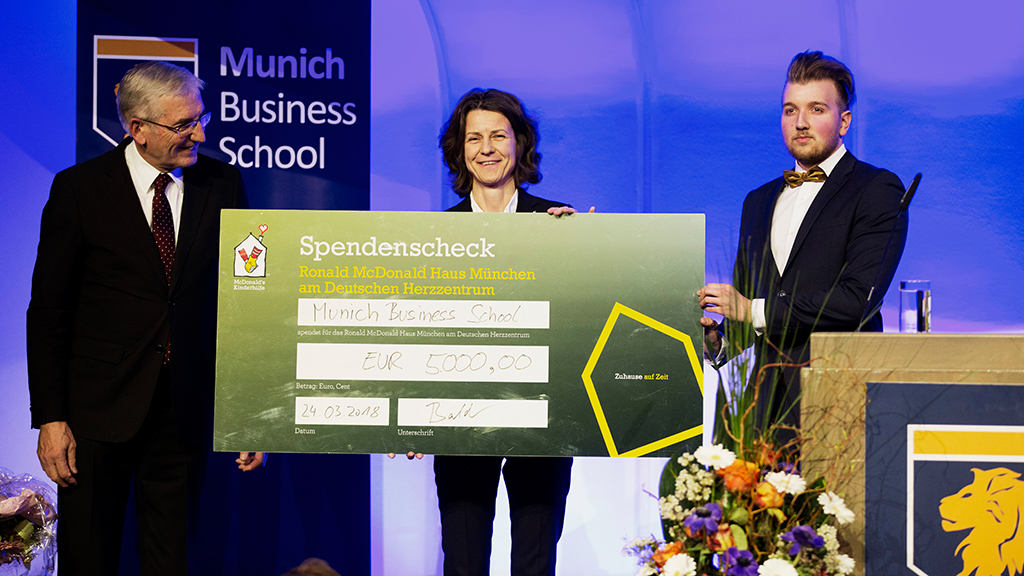 Afterwards, the guests enjoyed a delicious three-course menu, which was only interrupted by the graduation speeches of the study programs' valedictorians. Following the official part of the event, the guests concluded the festive day with dancing and music.
Congratulations to all our graduates, and all the best for your professional and private future! Special thanks go to EY for supporting the MBS Graduation Ceremony & Gala 2018.