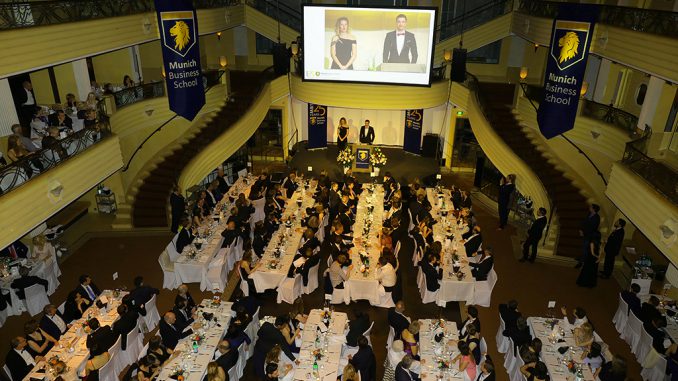 More Than 150 Students Celebrate Their Graduation at Hotel Bayerischer Hof
On Saturday, April 8, the time had come for over 150 graduates of Munich Business School (MBS) to receive their diploma at the Graduation Ceremony, and later that day, celebrate their graduation at the MBS Graduation Gala traditionally held at the Hotel Bayerischer Hof in Munich.
The Munich branch office of Ernst & Young was the venue for the official Graduation Ceremony. As in the years before, the consulting firm had kindly provided its premises for the event. There, the graduates of the study programs Bachelor International Business, Master International Business, Master Sports Business and Communication, MBA General Management and MBA International Management were warmly welcomed and congratulated by Prof. Dr. Stefan Baldi, Dean of MBS, and eventually received their diploma. Afterwards, the graduates – clad in caps and gowns – performed the traditional "throwing of the caps" that ended the first event of the day.
Graduates Celebrate at the MBS Graduation Gala
The true highlight of the day followed in the evening: The over 150 graduates, representing 19 nationalities and ages 21 to 45, together with their families and friends assembled at Hotel Bayerischer Hof to celebrate their graduation in a festive atmosphere.
In his speech, MBS Dean Prof. Dr. Stefan Baldi welcomed the about 500 guests and subsequently handed out the MBS Awards to the most engaged and outstanding students.
MBS Supports Charity Organization Lichtblick Hasenbergl
The MBS Graduation Gala is not only about celebrating the MBS graduates, but to give something back to society at the same time. Traditionally, MBS does so by supporting a local charity organization. This year, Prof. Dr. Baldi gladly handed over a 2,500 Euro check to Lichtblick Hasenbergl, represented by their founder, Ms. Johanna Hofmeir. The organization takes care of disadvantaged children, teenagers and young adults in Munich. During the evening, an additional 1,900 Euro were collected by the guests of the event.
Following that, the guests enjoyed a delicious three-course meal while listening to the festive speeches of the representatives of the various study programs. After the official part of the event, the memorable evening continued at the atrium of Hotel Bayerischer Hof where the guests had a cheerful party while enjoying the live performance of the MBS Band.