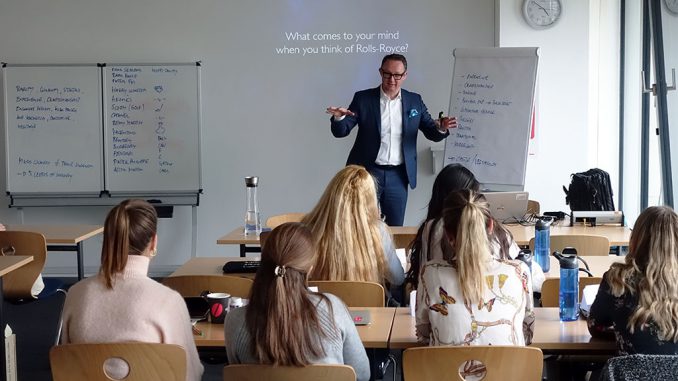 At the invitation of MBS lecturer Petra-Anna Herhoffer, Marc Mielau, Director Business Development and former long-time General Manager Marketing at Rolls-Royce Motor Cars, visited Munich Business School. He invited the Master students of the Luxury Management 850 course to a journey into Rolls-Royce's brilliant brand philosophy.
After a quick side trip into the company's history, Marc Mielau focused on the brand architecture and significance of the "Strive for Perfection" core value for the famous British car manufacturer. In addition, he showcased the latest Rolls-Royce product, or business segment: the Whispers app, a concierge service offered exclusively to Rolls owners, developed in cooperation with the like; on the one hand, the service provides them with once-in-a-lifetime experiences, while on the other hand, it supports them to save some time – the most important luxury good for many Rolls-Royce customers.
We would like to thank Marc Mielau for visiting Munich Business School, and for sharing his expert insights into luxury business with our students!