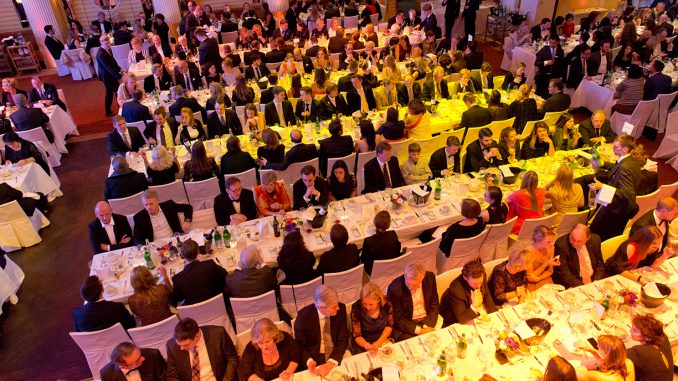 Over 130 Munich Business School students celebrate their graduation with a festive event at Hotel Bayerischer Hof
On Saturday, March 12, MBS bade farewell to more than 130 of its students of the various study programs. In the morning, the graduates received their diploma and, later that day, celebrated at the big MBS Graduation Gala at tradition-rich Hotel Bayerischer Hof in the city centre of Munich.
Graduates of various MBS study programs receive their diploma
The day started with the Official Graduation Ceremony, taking place at the Munich premises of consulting company Ernst & Young who kindly provided the venue for the event. MBS dean Prof. Dr. Stefan Baldi warmly welcomed the graduates of the study programs Bachelor International Business, Master International Business, Master Sports Business and Communication, MBA General Management and MBA International Management, 133 in total.
Afterwards, the graduates – clad in the traditional caps and gowns, of course – received their diploma, followed by a speech of their respective Academic Program Directors. The event ended with the "throwing of the caps", group photos of the classes and a click of glasses in honor of the graduates.
Festive event to celebrate the graduation
The true highlight of the day followed in the evening: The big Graduation Gala at Hotel Bayerischer Hof where MBS traditionally celebrates its graduates. More than 500 guests – the graduates and their families and friends – enjoyed a delicious three-course menu while listening to the keynote speech of Jörg Schwitalla, experienced HR and Production Manager for companies such as Rolls Royce Power Systems, Michelin and MAN as well as member of the MBS Advisory Board.
The student representatives of the various study programs also addressed their speeches to the audience before the MBS Awards were handed out to the most engaged and outstanding students of their respective academic years.
Support for Artists for Kids
With social responsibility being one of its core values, MBS did not only want to celebrate this evening, but also give something back to society. Hence, € 10 of each Graduation Gala ticket was donated to ARTISTS FOR KIDS, a Munich-based charity organization established 1999 by renowned German movie producer Bernd Eichinger that offers welfare services for disadvantaged kids and youths.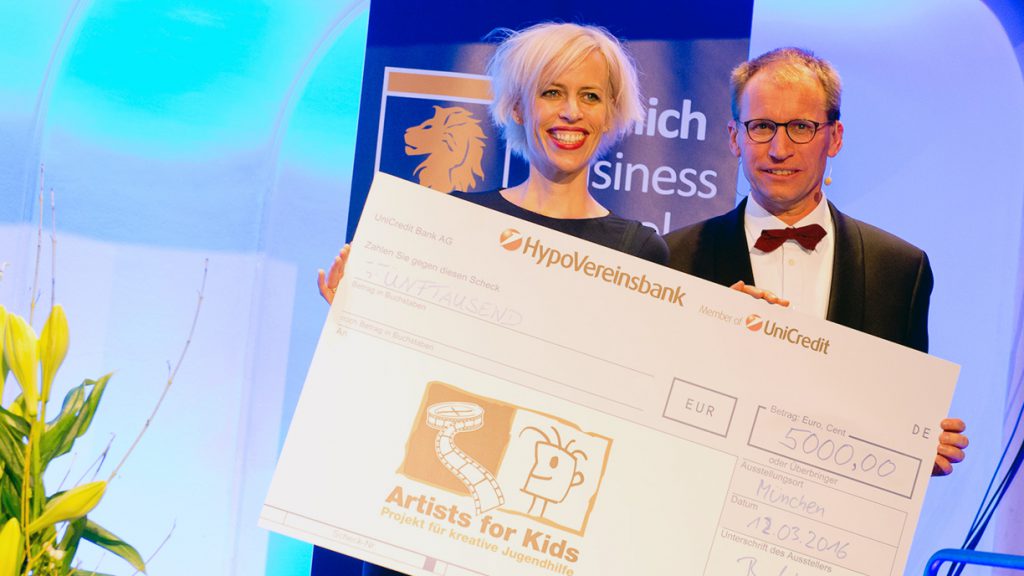 It was a very special moment when MBS Dean Prof. Dr. Stefan Baldi and Chancellor Nathalie von Seyfried happily handed over a check worth € 5,000 to Katja Eichinger, long-term active supporter of ARTIST FOR KIDS who was very happy about the donation. It will be used for the project "Das fliegende Klassenzimmer" ("The Flying Classroom") that enables youths without a school leaving certificate to repeat it.
After the official part of the Graduation Gala, the guests concluded a memorable evening with music and dance.
MBS wants to thank Donner & Reuschel and Ernst & Young for supporting the MBS Graduation Ceremony and Gala 2016.