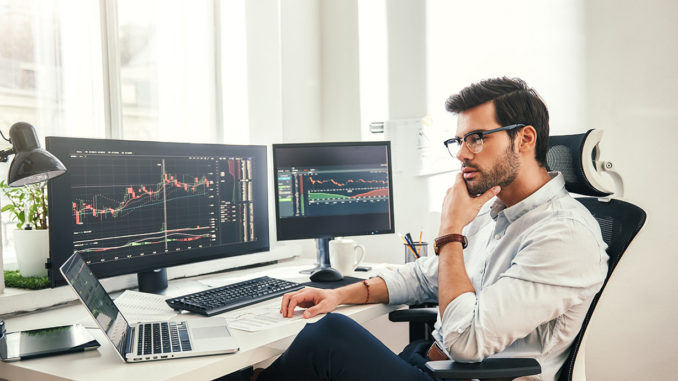 Controlling is a classic career choice after graduating with a degree in business. But what exactly does a controller do? In this article, we provide extensive insights into the job profile of a controller – from their duties to academic pathways and salary expectations!
---
Controlling – an introduction
In the world of business, wishes often differ significantly from reality. Controlling specialists are responsible for ensuring that the gap between the two never grows too big. In business and enterprise, controlling involves using figures to plan, manage and monitor all divisions and departments. A company's Controlling department has an important management role, analyzing all invoice items recorded by the Accounting department and actively engaging in budget planning. Returning to the idea of wishes and reality, key duties of the Controlling department include planning the company's aspirations for the future and casting a critical eye over the company's actual achievements.
Unlike the Accounting department, which is solely interested in payment transactions, the Controlling department is concerned less with past events and more with the company's future.
Job profile: What are a controller's duties?
Given that the Controlling department is usually involved in all significant company decisions, a controller's duties will usually be very varied. Controllers assist the management of a company or organization by offering specialist analysis and actively paving the way for commercial decisions.
A company's strategy and corporate policy are usually dictated by the Management Board. The next step is translating lofty ambitions into a robust, sustainable budget while ensuring economic viability – and this is where controllers come in. Financial resources are limited, so it takes plenty of skill to consider and balance the various interests at work.
Controllers also play a decisive role in another key area, namely determining whether companies have actually achieved their targets. Any business development must be thoroughly examined, with regular status reports sent to operational staff on a daily basis. Flying blind is never a good idea for companies, not least because that means being ignorant of the most significant risks. As a controller, you will be tasked with providing clarity about the path ahead for your company.
Management-level staff rely heavily on controllers to compare plans and targets against actual company figures so that management can take decisions based on the facts. This target-actual comparison is a relentless pursuit of any deviations in prices, costs or quantities. The reasons for any such deviations can then be analyzed and suitable measures implemented.
In addition to conducting target-actual analyses, controllers also have a number of other instruments at their disposal to assist them in their duties, which can be broadly divided into two areas: operational controlling and strategic controlling. These two areas focus on different time horizons: operational controlling focuses on monitoring, managing and optimizing business processes over the short to medium term, looking at metrics such as liquidity, profits and stability; by contrast, strategic controlling looks at qualitative data to lay the foundations for strategic decisions. Classic controlling instruments include SWOT analyses, competitor analyses and benchmarking.
A controller's duties include:
Monitoring, i.e. recording, analyzing and evaluating business-related figures and statistics using KPIs, with particular focus on competitiveness and the potential for further development, cost savings and efficiency gains
Monitoring target achievement using target-actual analyses
Budget planning, i.e. producing cost projections, budgets and forecasts
Reporting, i.e. drawing up evaluations, reports and annual reports – and presenting them to management
Advising management by providing recommendations for action
(Continuously) developing controlling and reporting processes
Acting as the contact for tax advisors and auditors
Skills and requirements: What competencies does a controller need?
A central skill a controller needs is, without doubt, a love of working with numbers. An understanding of technical issues and extensive business expertise, including knowledge of accounting and bookkeeping processes, are important hard skills for a career in controlling. Given that controlling specialists look at every area of a company, it is important to be well informed about all company processes, the company's entire value-creation chain and relevant personnel matters. You will also be expected to respond quickly to rapidly changing requirements in relation to fiscal and accounting law, so you must also be prepared to undertake continuous professional development and have a knack for tapping into trends.
However, a successful career in controlling often also relies on soft skills. In addition to excellent analytical skills, a logical mindset and perseverance, controllers must also have a flair for diplomacy and excellent communication skills. These two competencies are vital in enabling controllers to find workable solutions to competing interests within a company and in making figures-based analyses and recommendations for action clear and comprehensible.
Academic requirements: What qualifications does a controller need?
A business degree can lay solid foundations for a career in controlling.
The International Business bachelor's program at Munich Business School conveys all the relevant skills and competencies in the fields of finance and accounting. The courses on accounting cover essential topics, such as full costing, variable costing, unit cost and process cost calculations, budgeting and variance analyses. In addition, students are free to choose concentrations in the second half of their program in order to tailor their studies to their interests and define the focus of subsequent master's studies or a future field of work. We recommend that students hoping to embark on a career in controlling choose concentrations in International Financial Management or International Governance and Business Development.
If you are considering a master's degree to round off your academic journey, MBS offers an International Business master's program with a concentration in International Finance. This is an excellent way to further your financial expertise and, ultimately, gain the qualification you need for a career in controlling.
In addition to theoretical knowledge, you should also strive to gain practical experience, such as through an internship or as a working student. Not only will this help you to figure out whether a position in controlling would be the right move for you, it will also improve your chances on the jobs market and strengthen your hand in negotiations if you decide to pursue a career in the field.
In principle, you could launch a career in controlling with business training course, followed by a program to qualify as a "certified controller", a title conferred by the Chambers of Industry and Commerce (IHK). However, earning a business degree is likely to provide better salary prospects and greater chance of promotion.
Career prospects: Is there demand for controllers?
The Hays Skilled Workers Index – Finance recorded consistently rising demand for controllers for numerous years. Although there was a drop in this demand due to the COVID-19 pandemic, this has now passed. What makes working as a controller so essential and exciting is the wide-ranging economic and technological changes currently underway, which also entail greater potential risks for companies. If you have an extensive understanding of financial and risk management, a flair for organization and the ability to keep the big picture in mind, you could become a sought-after specialist in the financial sector.
At the same time, changes currently underway in the world of business also have an impact on a controller's duties. Digitalization, for instance, is providing access to growing volumes of (automated) data. As a controller, your challenge is to sort, assess and evaluate these vast quantities of data. You can also broaden your figure-focused horizons by collaborating closely with colleagues working in fields such as IT and business analytics. In addition, the topic of sustainability has found its way into the world of work and controlling in recent times. Companies are increasingly being forced to demonstrate their sustainability credentials using solid figures and indicators – such as their CO2 footprint or, in the banking sector, by disclosing their Green Asset Ratio. Calculating all these figures is the task of sustainability controllers – an entirely new sub-area of controlling that has come about over recent years.
Salary: What does a controller earn?
Due to the demand for experts in the fields of finance and controlling, salaries in this field are above average.

In Germany, the average gross salary for a controller is around €60,000 per year. Career entrants, who usually take up a position as a 'Junior Controller', can expand to earn between €36,000 and €45,000 at a small to medium-sized enterprise, while the starting salary at a large corporation could be as high as €50,000 to €60,000. And, as you gain experience, you can expect to command a higher salary. After five to ten years working in the field, you can expect an increase of €5,000 to €10,000 per year. Experienced, specialist managers in the field of controlling and finance rarely earn less than €100,000 per year.
As in other professions, your academic qualifications influence your later earnings. For example, a career entrant with a master's degree will usually earn around €5,000 more than a career entrant with a bachelor's degree (€47,000 vs. €42,000). Other factors that influence salary include the sector of the economy, the size of the company, the location and the candidate's past experience. You can read more about salary matters here.
---


You are interested in economics and want to acquire in-depth business know-how?
Then the international business degrees at Munich Business School (MBS) are just right for you! At MBS you won't cram dry theory from old textbooks, but learn in a outcome-oriented way and gain valuable practical experience. Convince yourself:

Bachelor's in International Business
Master's in International Business
Master's in International Business I Finance
Master's in Innovation and Entrepreneurship
Master's in International Marketing and Brand Management
Master's in Sports Business and Communication
MBA General Management
Doctor of Business Administration