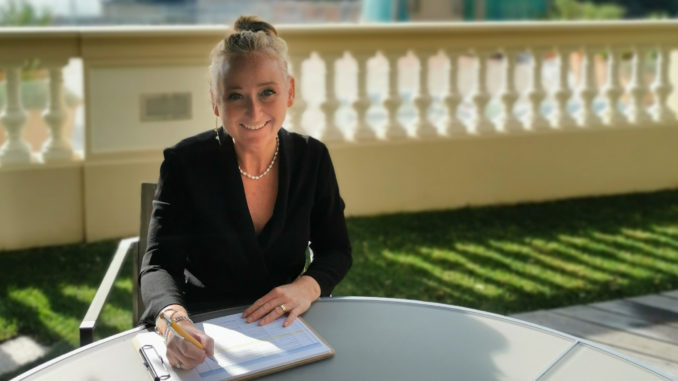 Natalia Langsdale is a consummate luxury professional with a dedicated expertise in the marketing, PR, and event field, with a focus on industries targeting UHNWI (Ultra High-Net-Worth-Individuals) such as private aviation and yachting. Strongly tied to the world of luxury, her track record and projects read like a novel: event architect for "Blue is the new Green" golf tournament onboard of a 70m superyacht for a private bank client during the Monaco Yacht Show; project manager for the world's first Explorer Yachts Summit at the Monaco Yacht Club; own YouTube show "Luxury with Natalia" interviewing some of the world's most distinguished top management, head concierges, and other key personalities who handle UHNWIs; owner of the communication agency Bright Creativity and wedding agency My Riviera Weddings. Just to name a few milestones.
The students of the master's program in International Business with a concentration in Luxury Management had the chance and pleasure to ask all questions related to dealing with UHNWIs, but most importantly to gain insights into Natalia's personal career in the luxury industry and answers to what it takes to succeed.
The key takeaways from the luxury insight talk on "Myth vs Reality: Truths Through the Eyes of a Luxury Professional" from the students were:
"No experience is a bad experience; every experience shapes you. Overall, stay humble!" (Helen-Luisa Stierle)
"Always try to create a WOW effect and memorable time for your clients and customers. Gaining trust and making clients feel at ease is crucial for a successful and long-term client relationship."(Felix Schmitt)
"Always be active, warm-welcoming, and professional when interacting with clients." (Chun-Tzu Chen)
"Be ambitious and work hard." (Yuqing Ma)
"Natalia Langsdale gave us her motivation and strength to work and improve our skills in a competitive professional world. Her career taught us to seize the opportunities but also never rely on something that makes you successful now, because it will not necessarily work in the future." (Victor Daron)
"Natalia Langsdale conveyed the feeling that you can make your dreams come true." (Regina Baumberger)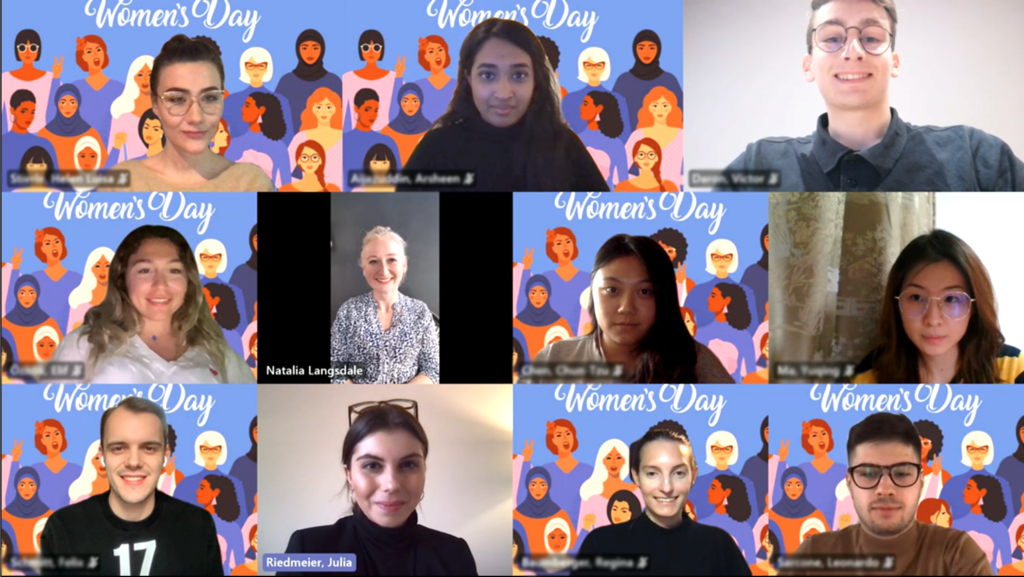 And Natalia Langsdale herself also gained a lot from the conversation and exchange with the students, as she writes in a follow-up message to module leader Julia Riedmeier:
"First of all, a heartfelt thank you to you and your wonderful students who showed true maturity and professionalism in their questions, mannerisms and enthusiasm despite the challenging times we are faced with today and many uncertainties for the future of bright sparks. I was touched by the feedback and proud to have been a small part of a ray that makes the beacon of wisdom. It was truly an enriching opportunity to share the years of my professional career – like an elevator pitch of many years of ups and downs and merry go-arounds! In the many interviews I have conducted with some of the luxury industry's most senior management, they each claim that luxury is time. I had the most wonderful time and for me the Luxury Insight Talk was truly a luxurious experience!  
 
When asked at a women entrepreneurial event what my proudest moment had been to date, I did not blink to think to answer with the one and a half hour I had with you and your students. Your students were my teachers, according to H. L. Mencken: 'the best teacher is not the one who knows most but the one who is most capable of reducing knowledge to that simple compound of the obvious and wonderful.' The obvious and wonderful was not what I was sharing, but what they were giving back to me in their inquisitiveness and willingness to listen. As Frank Herbert once said, 'the beginning of knowledge is the discovery of something we do not understand.' The irony of it all is that I was supposed to be passing on what I was coining 'experience' but in fact your students in turn passed on more knowledge to me than I back to them. The talk made me realize and appreciate that those moments of teaching help me understand who I truly am and want to be. 

 For sure, 'knowledge is power, information is liberating' (Kofi Annan)  but most importantly, 'education is the premise of progress' (Kofi Annan) - and the same goes for those teaching. So thank you for allowing me to spend this time with you all, and thank you to your students who invested their time. As an investment in knowledge always pays the best interest." 
Thank you very much, Natalia Langsdale, for your honest, humble, and inspiring words – and especially for dedicating your time, energy and for igniting a spark of curiosity, motivation, passion to the students!
The Luxury Insight Talk is a series where students from the Luxury Management concentration in the International Business master's program can ask professionals and former students in respect to career advice, personal development or course related topics.