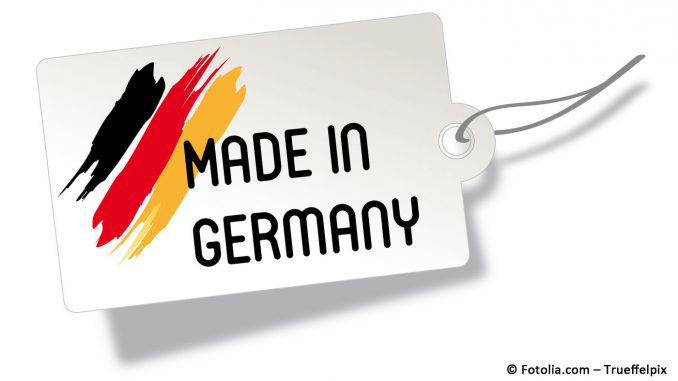 "Made in Germany" is successful as never before. It would be fatal, however, to rest on these laurels. A wake-up call by Dr. Kay Segler and Prof. Dr. Marc-Michael Bergfeld.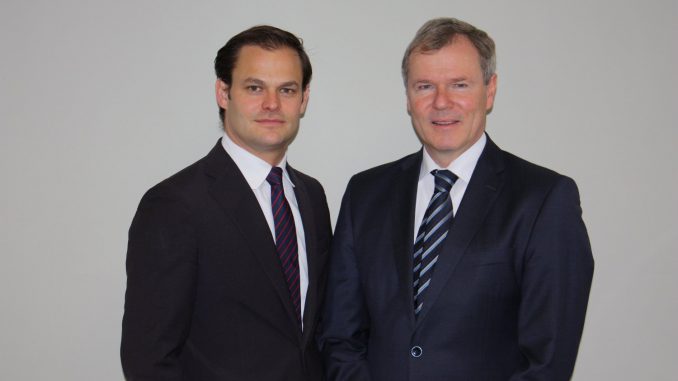 Just ask Roger Federer, what a Wimbledon victory means for the preparations for his next tournament. He will let you know: "Nothing. Past success is no guarantee for future success!"
Or read about the reports over the past few years about Germany, German small and medium-sized companies, our achievements in sports: You will read a lot about the quality of "Made in Germany", the World Champion's title at the last FIFA World Cup etc… But it applies here, too: "Past success is no guarantee for future success!"
This year alone, Germany will export goods amounting to a value of 1,400 billion Euros. Never before has "Made in Germany" been so successful, and German small and medium-size companies, above all, seem nearly invincible. A weak Euro favoring exports, relative strength compared to the rest of Europe, global praise for Germany's stability: The future of the business model "Made in Germany" seems guaranteed under the current conditions. But almost unnoticeably, some important rules of the game are radically changing. If you are not careful today, you may find yourself among the losers tomorrow. The "Made-in-Germany small and medium-sized companies" would be well advised to critically scrutinize themselves just at this moment. Three challenges should be seriously considered:
Start-ups with simple business models
Zalando and others have shown that seemingly stable business models can be deconstructed, simplified and reduced to their core customer benefits. The argument: "It is excellent German quality and therefore complicated and time-consuming" will not convince anyone in the future. Customers want products that are easy to understand, and they want them to be supplied quickly and with precision. If medium-sized companies themselves will not consider this, disruptive start-ups will, which – by definition – are breakers of all rules. In addition, they are currently equipped with almost unlimited amounts of capital from the capital markets – and through public subsidies by the respective governments. They generate simple and fast-scaling business models and, in doing so, often do not even require the entire value creation depth. Instead, they simply purchase some elements of their offers and resources.
New competitors from emerging countries attack the core markets of German small and medium-sized companies
New medium-sized companies in Asia, India and Latin America are pressing onto the world market. "Made in Germany" is still retaining its cool, referring to the fact that German quality, offering the most mature technologies, is still at the top of the pyramid of the premium world market. But it would be a fallacy to conclude that international providers are unable to reach German standards. They are learning fast, innovating themselves upwards, and – by high volumes – make lots of money in the middle and at the bottom segments of the pyramid and thus buy their way upwards. This is done either by pinpointed investments into research and development, by headhunting of top talents or by purchasing entire companies.
Small and medium-sized companies would therefore be well advised to buy and take over among themselves those German companies and brands that are up for sale, to clarify succession issues and to secure released know-how and proven brands against competitors. We have learned from Warren Buffets "Shopping tour through Germany" that the prices for German companies are attractive in the global comparison.
New markets emerging on the bottom and at the top
German small and medium-sized companies often surrender national markets in threshold countries to regional competitors without much of a fight, retiring into the high-price segments with the argument "Made in Germany, therefore classy and expensive". Thus, they enable regional providers to become global players by mere volume and local-for-local innovation in and for the emerging markets. Examples for this are companies such as Alibaba, Xiaomi or Lenovo.
Small and medium-sized companies should therefore attack on-site in the medium price segment or even at the lower end of the pyramid with products in China for China or in India for India. This does not mean they should produce low-quality goods. Instead, they should offer "Made in Germany", adapting it to local requirements and price structures.
In addition, a new segment of very high-value and high-priced products is emerging above the premium peak, where German medium-sized companies have positioned themselves. Culturally conditioned to exercise noble restraint, we often do not dare to charge "luxury prices" for outstanding goods and services. And thus, we are drifting into middle class direction without even noticing it. Bridging this gap between favorable and expensive high-end offers requires a sophisticated brand strategy. It is possible, for example, to position several brands under one roof with precision and without creating conflict in customer communication.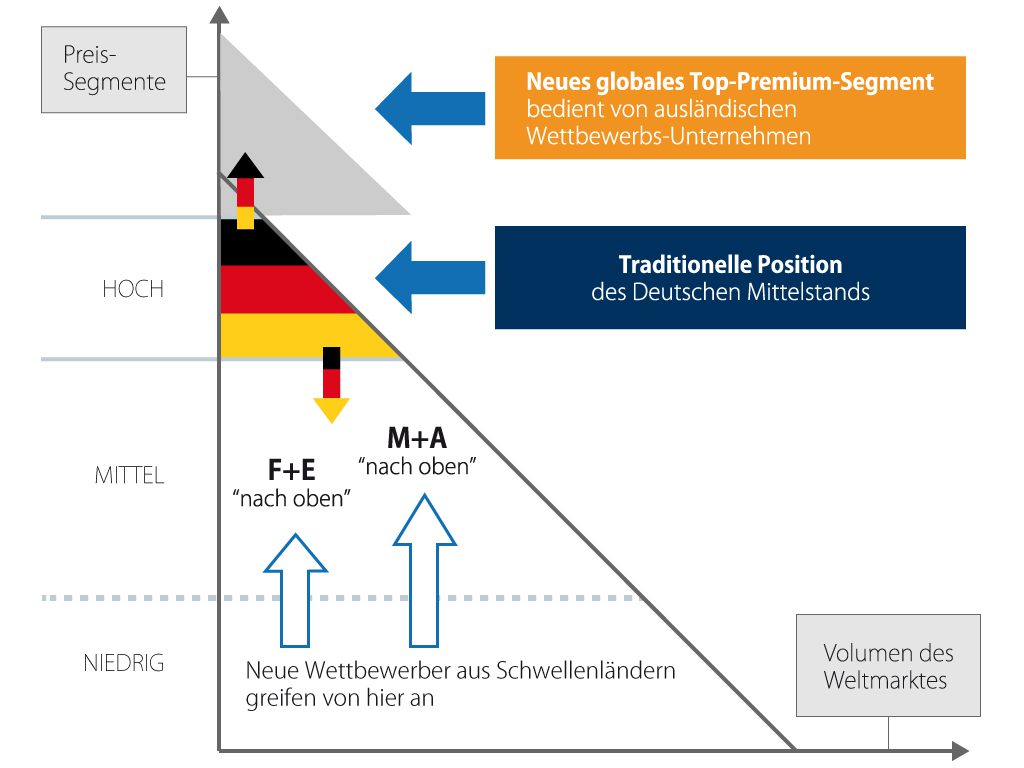 As never before, the press and the stock exchange are celebrating the small and medium-size sector. That, of course, makes critical self-analysis difficult. But real champions do not need a wake-up call. Now is the time to outline and define future strategies. Each world class player would work on future strategies and his own condition in particular when things are going well. Let this be our article's message!