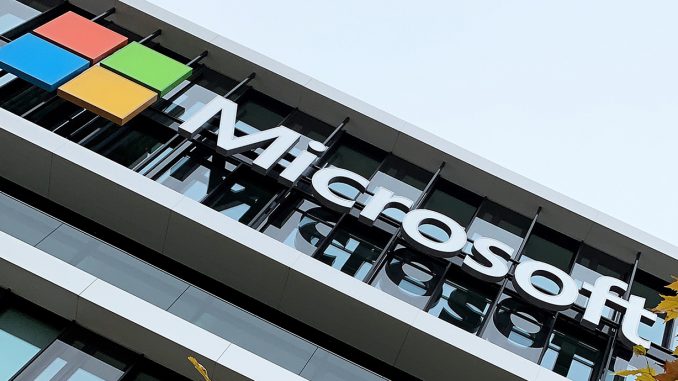 After several years of cooperation, for example in the context of recruiting events and company visits, Munich Business School and Microsoft Germany officially concluded a strategic alliance in April 2020. The aim of the cooperation is to further expand the already existing collaboration through practice-oriented recruiting events and digital workshops with students. Numerous MBS alumni are already working at Microsoft Germany and Anna Kopp, IT Director Germany & Regional Office Lead Munich HQ, also gave a presentation on Women in Leadership at Munich Business School in September 2019.
Nathalie von Seyfried, Chancellor of MBS, and Stephanie Raschen from the MBS Career Center met Anna Kopp and Sina Busch, Recruiter at Microsoft, for an interview to talk about the opportunities and goals of the cooperation as well as entry possibilities at Microsoft.
Nathalie von Seyfried: What do you expect from the cooperation with Munich Business School?
Sina Busch: I am looking forward to deepening and expanding our existing cooperation. We are proud to have MBS as a cooperation partner on our side. I personally hope that this will lead to an intensive collaboration with regard to events for students, graduates, and prospective students. We would like to give students the opportunity to gain practical insights into the Microsoft company. At the same time, we offer them numerous entry opportunities every year, e.g. as part of an internship or as a permanent position for graduates in the Aspire Program.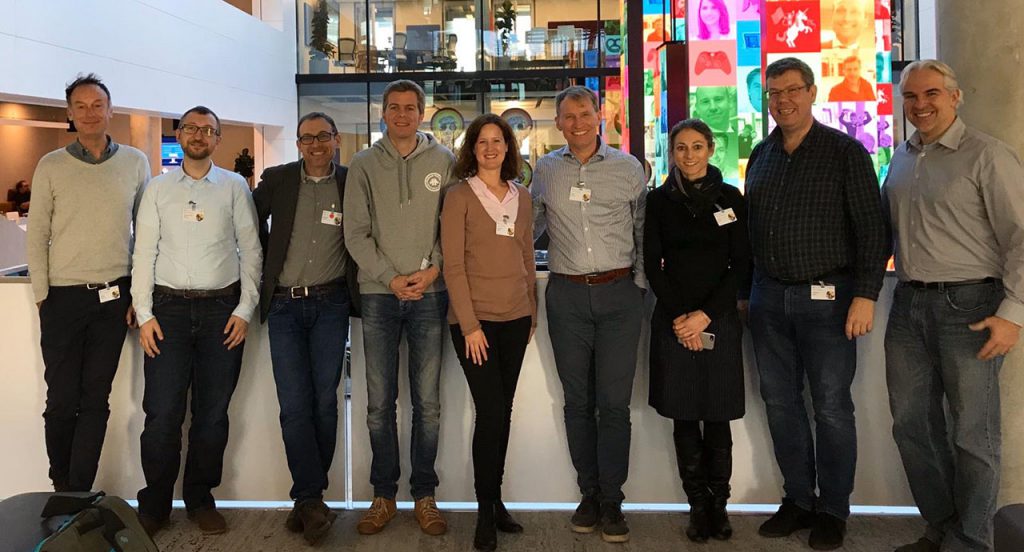 Anna Kopp: I can only join Sina. I am particularly looking forward to the cooperation, which is going into the professional field. We had our first joint researchathon at our company this year, and it is precisely such activities that bring a great deal of creativity and innovation and also have a business outcome. This kind of mutual enrichment is exactly what can change the world. Afterwards I got feedback from the participating employees that they not only had a lot of fun, but also learned something. Perpetual learning is very important to us!
Stephanie Raschen: What criteria do you use to select cooperation partners in the university sector?
Sina Busch: When choosing our cooperation partners, the main focus is on a promising collaboration. In general, we are very open, but we try to specialize in universities that offer the technical and business disciplines that Microsoft is increasingly looking for.
Nathalie von Seyfried: What do you think characterizes MBS and Microsoft and why do they fit together so well?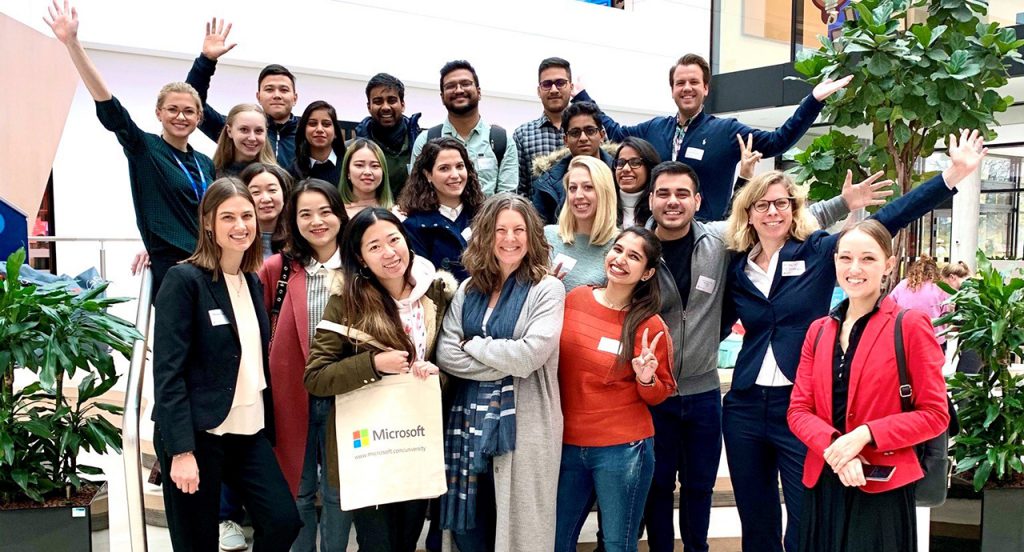 Anna Kopp: I am still impressed by the high level of MBS. I have met many of the students at events and am amazed each time at how committed they are. Munich Business School attracts ambitious and enthusiastic young people and that pays off. After graduation, top talents come to the market from which the entire tech industry benefits.
Microsoft stands for diversity and inclusion. We are always on the move internationally, both in terms of innovation and in relation to our customers and partners. We are very open and welcome individuality. That's why our culture fits very well with MBS, since students learn independence, individuality, critical thinking and teamwork in addition to their technical skills.
Stephanie Raschen: What entry opportunities are there at Microsoft for economists?
Sina Busch: Our entry opportunities (internship or Aspire Program) are in the areas of Sales, Technical Sales/IT Services, Technical Specialist, Consulting, Marketing or Project Management.
Stephanie Raschen: And what skills and knowledge do students need to join Microsoft?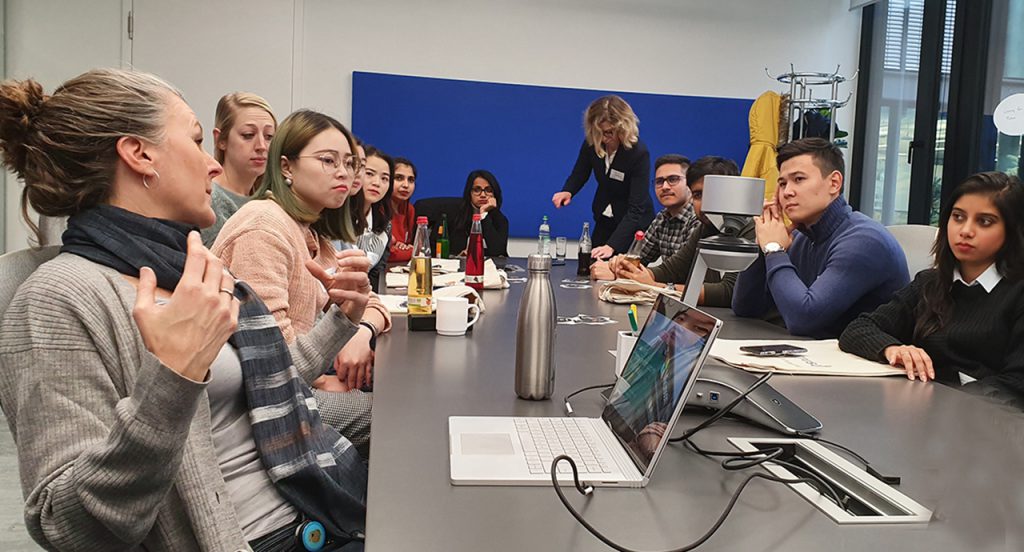 Sina Busch: That actually varies from position to position. We in university recruiting place a special focus on the motivation of candidates and their passion for technology. A little prior experience in the field to which you are applying can't hurt, for example in the form of internships or working student activities (but for a maximum of two years). In addition, candidates should speak English and German fluently. However, the necessary requirements can always be found in the corresponding job description.
Nathalie von Seyfried: What career tip can you give MBS students?
Anna Kopp: Stay curious. Keep a sense of humor. Position yourself broadly. At the same time it's also important to set limits early on and to maintain your own integrity. There are a lot of professionally competent people today, which is why companies are looking for authenticity, enthusiasm and commitment. Team spirit, team successes are much more important than individual successes, and everyone certainly wants to work with team players themselves. Besides: Stay cool. Ask for help and realize that you can never know everything. Therefore it is even more important to stay open for new things.
Stephanie Raschen: In which cycles does Microsoft recruit interns, working students and graduates?
Sina Busch: Internships start every year in March/April and October. Full-time internships last five to six months. Working students with a workload of 20h/week can always start at the beginning of each month. Graduates in the Aspire program always start in February and September in the context of a permanent position.
Many thanks for the interview and the exciting insights! We are looking forward to our further cooperation!