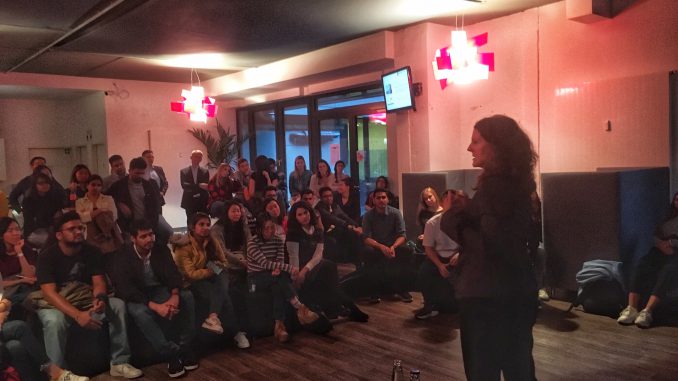 Yesterday evening Anna Kopp, IT Director Germany at Microsoft, came to Munich Business School to share her experiences with MBS students and explain how she managed to reach such an important position at Microsoft and pursue her passions of singing and motorcycling in her spare time.
Munich Business School has been organizing regular events on the topic of Women in Leadership since 2018. Prof. Dr. Patricia Kraft, Vice Dean of Teaching and Learning and Academic Director of the Bachelor International Business Program, and Nathalie von Seyfried, Chancellor of Munich Business School, launched the initiative. At these events, successful women in leadership positions share their experiences, obstacles and tricks in an authentic and honest way. This time it is Anna Kopp, who has some valuable advice for our students:
Be nice to your fellow human beings, regardless of which position these persons hold. Everyone prefers to work with nice and friendly people. Network with people and show initiative. Show passion. If something is important to you, stay persistent, it will pay off.
There was an energetic and inspiring atmosphere in the room, the lounge was full of curious Bachelor, Master and MBA students listening to the words of Anna Kopp. Great questions were asked, which Anna Kopp answered honestly and authentically. Anna Kopp said after the event I come back I like this international and open minded spirit here at Munich Business School. We are looking forward to her next visit.