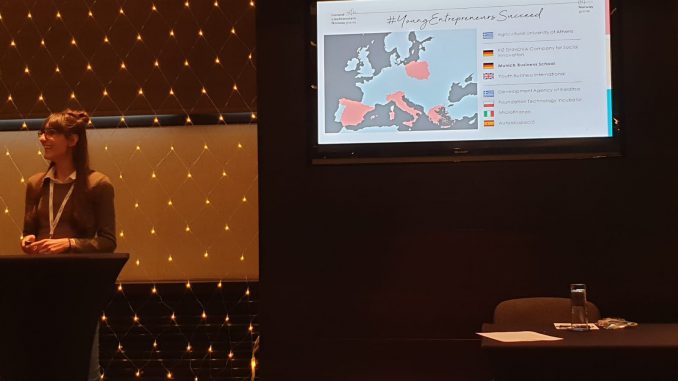 Sponsored by MBS Research Committee, Giulia Parola, Research Associate at MBS, participated at the 11th International Social Innovation Research Conference (ISIRC). The conference was hosted by The Yunus Centre for Social Business and Health, Glasgow Caledonian University in September. ISIRC brought together scholars from across the globe to discuss social innovation from a variety of perspectives. The conference featured more than 300 research presentations describing studies from all over the world organized in parallel sessions and divided in different research streams.
Giulia was invited to give a brief overview of her latest research paper and to discuss one of the current microfinance projects MBS is involved in ("Scaling trust-based partnership models to recharge youth entrepreneurship") by joining the research stream on Regional and Geographical Aspects of Social Innovation. Her talk was followed by an interesting discussion on the role of public institutions in solving pressing social issues, especially the unemployment plague in South of Europe. ISIRC gave Giulia the chance to build networks of scholars working in similar fields and corresponding projects. In the pictures below you can see Giulia during her presentation and in company of Dr. Maha Radwan, Manager of the European Journal of Islamic Finance.
The conference allowed participants to meet inspiring key note speakers such as Doctor Helen Haugh, Research Director of the Centre for Social Innovation at Cambridge Judge Business School and Professor Simon Teasdale, Assistant Vice Principal Global Challenges and Sustainability Research at the Glasgow Caledonian University and Associate Editor of Social Enterprise Journal. As expected, plenary sessions delivered by prominent key note speakers solicited a large amount of interactive discussions and interventions from the attendees.
ISIRC was also an occasion to enjoy Scottish hospitality at its best. The Civic Reception on September 2 was hosted by the Lord Provost at Glasgow City Chambers, one of the city's most important and prestigious buildings. Finally, a stroll around Glasgow outside of conference hours revealed the city to be a vibrant and dynamic community that offers plenty for the keen tourist to do.