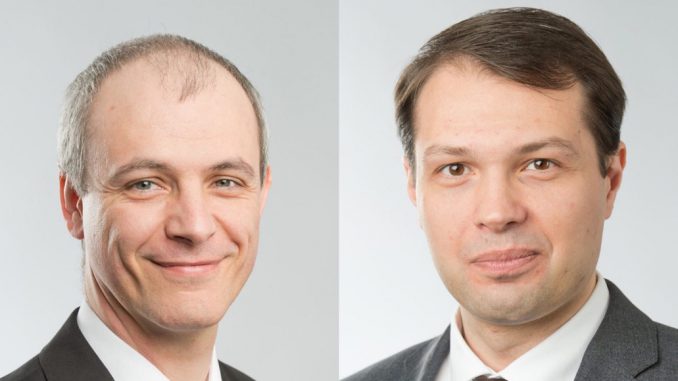 In the MBA International Management program, we welcome diversity. And when we say diversity, it is not only in nationality, but also in background and achievements. This year in the MBA IM program, we welcomed, for the first time, students who have already completed a PhD prior to attending MBS.
Therefore, I sat down with both Dr. Cyril Boulegue and Dr. Alexander Diadenko who are both very active and contributing members to the MBA IM program, to discuss their backgrounds and ambitions in joining an MBA program. Cyril is from Toulouse, France, has worked in France, Germany and the USA, and published multiple articles in the bio-organic chemistry field. Alexander is from the Ukraine, and has had a long successful career at Huawei, the Chinese world class telecom solution provider, where he most recently worked as the Head of the Network Solutions Department in Kiev, Ukraine.
What did you do prior to attending MBS?
Cyril: Prior to MBS, I worked for several years as a research scientist at the Max Planck Institute of Biochemistry in Germany. Afterwards, I was employed as an Engineer at Insitut Pasteur in Paris.
Alexander: I worked for ten years at Huawei where I was responsible for product marketing and technical networks solution for telecom carriers such as solutions for 3G and fixed broadband projects. My team's main goal was to continuously improve customer satisfaction as well as achieve department KPIs. However, my career began as a Product Manager for transport product development just after graduating from Kiev Polytechnic Institute.
What attracted you to MBS?
Cyril: I had earlier already considered completing an MBA and attended the Open House day in October 2014 at MBS to not only discover if this was the next step for me but also learn more about the MBA IM program. An MBA program in Munich allowed me to remain close to my family and avoid lots of travelling. That the program is well recognized within Germany was an additional point in my decision.
Alexander: For me, two primary points which I found very attractive were the location of Munich in itself and the German government accreditation. Being in Munich is attractive to me because it is convenient to travel around Europe as well as easy to visit Ukraine and keep in touch with my family and friends. The reason I say that the accreditation is important to me is when you make a decision to enter an MBA program you should have a certain level of trust in the school, and this applies to private and public universities. In addition, I became familiar with the German educational system from completing a two-week traineeship at the Dresden University of Technology.
Why did you decide to complete an MBA after having obtained a PhD?
Cyril: After having worked several years in research, I wanted to change positions and advance further in a company, and focus more on managing projects and/or people. Due to my background working as scientist and engineer, I however wasn't very successful in finding something that would be both challenging and in my field. Further, employment in the Chemistry industry in Munich is rather limited and because of this, it was clear to me that even with a PhD it would be difficult to find an optimal position. As I have very specialized skills, an MBA will broaden the number of potential opportunities and allow me to remain in the field and at the same time accept greater responsibilities within an organization.
Alexander: That is a good question. For me, the main ambition is to develop from having a domestic perspective to having a more international perspective and gain a better understanding of how international businesses think and develop. Also, I chose the "Business in China" module to further help broaden my knowledge of business cooperation between the East and the West.
What key learnings from the MBA do you see being the greatest asset in the next step in your planned career and life?
Cyril: The only experience I had in business prior to joining the MBA was leading a service group at Max Planck institute. So far the MBA has broadened my overall knowledge of business in different fields from Finance to Management and Innovation to Leadership. It has been especially good to learn about businesses and practices in foreign countries like China for instance.
Alexander: As the program is not yet completed, it is difficult to pinpoint one learning in particular upon which I currently seem to reflect often. That being said, I do often think about a few points from different classes and how I can employ them in the future. For example, in a recent class we were learning about making decisions in complex multicultural business environments which can be very challenging. Further, the Asian module helps me to develop core competencies on how to build and improve the business cooperation between European and Asian companies.