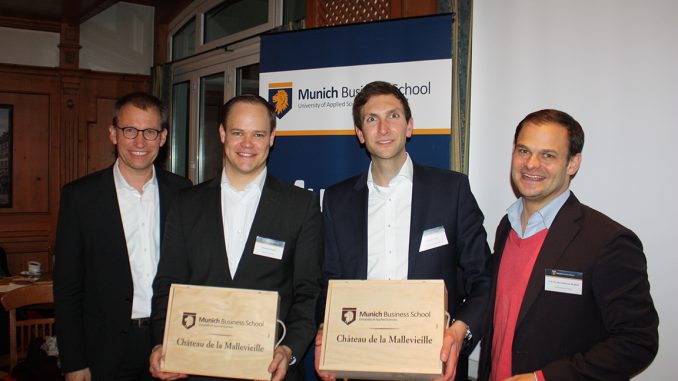 20th Edition of the MBS Dine & Discuss: The Dos and Don'ts in Innovation.
The global competitive environment keeps getting tougher: Radical technological change happens faster and faster and new business models threaten the existence of established companies almost on a daily basis. Therefore, how to innovate successfully in intelligent ways becomes a crucial question for survival. So what is the future of smart innovation and how is this done in industries where disruption is a constant reality?
This springs Dine & Discuss event was particularly special for various reasons: The host of the event, Prof. Dr. Marc-Michael Bergfeld, is a renowned expert in the field of innovation and lecturer of the MBA module "Global Strategy, Entrepreneurship and Innovation" at MBS. The topic "The Future of Innovation" itself ignites a vibrant debate and the highly international audience added further spice to the discussions of the night.
The Future of Innovation
In his introduction, Prof. Dr. Bergfeld briefly talked about technology industries where much innovation has been happening. Furthermore, he revealed what exactly makes companies like Uber and Airbnb innovative and what the reasons for their success are. A passionate surfer, Prof. Bergfeld drew an analogy between the life cycles of technology industries and surf waves illustrating the various phases that industries and the companies disrupting these go through.
He then handed over to the first guest speaker of the night: Dr. Martin Lerch, MBS Alumnus and Senior Consultant, Strategy and Transformation at Scheer Management GmbH. According to global innovation studies, innovative companies have a high potential to be economically more successful.
Dr. Lerch raised some important questions to consider when tackling internal and external challenges that Innovation Management faces: How should companies deal with current and upcoming trends and how do they know which trends to bet on? How can Innovation Management ensure the identification of good ideas and potential synergies? "There is no surprise about innovation", Dr. Lerch revealed and offered a comprehensive approach to innovation that requires the systematization and formalization of innovation processes in order to become a successful and sustainable innovator.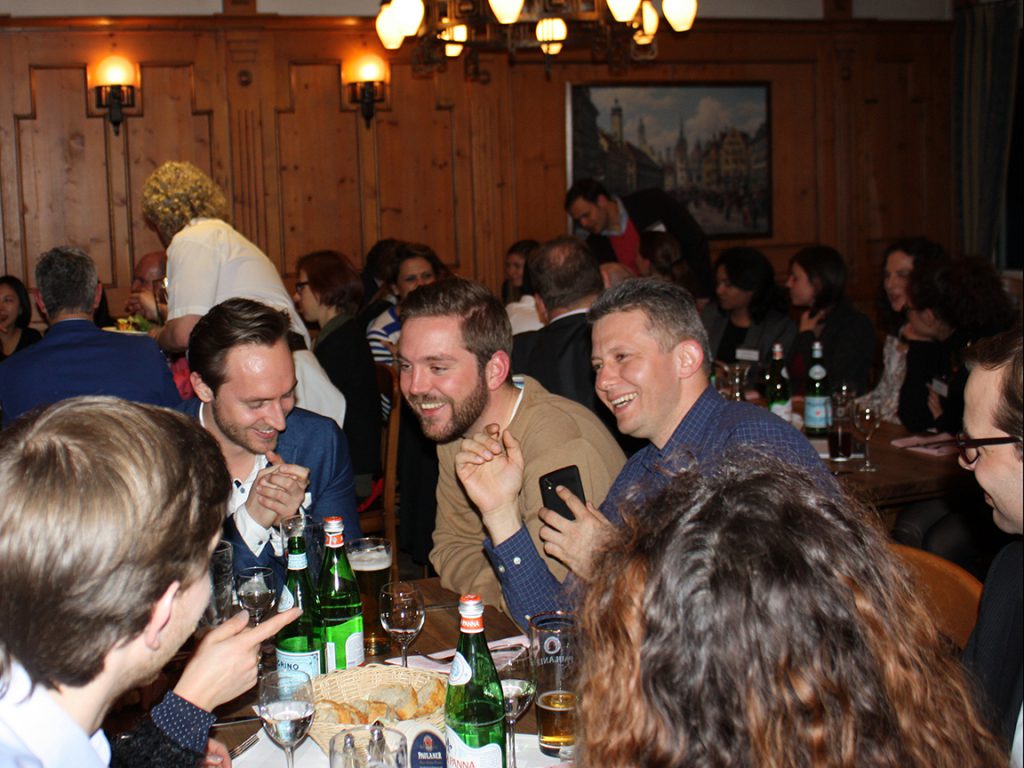 Innovation means that there is no Box
The second guest speaker, Alexander F. Bergfeld, MBA Alumnus of Munich Business School, Founder and Managing Director of AdSolem Acceleration, focused in his presentation on "The Speed of Innovation". Drawing on his vast and highly international experience in the field of innovation, Alexander Bergfeld shared his personal experience with start-ups, demonstrated ways of capturing start-up potential and pointed out common mistakes when building acceleration. Talking about innovation, Mr. Bergfeld said: "Thinking outside the box? Innovation means that there is no box."
Concluding the evening, Prof. Bergfeld summarized the main findings of the evening and ended the official part of this MBS Dine & Discuss with a personal piece of advice: "Make sure you catch the waves and avoid taking the same waves as others."
For another hour, MBA Alumni & students, company representatives, MBS lecturers and our special guests from the American University of Sharjah, INSEEC Business School, Boston University Metropolitan College, Copenhagen Business School and the Innovation Center Denmark continued their vibrant discussions on innovation – comparing cultural differences in approaching innovation, sharing experiences and exchanging ideas. Another successful and inspiring MBS Dine & Discuss came to an end. One thing is for sure: Innovation and all its aspects fascinate.