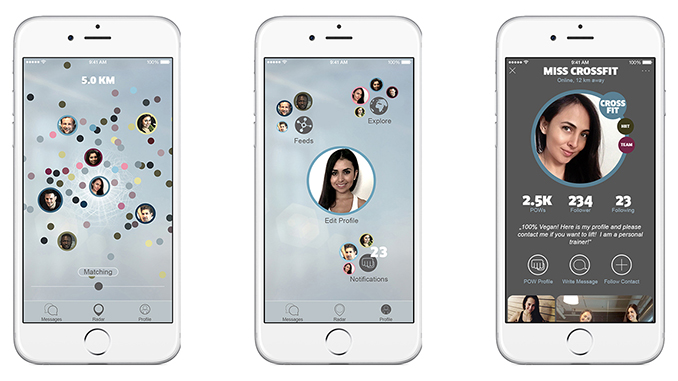 Two MBS Alumnae Sisters Establish Social Fitness Start-up
One important part of Munich Business School's (MBS) self-conception is to perfectly prepare its graduates for the global working world – but also to encourage them to establish their own ventures in a professional manner when the right idea comes up. This is exactly what Deneb Moosmeier and Rut Sarai Abril, two sisters from Ecuador and both BACHELOR International Business graduates at MBS, did by founding GYMDER, a social fitness start-up. Their app of the same name has just arrived on the App Store as well as on Google Play and has even made it to #1 within App Trends.
Back in 2003, Deneb was the first of the two sisters to come all the way from South America to Germany with the intention to learn a new language and do a one-year exchange program at MBS: "I chose MBS because it is considered a top business school in Europe with experienced lecturers, an international atmosphere, small and personalized courses and a practical approach, not just reading books," Deneb recalls her decision to study at MBS. "During my studies, I fell in love with Germany and made up my mind to stay here. After all, Germany is a great place for business opportunities."
In 2011, Rut Sarai followed her sister: "I regularly visited my sister during her studies and fell in love with Munich myself. That, plus the fact Deneb was already here, were reason enough for me to follow suit and start my Bachelor studies at MBS, as well," Rut Sarai describes her way to Munich and MBS.
Kicking-Off GYMDER
After completing their respective Bachelor studies, both the Ecuadorian sisters independently started classical professional careers, working for prestigious companies in the automotive and software industries.
Then, at the beginning of 2016, an idea came to their minds while working out in a gym: "We love to go to the gym and train together. One day, we saw a girl that almost broke her arm because she was doing her exercise wrong. We thought 'What if there was a platform that enables you to find a workout buddy that fits your interests – right when you need one?' We have seen from our own experience that training with like-minded people is so helpful. Not only that you can learn how to do your exercises properly, but it is also extremely motivating and fun to train together," says Deneb. "The idea inspired us so much that we decided to go for it!"
With the idea at hand, the sisters followed up with the development of an app: "We did in-depth market research, spoke with experts and top influencers in the fitness industry, and they all saw huge potential in the idea. We believed in it anyway, and that is how we decided to get started," Rut Sarai depicts the early stages of the venture.

Social Media Meets Real-life Fitness
The result is to be found on the App Store as well as on Google Play since the end of October, and in 150 countries worldwide: GYMDER, a free fitness app that enables sports aficionados to find workout buddies and communicate with others who share their fitness interests.
Further, they can follow people to stay up-to-date with their fitness activities, use group chats to connect, and share who they are in their fitness profiles, amongst other functionalities. "All these features together will help people, from beginner to professional, to make their training sessions more fun, motivating and effective," the sisters summarize the benefits of the GYMDER app.
By now, GYMDER is still a non-profitable venture: "At this point, GYMDER is our baby. It's a dream coming true, and we can't say exactly what will happen in the future."
Support from the MBS Network
To develop their start-up, Rut Sarai and Deneb got back to their alma mater: A group of MASTER International Business students have done their Business Project, a mandatory course during the program, for the alumnae's company: "The students act as consultants and advise us about brand expansion ideas. The assignment we gave them is divided into two branches: B2C-focused on user growth and increasing brand awareness, and B2B-focused on an industry assessment and the creation of a prospect list. The students are free to use any methodology they find suitable, and we would all be part of a scrum process."
In addition, MBS lecturers as well as the Alumni Services and Career Center departments are happily supporting the two Ecuadorian sisters and their start-up: "Already during our studies, MBS has become our second home. We are very happy to take advantage of the MBS network and rely on our MBS family," Rut and Deneb describe the cooperation, and adding: "We hope to also meet people from MBS in the GYMDER network, get connected and do a workout together."
For additional information on GYMDER, please visit the company's website as well as their Facebook, Instagram and YouTube channels.
The GYMDER app is available for Apple iOS and Android devices. Give it a try!