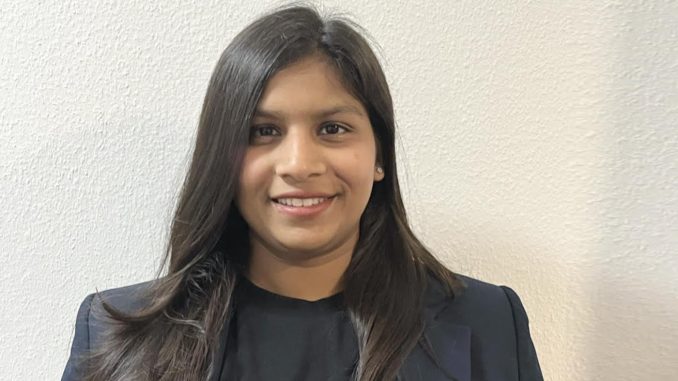 Since 2005, WiWi-Media AG, together with partners from the business world, has invited applications for the bi-annual WiWi-Talents program. The program rewards the highest-achieving business (German: Wirtschaftswissenschaften – WiWi) students in German-speaking countries, providing ideational support and close networking with companies. From the outset, Munich Business School (MBS) has proven to be a real hotbed for successful applications to the WiWi-Talents program. The 2023 summer intake once again includes an MBS student. MBS Insights spoke with MBA student Tanushree Jain about the application process and her hopes regarding the award.
---
MBS Insights: Tanushree, you have been selected by WiWi-Media AG for the 2023 summer intake to the WiWi-Talents program, making you one of the 17 most talented business administration students to apply. Congratulations! What does the award mean to you and what are your hopes for the program?
Tanushree Jain: Thank you so much for your kind words. Being recognized as a WiWi-Talent for the 2023 summer semester is an incredible honor, reflecting the hard work and commitment I have invested in my academic pursuits and personal growth. I am truly thrilled and deeply grateful for this remarkable recognition.
The WiWi-Talents program opens exciting opportunities for my future career. The inclusion of my profile in the esteemed WiWi-Talents book, a publication that reaches personnel decision-makers of over 500 renowned companies in German-speaking countries, is an invaluable platform to showcase my abilities and aspirations. I hope this exposure will enable me to connect with esteemed professionals and organizations, fostering potential collaborations and career prospects.
As I embark on this transformative journey, my hopes for the program are to make the most of the comprehensive support and resources offered. I aim to engage actively with my fellow WiWi-Talents, learn from industry experts, and gain insights that will empower me to excel in my academic and professional endeavors.
MBS Insights: How did you find out about the program? What did the application process involve?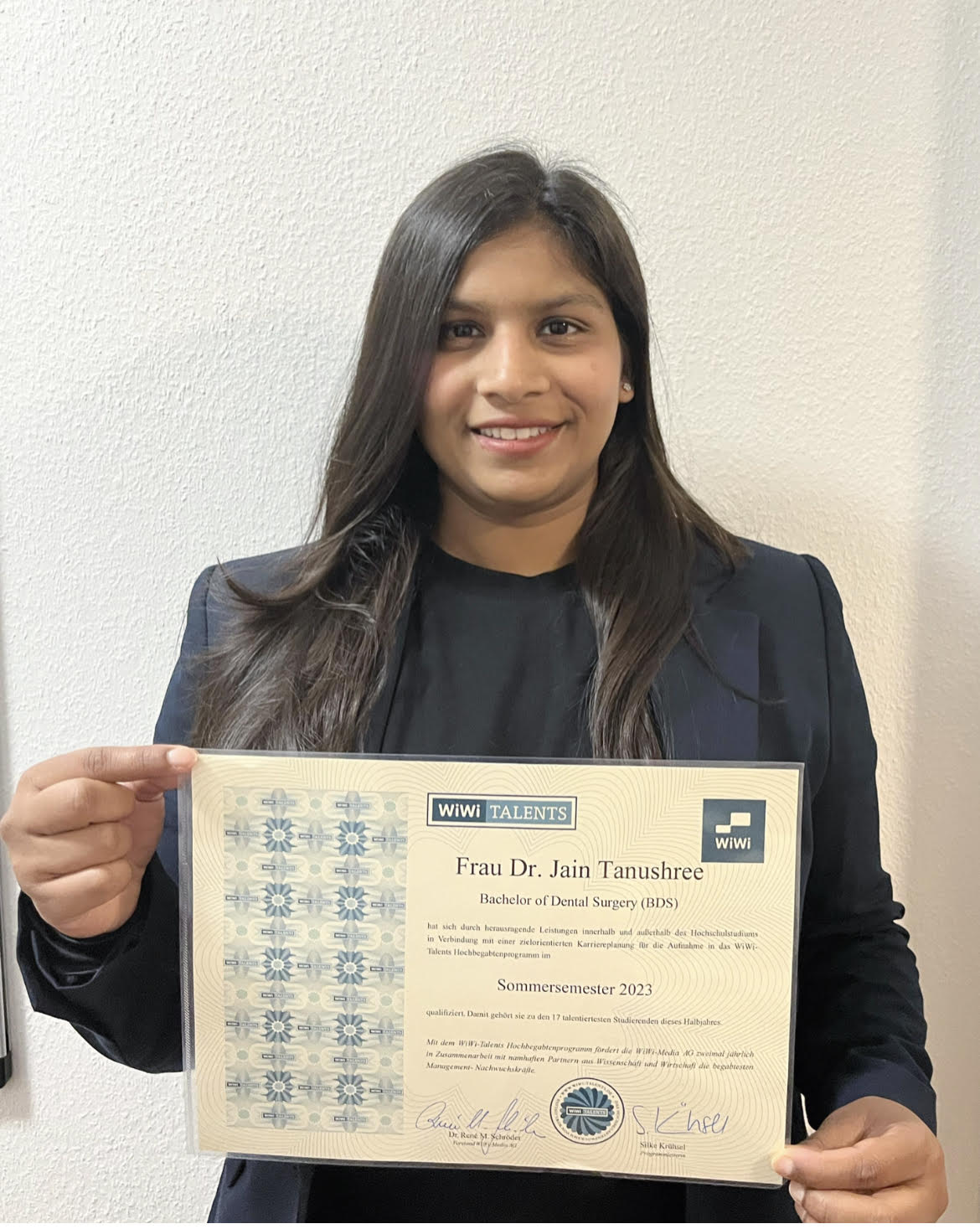 Tanushree Jain: The WiWi-Talents program announcement seemed to be everywhere, from bulletin boards at Munich Business School to student forums, and it immediately caught my attention. The prospect of being recognized as one of the most talented business administration students was both thrilling and daunting. As I contemplated applying, I felt a surge of courage and determination within me. I knew I had to seize this opportunity, even if it meant stepping out of my comfort zone. Embracing that spark of bravery, I gathered all the necessary documents, polished my CV, and prepared my future and career plans with the utmost sincerity.
The application process itself was rigorous, requiring a thorough presentation of my academic achievements, extracurricular activities, and future aspirations. In the end, submitting my application was an exhilarating moment. It felt like a leap of faith, knowing that my efforts and accomplishments were now in the hands of the selection committee. As I waited for the results, I reminded myself that the journey itself was a valuable experience, regardless of the outcome. And when I received the news of my acceptance as a WiWi-Talent, my heart swelled with joy and gratitude.
Looking back, I am grateful for keeping my eyes open and taking that leap of bravery. The WiWi-Talents program has become a turning point in my academic and professional journey, and I eagerly anticipate the transformative experiences that lie ahead.
MBS Insights: Applicants are required to submit a detailed plan, outlining how they see their career developing. Where do you see yourself after completing your MBA degree at Munich Business School and in five years's time?
Tanushree Jain: As an MBA student with a background in dental surgery and experience in both healthcare and business industries, I am passionate about a career in corporate management, focusing on consulting and marketing. My unique set of transferable skills combines medical knowledge, business acumen, and managerial expertise. I find consulting captivating, drawing striking parallels to my dentistry background. As a former dentist in India, I possess strong leadership skills and excel under pressure, making me adept at problem-solving for clients – qualities I believe will be valuable in consulting.
In the short term, I proactively seek ongoing learning opportunities within and outside the workplace, immersing myself in industry literature, workshops, and networking events to stay at the forefront of emerging trends and best practices.
After my MBA, I am planning to work as a strategist at a multinational company, supporting executives with data-driven analysis and reports to make major operational, financial, and strategic decisions. Looking ahead, I aspire to join senior management at a large multinational corporation, overseeing the annual operating plan, cost management initiatives, fostering innovation, establishing partnerships through M&A, and implementing corporate strategies. To achieve this, I am committed to gaining deeper insights into large businesses' operations, enhancing decision-making abilities, and building a robust professional network.
MBS Insights: What would be your top tip for students who are also interested in the WiWi-Talents program (or similar excellence programs)? How did MBS support you in the application process?
Tanushree Jain: My top tip for students interested in the WiWi Talents program or similar excellence programs is to believe in yourself and your capabilities. Don't hesitate to take that bold step and apply, even if it feels challenging or competitive. Your unique skills and achievements deserve recognition, and such programs can provide incredible opportunities for personal and professional growth.
I am incredibly grateful to MBS Chancellor Dr. Christine Menges for her unwavering support and guidance throughout the application process for the WiWi-Talents program. Her reference letter was filled with kind and powerful words that not only boosted my confidence but also played a significant role in my application's success. Her belief in my potential and her thoughtful insights truly made a difference, and I am thankful to have her as a mentor and supporter in my academic journey.
---


Have you secured your degree, gainded professional experience and are now looking to take a leap forward in your career, refine your leadership skills and expand your professional network?
The MBA in General Management at Munich Business School is the the perfect opportunity to do just that! See your yourself: MBA in General Management I Full-time