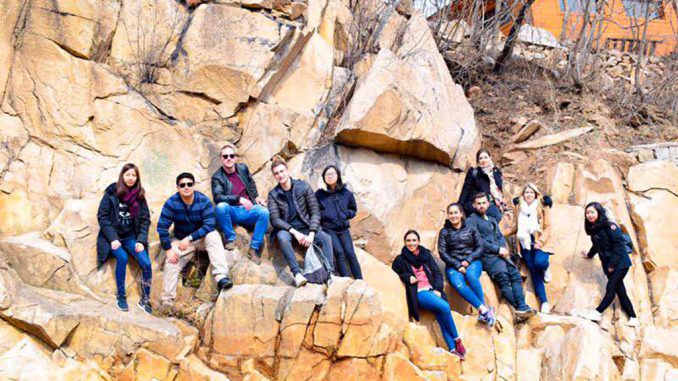 Nigel Görtz, Bachelor International Business student at MBS, has spent his semester abroad at Beijing Foreign Studies University (BFSU) in China. Here, he talks about his experiences.
Why did you select your host university?
What was important for me was that I wanted to experience something completely new and challenge myself. Due to this, Beijing was the perfect choice for me as I was able to experience a whole new culture and a much different way of living compared to that of many Western countries.
What were the most memorable events during your time abroad?
I must say I was rather pleased with how good my host university was when it came to organizing trips for the exchange students. Not only did this make exploring Beijing and China a lot easier, but it also made it very enjoyable as I personally got to know many other students by participating in these trips. For example, during the first week of settling in the university, two day trips – to the Great Wall of China and to the Ancient Villages – were organized for the exchange students . I would also recommend getting in touch with the student council of BFSU as they also organize (weekend) trips for students, for example to Mongolia, to small traditional riverside villages and many more.
What courses did you take? How were they similar or different to your courses at MBS?
It was nice to see that there was a large variety of courses to choose from, ranging from macro and microeconomics to finance, mathematics, negotiation skills, government and politics to many more. It is important to note however that many of the courses offered will relate mostly only to China. For instance, the courses I chose were "Doing Business in China", "Marketing in China", "Finance", "Chinese Business Etiquettes and Culture" and "Basic Chinese".
Initially, I was not planning on choosing basic Chinese as a class but at BFSU it is compulsory for all exchange students to have to take this course. If like me, your Chinese skills are nonexistent, this could be a bit worrying, but the course was very helpful and the teachers that run it are very understanding and helpful, which made learning the language all that more fun.
How was your experience different from what you expected? In what ways was it the same?
I was pretty naive before going to China as I thought that many Chinese people would have basic English skills, however I was dead wrong. Beijing is considered very traditional and therefore it was very difficult at first to communicate with the people there. What helped me a lot was making friends with the Chinese students within the university, they were very eager to be friends with foreign exchange students such as myself and taught me the do's and don'ts when in Beijing, along with some useful phrases and words so that I was not completely lost. My experience as a whole was absolutely incredible and I would definitely recommend BFSU as a great host university and Beijing as an amazing city to spend your semester abroad at.
What recommendations do you have for future MBS students?
Prepare well before leaving to Beijing! The city has so many great things to offer but it can be very overwhelming, especially if you are a complete stranger as I was. My recommendations would be as follows:
Most importantly, get WeChat; it is an app which you need when in China
Open up a Chinese bank account; it is super easy and you can link your account with WeChat and use it to pay for several different things
Pleco is a great translation app and worth getting
Foreigners enter and drink for free in every club in Beijing, so find some promoters; if you need, I can happily recommend a few
Get a VPN as China has the great firewall; I used Express VPN and it worked very well.
The registration day at BFSU is very confusing and almost none of the staff which attend talk English; therefore, I suggest befriending someone who talks Chinese as well as English and follow them
There is a shop called D-Mart in Wangfujing, 15 minutes away from the campus by taxi; it sells all Western products so if you miss your food from home, head there
Sanlitun is where all the clubs and bars are, there are also great restaurants in that area.
When getting a taxi, always ask the taxi driver to use the taximeter
[wp_geo_map]