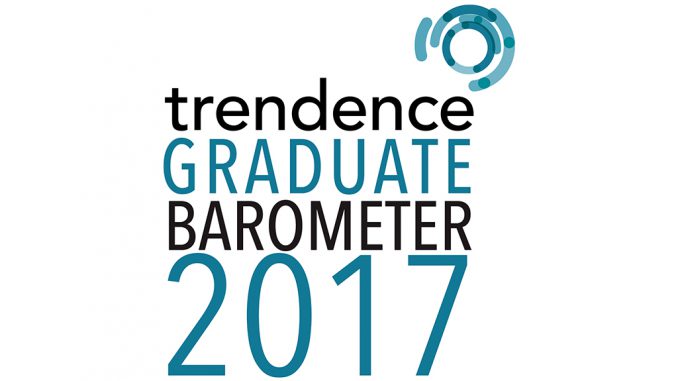 Bachelor and Master Students Are Satisfied With Their University
93.5 per cent of the Bachelor and Master students of Munich Business School (MBS) would recommend their study program to others – this is what one of the results from the students' survey trendence Graduate Barometer 2017 tells us. The students at MBS showed they were particularly satisfied with the internationality and practical relevance of their academic education, as well as with the student services provided at and by their university.
For the latest edition of their student survey, the experts of trendence research institute evaluated data from 14,128 Bachelor and Master students at 111 German universities in the "Business" field.
Internationality of Education: MBS in the Top Ten in Germany
The MBS especially obtained points in the categories internationality, practical relevance and student services.
The "internationality of education" at MBS was evaluated as outstanding by students, both the quality of the "exchange programs/ semesters abroad, university partnerships" (satisfaction 93.4 %; Germany: 73.9 %) as well as the "lectures in a foreign language" (85.8 %; Germany: 67.8 %) achieved good above-average values. As a logical consequence, MBS is included amongst the Top Ten of all German universities in the ranking category "Internationality of education".
The students were likewise very satisfied with the "practical relevance of education" (ranked 13th out of all German universities). The students evaluated all individual indicators in the comparison here particularly well: the "practical relevance of course contents" (93.3 %; Germany: 65.5 %), the "excursions, case studies, guest lectures" (81.8 %; Germany: 56.6 %) as well as the "practical semesters, internships" (78.6 %; Germany: 60.1 %).
In the category "Services", MBS ended up ranked 11th of all German universities. At MBS, the students receive "swift responses to queries" (79.1 %; Germany: 67.2 %) from "competent contact persons" (85.0 %; Germany: 68.6%) in "transparent responsibilities" (79.4 %; Germany: 60.8 %).
Overall, the surveyed MBS students awarded their university a grade of 2.1 (on a scale of 1 = "very satisfied" to 7 = "very unsatisfied").
MBS Students Want to Work in Munich or Overseas
The Bachelor and Master students obviously do not just hold the quality of education at MBS in high esteem, but also the city of Munich where the university is situated, as their future place of work: More than 40 % of them plan to look for a job in the Bavarian state capital following graduation. Students at other universities in Germany, by contrast, comparatively frequently return to their home regions or look for a job anywhere in Germany; only 22 % remain in the city where they studied.
Also the number of those aspiring to careers overseas at MBS is high and above-average: 19.6 % of MBS students want to work overseas following graduation, throughout the whole of Germany the figure is merely 10.9 %.
MBS Students Feel Well-Prepared for the Employment Market
Whether in Munich or overseas – students at MBS feel they are well prepared for starting their professional careers: in comparison to the average for the whole of Germany, significantly fewer students plan further study and qualifications – and instead of this plan to start working in their career immediately.
The number of those wishing to start a business during or right after their studies is likewise above-average: more than one in four MBS students (27.7 %; Germany: 19.2 %) is planning their own start-up. "We consider it an important role to not only impart economic knowledge and soft skills to our students, but over and above this encourage them to develop their own ideas and also put them into practice. For this reason, courses in entrepreneurship, business plan workshops, business idea pitching competitions and similar provisions are fixed components of the curricula at Munich Business School," says Prof. Dr. Stefan Baldi, Dean of MBS.
MBS Students Have No Worries About Their Professional Future
MBS students have no concerns about their professional future, also thanks to the extensive services offered by the Career Center, available to all MBS students with advice and assistance: starting with career training and coaching through numerous career events right through to support when searching for internship and entry-level positions in well-known businesses.
Consequently, MBS students replied to the two questions "It will be difficult to get a job following graduation" as well as "I am concerned for my professional future", all 100 % – with a clear "No".
Source: trendence Institut