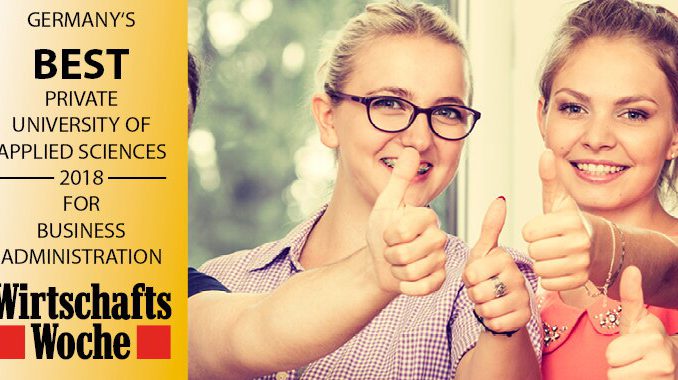 In the 2018 edition of the WirtschaftsWoche university ranking, Munich Business School (MBS) accomplished an excellent result. In the field of business administration, MBS achieved rank 6 amongst all universities of applied sciences in Germany. It is thus the best rated private university of applied sciences in the ranking – and the only one that has achieved a top ten position for the ninth time in a row.
On behalf of German business magazine WirtschaftsWoche, HR service provider Universum Global had conducted interviews with 500 HR managers from small, medium, and large companies of various industries throughout Germany. The decision-makers were asked to select from a list those universities whose graduates, in their opinion, best meet the requirements of their companies. It is the only ranking that is based on the independent assessment of German employers and not on data provided by the schools themselves or feedback of selected students. Thereby, the ranking provides a representative indicator of the employability of university graduates.
MBS Graduates Are Excellently Prepared for the Labor Market
The outcomes of the WirtschaftsWoche university ranking confirms the excellent results of Munich Business School in the trendence University Employability Ranking as well as in the Global University Ranking U-Multirank: here again, MBS had achieved the top position amongst all private universities of applied sciences for business administration. In a nutshell, MBS graduates do not have to worry about their employability.
A closer look at the results of the ranking shows that, besides some of the big public universities, focused public and private institutions were able to achieve very good positions – such as University of Mannheim and WHU in Vallendar, ESB Reutlingen and Munich Business School. "We are very happy that we have been able to finish amongst the top 10 universities of applied sciences for nine consecutive years now. We are particularly proud of the fact that none of our competitors have succeeded in doing so. This is all the more remarkable as MBS is by far the smallest university that regularly ranks amongst the top ranked universities," says Prof. Dr. Stefan Baldi, Dean of Munich Business School.
Munich Business School is thus again rated by far the best private university in the Munich area by employers (IUBH 15th place, ISM 17th place, FOM 51st place, others could not rank among the top 50).
"We consider this as proof of the consistently high quality of our education, but also as an incentive to continue working hard on preparing our graduates for the challenges of the working world in an ideal way. Through our international approach, with a strong focus on practical relevance and personal development, we strive for enabling our graduates to actively shape their professional future – be it as executive managers in a company or as founders of their own start-up."