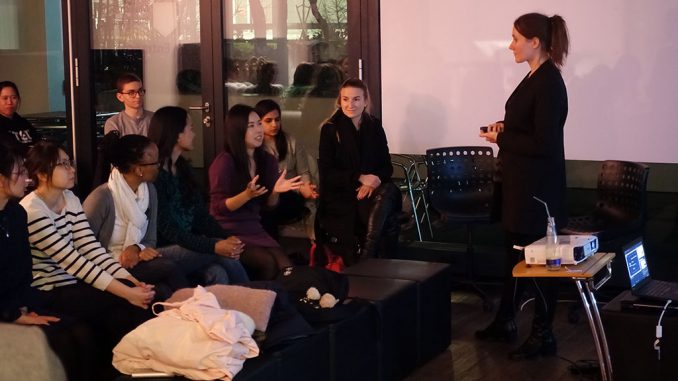 Yesterday, the MBS Lounge was the venue for the #IamRemarkable workshop presented by Katarzyna Seidl, Strategic Partner Manager, Global Partnership Team, and Diversity Ambassador at Google.
The workshop marked the first event of this semester's "Women in Leadership" series, which will feature two more themed events to follow on March 18 (feat. MBS alumna Sandra Hörmann, founder of FEMALE LEADERSHIP TRAINING), and on April 3 (Career Croissants – Women in Leadership Business Breakfast).
In front of a diverse group of students, yesterday's event was opened by MBS Professor Dr. Patricia Kraft, who gave a short introduction into the topic by touching upon aspects such as the ratio of women in leadership positions in Germany (and beyond), or the different barriers (e. g., social and cultural ones) that hinder women to advance their careers the same way men are enabled to.
The Importance of Self Promotion
Subsequently, Katarzyna Seidl took the stage to kick off the actual #IamRemarkable workshop. After a quick introduction round, she presented the concept of the workshop, which is to "(empower) women and underrepresented groups to celebrate their achievements in the workplace and beyond." This is done by "(highlighting) to participants the importance of self promotion in their careers and provide them with the tools to start developing this skill."
She then continued by illustrating some insightful research findings centered around topics such as self-promotion, bias, competence, and other aspects that impact the perception of women at the workplace, in society etc.
Share Your Achievements!
Next, it was about time for the students to get involved in a practical exercise, more precisely to write down to remarkable personal achievements, and to subsequently share them with a fellow student, and eventually with the whole audience – in order to train their aforementioned self-promotion skills.
The workshop was concluded with a discussion round on the take-aways: use your self-promotion skills to set yourself (career) goals – prepare to demonstrate your impact by continuously training the skills – and foster relationships that you can rely on when navigating the job market and other areas of life.
We would like to thank Katarzyna Seidl for visiting Munich Business School, and for empowering our students in a very inspiring way!
For more information on Google's #IamRemarkable workshops, please follow this link.