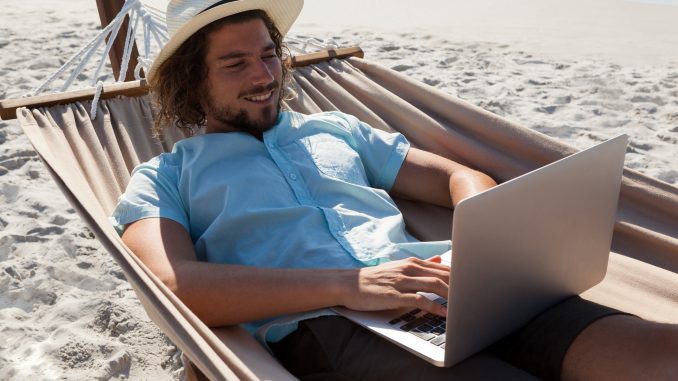 Digital nomads: Entrepreneurs, freelancers and, in rare cases, employees who almost exclusively use digital technologies to carry out their work and thus have the opportunity to lead a life anywhere. They work from different places – at home, from co-working spaces, at the beach, from a hammock in the garden, or in a café – the possibilities are endless.
The increasing focus on a goal-oriented way of working as well as the new opportunities for flexibility with regard to working hours and place of work promote the possibilities of working from any location. Further drivers of this new way of working are the current change in values regarding the way people want to work and live, as well as digitalization, which enables new business models, products and services.
In the context of a qualitative study, the following questions were examined: What are the opportunities and challenges of working as a digital nomad? How does this concept of working relate to personal happiness? The job profiles of digital nomads turn out to be very diverse. What all the interviewees had in common was that they work in the service sector. They pursue the following occupations: copywriter/editor, author, IT consultant, web designer/developer, coach/online consultant, strategy consultant, online psychologist, influencer and blogger. Some respondents also referred to themselves as "passion founders" or "behavior designers".
In the interviews, most digital nomads cited self-determination, self-realization and freedom as the greatest advantages of their way of life. They can decide for themselves when, where and with whom they want to work. This has a particularly positive effect on productivity and personality development. Bastian Barami stated: "That's why I think the advantage of digital nomadism is precisely this autonomy and that you can create an environment from which you can incredibly profit (mentally as well)". Daniel Karim came to a similar conclusion: "Now I really have such a circle of mentors around me. The people with whom I go to have coffee are poets, professors and artists. You just create a special environment for yourself."
The interviewees very often mentioned that they are engaged in an activity that they find meaningful and purposeful. Daniel Karim said: "I would say that many digital nomads have passion projects that they pursue. They are bloggers, writers or entrepreneurs who really put their heart and soul into what they do". Dr. Tal Ben Shahar, professor at Harvard University, also commented on the connection between meaningfulness and happiness: "Happiness lies in the intersection between pleasure and meaning. Whether at work or at home, the goal is to engage in activities that are both personally significant and enjoyable. "
Some interviewees also cited disadvantages of digital nomadism. These were particularly the difficulty of maintaining social contacts or the issue of security. However, only a minority saw this as a deficit, but rather understood these disadvantages as challenges to grow personally. Co-working spaces, for example, were described as places where one could come into contact with like-minded people and counteract the feeling of loneliness. Financial insecurities were also not a serious disadvantage, as the majority trusts in internal security and thus their own abilities.
Another advantage mentioned, which goes hand in hand with digital nomadism, is the concept of geo-arbitrage: digital nomads often have the advantage of living in a country with low maintenance costs while earning their money in high-income countries. Bastian Barami said: "You have a much higher standard of living and also know that you have to earn much less than you would have to if you wanted to have the same standard of living in other places".
Another term often mentioned in connection with digital nomadism is the concept of "lifestyle design". This means that there is a desire to lead a life according to one's own ideas and not to be guided by social expectations. Daniel Karim, for example, said: "A few years ago, I started to build a life construct for myself, which is attractive to me and makes me happy.
"I started building a life construct for myself a few years ago, which is attractive to me and in which I want to be happy, and for me travelling has always been a big part of it".
Although it turned out in the conversations that digital nomads are freedom-loving people, in the long run all interviewees long for at least a base they can call their home. Cedric Waldburger's statement summarizes this aspect as follows: "So for me travelling has never been the end goal. For me travelling and not having a constant home has been a means to an end. The end was to provide as much value as possible to my projects." Digital nomadism is therefore seen as a way to grow beyond oneself and to follow one's inner intuition.
The possibility to travel the world and at the same time realize one's professional and personal dreams is no longer utopian. What do you need? Courage, openness, self-confidence and self-esteem. The study shows that the model of location-independent work can be a realistic alternative to employment. It has the potential to meet the needs of Generation Y – and to represent a possible path to individual happiness.
Bastian Barami is well known in the online entrepreneur scene. He describes himself as a digital nomad and deliberately does not commit himself to a business field or business model. After dropping out of two degree programs and an office job in a tourism agency, he has built up a location-independent business through Amazon FBA. In recent months, he has focused on his Airbnb business and documented the development in an extensive online course "Around the world with Airbnb". In this course, he gives a blueprint to people who also want to use Airbnb as a business model. On his blog "Officeflucht" he reports about his experiences and motivates other people to start their own business. He is also a frequent public speaker at conferences.
Daniel Karim (29) originally studied psychology. Today he is an author, online psychologist, behavior designer and blogger. His blog includes a psychology podcast and book club where he shares book reviews. A digital nomad for nearly three years, he travels the world to find out what makes people happy all over the world.
Cédric Waldburger (31) is an entrepreneur, investor and blogger. He gave up his apartment in Switzerland two years ago, has since travelled around the world and is in one place for a maximum of four days in a row. He is the founder or co-founder of five companies (Mediadesign AG, Sendtask, Glimpse Corp., DFINITY Foundation and Tenderloin Ventures AG). Personally, he represents a minimalist lifestyle and has a total of only 64 things he owns.
Dr. Tal Ben-Shahar (49) is a professor at Harvard University where he teaches "Positive Psychology" and "The Psychology of Leadership". He has also done extensive research on happiness and is the author of international bestsellers:
Happier: Learn the Secrets to Daily Joy and Lasting Fulfillment
The Joy of Leadership: How Positive Psychology Can Maximize Your Impact in a Challenging World
Pursuit of Perfect: Stop Chasing Perfection and Discover the True Path to Lasting Happiness
Besides his profession as a teacher and author, he is co-founder of the "Happiness Studies Academy".
Authors:
Sophia Salimi, MBS Graduate MA International Business
Prof. Dr. Christian Schmidkonz, Academic Director Master International Business