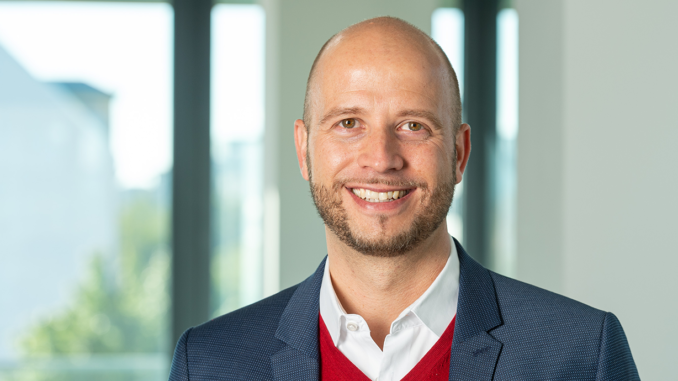 In this interview series, we regularly introduce lecturers of Munich Business School (MBS), who give insights into their research projects and explain how business practice as well as students benefit from these. Today it is the turn of the current MBS teaching award holder Prof. Dr. David Wagner. The Professor for International Business and Digital Business teaches numerous courses in the bachelor's, master's, MBA and DBA programs at MBS and also acts as Director of the DBA program and Vice Dean for Research.
---
MBS Insights: Dear Prof. Dr. David Wagner, at the semester opening ceremony of the fall term 2022, you were honored with the MBS Teaching Award. Congratulations! What is important to you in teaching and what do you think is it that MBS students value about you?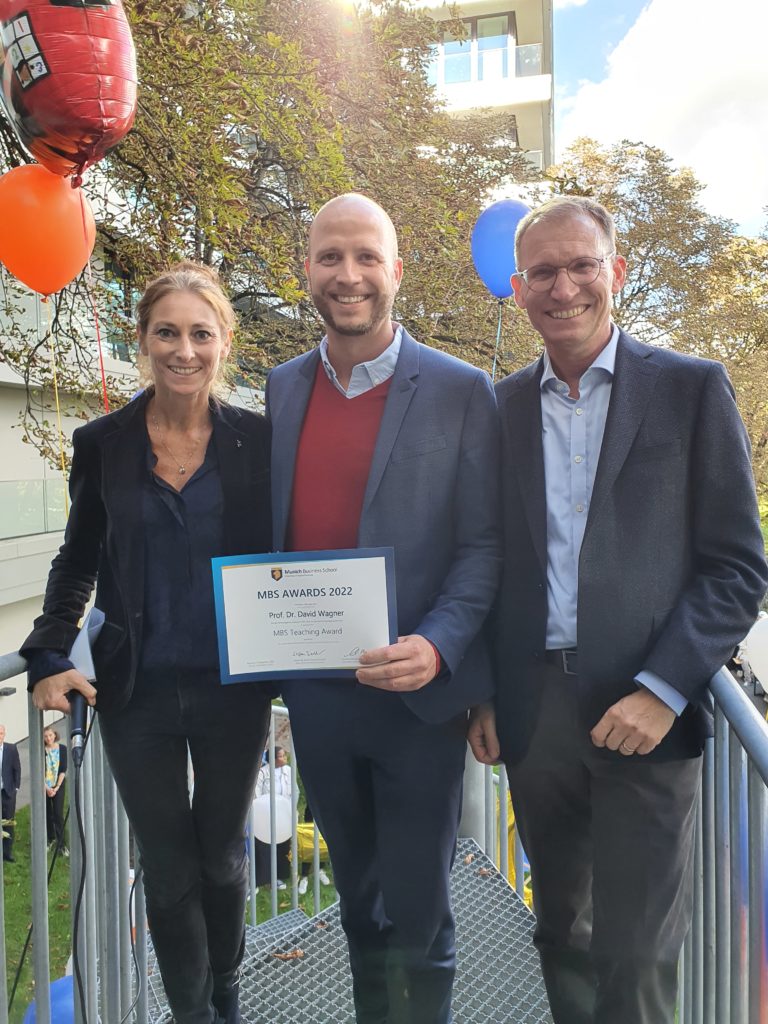 Prof. Dr. David Wagner: Thank you very much. I was very pleased to receive the MBS Teaching Award. I self-identify as a Management Professor with head, heart & hand. I think this slogan represents nicely what I stand for in teaching. Of course, university courses are first and foremost about content – that's the head. That means we need good texts, cases and other media as a basis for presentations and discussions. Next is the heart, the passion: I burn for the courses and the content I teach. The students also notice this and regularly feed this back to me. Finally comes the hand, the doing and trying out. Experimentation plays an important role, especially in digital contexts. That's why I think it's important that we build prototypes and websites, visit trade fairs such as ISPO, and invite practitioners to engage in a dialogue (e.g., player consultant Christan Nerlinger or MBS alumnus Jakob von der Wense). These type of experiences also distinguish MBS as a business school from many other higher education institutions, especially traditional universities.

MBS Insights: Furthermore, you have also been the Vice Dean for Research at Munich Business School since fall 2022. What are you passionate about in research and what motivated you to take on this position?
Prof. Dr. David Wagner: My assumption of this position did not come out of nowhere. I have been a member of the MBS Research Committee since 2018, so I was already well acquainted with many research-related topics, such as important international accreditations like the AACSB, which evaluates the research performance of universities, among other things. Of course, it is important that professors at a business school also actively conduct research themselves. On the one hand, this ensures that the professors stay up-to-date in their respective fields, on the other hand, it ensures that their latest research is integrated into courses and passed on to students.
Since 2021, I have also been in charge of the part-time doctoral program at MBS, the Doctor of Business Administration. This is a strong program with many bright minds actively working in exciting management positions. Here we also have a great lever to make research results directly available for practice and to inspire practice through our work.
As Vice Dean for Research, I can now accompany and shape the activities around the topic of research even more strongly, also from a strategic perspective. More specifically, we are positioning ourselves as a business school with the topics and content that we stand for. The selection is no coincidence, but the result of a collaborative process that must be supported by the entire faculty – and, ultimately, the entire university with all its stakeholders.
MBS Insights: What interesting research projects are you currently working on yourself and what benefits do you see in them for practice?
Prof. Dr. David Wagner: During my doctorate, I conducted research on social media and online communities. The development of communities and community management by companies continue to fascinate me. These topics remain hot topics until today, so it's worth staying on the ball. As head of research at the German Association for Community Management, Social Media and Digital Communication (BVCM), I have repeatedly published studies with colleagues from the association in recent years that shed light on the new working environment and the tasks of social media and community managers. It's satisfying to see that these studies have been picked up by major business media, e.g. WUV or HORIZONT – a testament to their practical relevance. Lately, I was also involved in the development of new social media degree programs, helping to educate the next generation of practitioners.
More recently, I have broadened my interest and research to cover various aspects of digital transformation, i.e. the impact of new technologies on organizations. In this context, social media and online communities continue to play a role, but also topics such as innovative business models, change management in companies and the development of new organizational capabilities – often called dynamic capabilities. I supervise various doctoral students in the DBA program who work in exciting management positions and often have unique access to the field. This, of course, provides me with the best opportunities to get future projects off the ground. Last but not least, I am active as a consultant and can thus transfer insights from my research activities into practice.