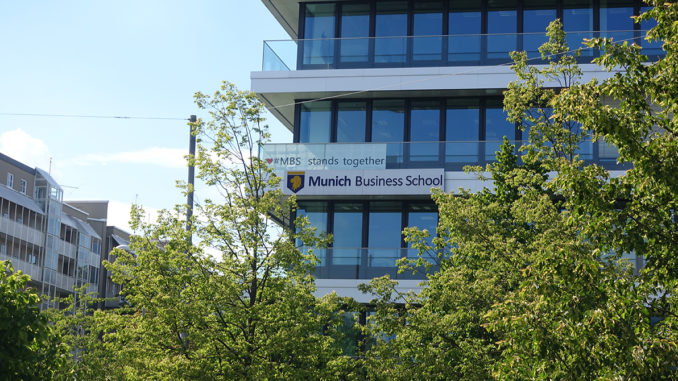 Munich Business School is the first German university to switch completely to the sustainable search engine Ecosia. By installing Ecosia as the default search engine on all computers at the business school, the university will plant thousands of new trees worldwide each year.
---
Ecosia, based in Berlin, is a non-profit search engine that uses its profits from advertising revenue to plant trees in areas threatened by deforestation. To date, over 124 million trees have been planted in 30 countries around the world, with a focus on areas where trees have the strongest environmental and social impact, including Brazil, Indonesia and Madagascar.
Student initiative drives Ecosia movement at MBS
The university's green conversion follows an initiative led by MBS professor Dr. Christian Schmidkonz. The academic director in the master's program International Business teaches the course Conscious Business at the university and made his students aware of Ecosia. An Ecosia on Campus (EOC) campaign was then created at MBS with the goal of raising awareness of the environmentally friendly search engine and making Ecosia the university's default search engine. After the dean and the IT team supported the idea without hesitation, Ecosia could be installed on the university's computers.
Prof. Dr. Christian Schmidkonz comments:
"Ecosia is a simple way to do something about climate change. Together, students, administration and professors can make a valuable contribution to the preservation of our livelihoods with Ecosia. Along with global mindedness and innovation, responsibility is one of the three core values of MBS. Ecosia also serves as an inspiration for many students to think about business models and economic actions in a different and future-oriented way. Especially the higher purpose, transparency, privacy measures, and the fact that Ecosia cannot be sold are very inspiring for many students. Accordingly, Ecosia has a multiple meaning for MBS."
The MBS students in the EOC campaign team enjoyed the project very much, as master's student Laura Matz reports: "Together, the campaign team managed to convince many fellow students to use Ecosia as a search engine in a short period of time. It was important for us to show how easy it can be to make a contribution to our environment. The tree reports that Ecosia sends us every month speak for themselves and we as MBS can be proud of the trees we have planted. Germany-wide EOC networking meetings showed that we are considered a pioneer for Ecosia on Campus across universities. Of course, the support of our lecturers has also contributed to this. It was only together that we were able to plant so many trees. It's great to be jointly responsible for this great development, and I'm excited to see where the journey continues."
Conversion to sustainable search engine Ecosia has a lighthouse character for other universities
Prof. Dr. Stefan Baldi, Dean of Munich Business School, is also more than pleased with the final result: "Sometimes it can be so easy to break habits and go new ways. The decision to use a search engine should also be made consciously, and everyone can only benefit from competition in the field of search engines. Ecosia delivers excellent results and does good in the process: it's a perfect fit for MBS."
Starting as an idea of three students, the EOC movement has developed into a worldwide tree-planting phenomenon, with over 200 universities planting 200,000 trees in just three years. With Munich Business School, there is now also a university in Germany that has completely switched to Ecosia and will make its contribution to a more sustainable world in the future.
Fred Henderson, Ecosia's Partnership Manager, says:
"Now that Munich Business School made Ecosia its default search engine, we will be able to plant thousands more trees. I can't express enough gratitude to the people involved at MBS, as well as the IT department, for initiating this environmental initiative and making the switch happen. It is a lighthouse conversion: I hope it will now inspire other universities and colleges in Germany to join the movement."
---


You are interested in economics and want to acquire in-depth business know-how?
Then the international business degrees at Munich Business School (MBS) are just right for you! At MBS you won't cram dry theory from old textbooks, but learn in a outcome-oriented way and gain valuable practical experience. Convince yourself:

Bachelor's in International Business
Master's in International Business
Master's in International Business I Finance
Master's in Innovation and Entrepreneurship
Master's in International Marketing and Brand Management
Master's in Sports Business and Communication
MBA General Management
Doctor of Business Administration