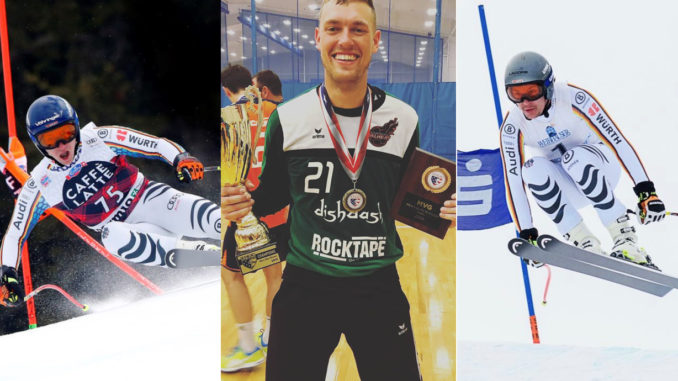 How can professional sport and studying be reconciled? The MBS students in the International Business and Sports Business and Communication master's programs Lucas Kröger, Heiner Längst and Max(imilian) Maas have already had to deal with this question. Because the three of them practiced or still practice sport at a high level – twice on the pistes and once on a court. Wiebke Lehnert, Marketing and Communications Manager at MBS, met the (former) professional athletes for an interview. In the first interview episode, Lucas, Heiner and Max talk about how they came to professional sport, what their everyday sports life was like or looks like, and what opportunities, but also challenges sport holds, especially with regard to academic education.
Note: The interview was originally recorded as a podcast. This text is a transcription and translation of the audio recording. The audio version of the interview (only available in German) can be listened to here. 
---
Wiebke Lehnert: Professional sport and studying – that's what we're going to be talking about today. My name is Wiebke Lehnert and I'm the Marketing and Communications Manager at Munich Business School. I'm here today with MBS students Lucas Kröger, Heiner Längst and Max Maas to chat a little about whether it's possible to combine professional sport and studying – and, if so, how. Not only are these three students at MBS, they are all also (former) professional sportspeople in various disciplines: one on a court and two on the pistes. But I don't want to give anything away; I'd rather let the trio tell their own stories. So, let's get started. I'd like to ask you to introduce yourselves briefly, tell us what your sport is, how long you've been doing it, and how you ended up turning professional. Let's start with you, Lucas.
Lucas Kröger: Hi, I'm Lucas, I'm 29 years old and originally come from a small village near Hamburg. Handball's my sport and, as a lot of people probably know, handball is far more popular in northern Germany than in the south. I started playing at a very young age, about three or four years old. One of my father's co-workers founded a handball team with my best friends, so I really just played for fun for a while. Then, when I was about 16 or 17, I improved and started to play at a higher level, and that's when I received my first offers to play professionally. At the time, however, I decided against it. But then I came to Munich to study and, by chance, came into contact with a club from Fürstenfeldbruck [a town west of Munich]. That's where my professional career really began.
Wiebke Lehnert: And now, let's leave the sports hall for the pistes. Max and Heiner, what are your specialist disciplines?
Max Maas: Hi! I'm Max and I'm 27 years old. How did it all begin? Well, I'd have to say I started skiing at a young age. I come from the south of Germany, from Lake Constance, where my grandfather was already an active member of a skiing club and served in various roles. So, I joined a run-of-the-mill skiing course and then one thing sort of led to another. I progressed from club level to the region, which was called Allgäu-Oberschwaben at the time, so everything around Lake Constance, and then it gradually became more professional. I represented the Swabian Ski Association (SSV) before moving up to the Baden-Württemberg Ski Association (BWSV) and then the German Ski Association (DSV). You asked us what our specialist discipline is. When it comes to ski sports, that's really hard to say. You start out as a generalist to begin with. Then, at the age of 14, I moved to Skiinternat Oberstdorf [a boarding school specializing in ski sports] to up the ante in terms of professionalism, to get better at what I do, and so I could live my dream. At the tender age of 14, you actually still do everything. Then, when I reached 16, 17 or 18, everything began to crystallize for me, and I saw myself more in the speed events of downhill and super G. So that's where my professional career went, and I became part of the national team in the speed events.
Wiebke Lehnert: And what about you, Heiner?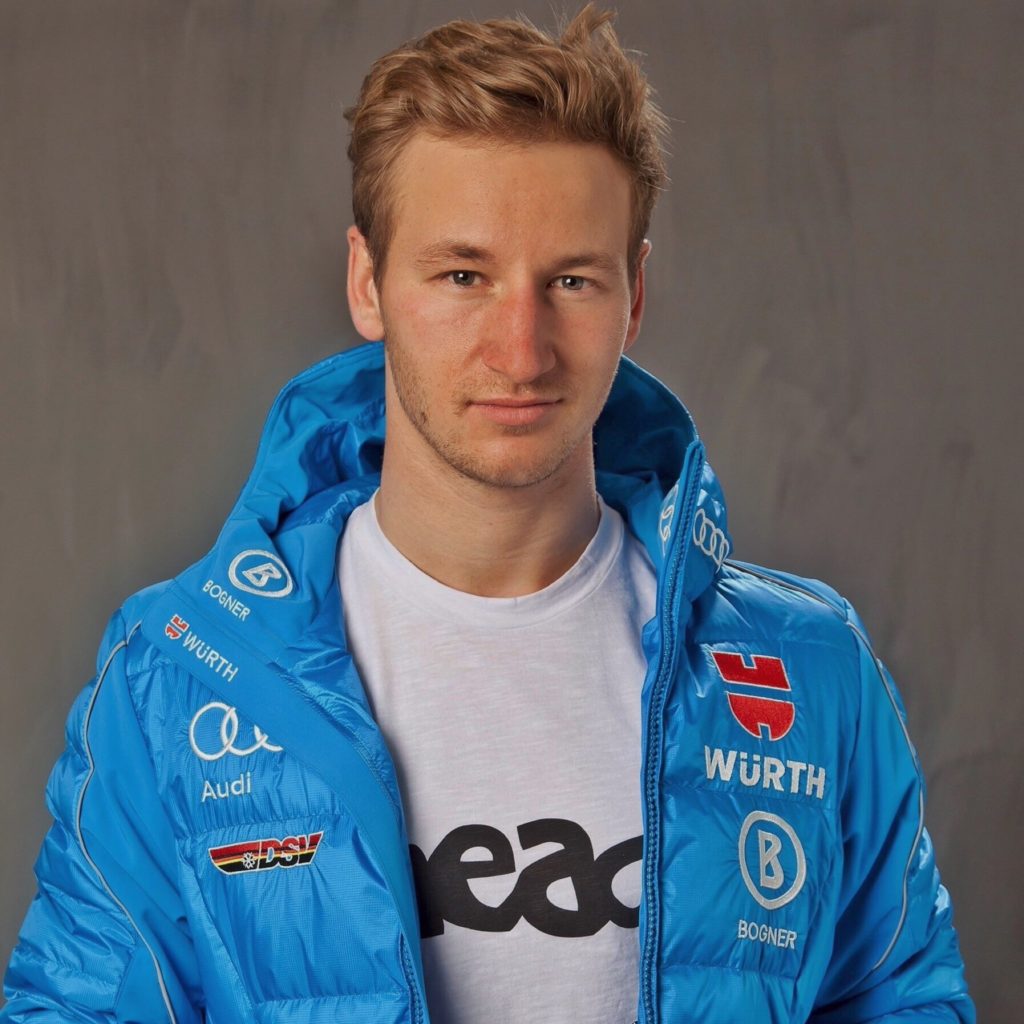 Heiner Längst: First of all, hello everyone, and thank you to Max, who's already spoken a little bit about what ski sports involve. How did I end up in skiing? I can say for certain that my love of sport is something I inherited. My parents – and my entire family, in fact – were active members of my hometown sports club, TSG Reutlingen. It was common practice to go skiing every weekend through the winter, whether in Allgäu or in the Swabian Alps or sometimes a little further afield, in Austria or Italy. And so, I ended up spending every weekend on two skis. The older you get, the more you start to think about competition, and then you start with your first races at regional level, as Max mentioned, and then the quality just increases and it gets more international. Then, at the age of 15, I was given the opportunity to decide whether to switch to the skiing boarding school in Oberstdorf – which meant moving away from TSG Reutlingen and taking my first steps in serious, competitive sport. I decided to do it and spent 10 years in high-performance sport at Skiinternat Oberstdorf and then Sonthofen, which I made my base.