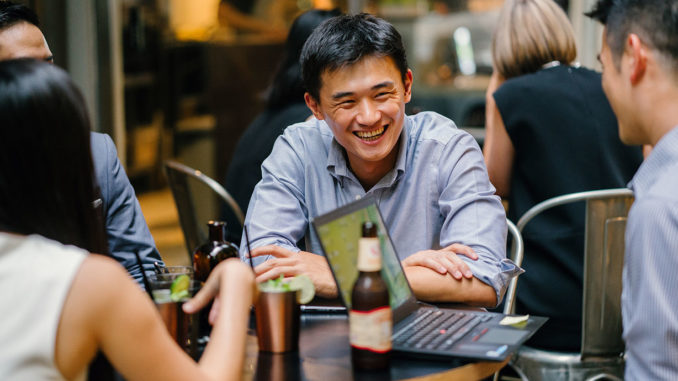 You think alcohol and education can't give you the same level of relaxation? Far from it! In our blog article, you will find out in a humorous and slightly ironic way what a cold beer and an MBA have in common – especially if you are completing it at Munich Business School!
---
Picture this! You've been slogging at work the whole day, in front of systems that give you endless technical stress, or worse still, in front of a laptop at home, with your colleagues and boss staring at you from the screen, while you jump from one meeting to the other or you need to travel to the office and hop on and off the bus, that's tiring in itself, and drinking hectoliters of coffee, which only makes you more tired and resentful of your tasks.
Now what would be better than at the end of this horrific day, to sit down and relax with a cold bottle of beer! This is what the cold beer does for you – it calms your nerves and ushers you into relaxation mode. Well, you didn't have to be a genius to figure that out! But guess what, an MBA has a very similar effect. You might be going through life toiling, toggling to get the right work-life balance, to make ends meet, or simply to survive. An MBA opens a world of opportunity for you, and gives you that chance for a fresh breath of air, like for instance affording you the opportunity to start up your own business and be your own boss.
Whether it's moving to a different sector or industry, increasing your personal brand awareness, strengthening your networking, scaling up your skill levels; an MBA is your cold beer to bring you the relaxation that you deserve! If you're struggling in any of these areas, an MBA will put your mind at ease. Put simply "you ain't got to struggle no more". Of course you would need to be dedicated and committed to completing your MBA, but once you've got it, you can begin to relax.
Where, you might ask, is the right place to get such a cold beer? And rightly so, you owe it to yourself to ask these tough questions! Sometimes the answer is staring us right in the face! Allow me to take you through a detour to get to this "staring in your face" answer! Which country in Europe is known for its admiration of beer? And now, which European city goes absolutely beer-crazy in early autumn? I'm guessing you've got it! That wonderful German city – Munich! Of course, Munich is also known as the "3rd among the 230 top cities in the world for quality of life" and "the powerhouse of Germany"! Well, indeed those things, but perhaps what it is best known for is Octoberfest!
Could Munich be more well known in the world for anything else? And here"s the university that got it all started – not the Octoberfest, but the first private university to get Bavarian state accreditation, and offer this cold beer, this refreshing MBA – Munich Business School! Perhaps it is cliché to say "work hard and play hard", but with professors from the industry bringing the business world right into the same hall where you can also at leisure time, play a game of table tennis, and later interact in the same space with CEOs of various companies while sipping a cold beer (and this literally takes place at a one of a kind "Brezn and Business" events at MBS) the cliché comes to life! Munich Business School is the pulse and the brand ambassador of Munich, offering unmatched quality of education, especially as the closely-knit faculty, staff and students work as one family. A cold beer couldn't taste any better than when drunk with those closest to you!
If you are now interested in pursuing an Master of Business Administration at Munich Business School instead of drinking a glass of beer every night, feel free to check out our program website or contact our program advisor Andrew Heldt via email.