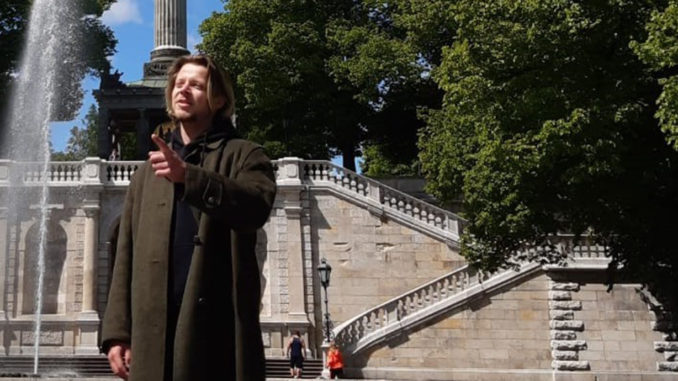 François Plassat from the French MBS partner university EDHEC Business School spent two semesters abroad at Munich Business School as an exchange student from fall 2020 to summer 2021 and studied here in the program Bachelor International Business. In the blog article, he reports on his experiences on campus and in the Bavarian capital Munich during the past year.
---
Servus Leute!
I had the amazing opportunity to spend an entire year at Munich Business School during the pandemic. Which just in itself represents an incredible luck: being able to travel and study on-site during these troubled times. Even though some accommodations had to be made, I was still able to physically go to the campus, meet with people, exchange with lecturers, and visit the city. While so many other students from around the world were limited to virtual classes and a virtual year abroad, this year was all the more precious an experience for me.
MBS has done all it could to make us, the students from abroad, feel like everything was normal. I still remember the first day when we were all welcomed on campus, talking directly with people and not through a screen, and it was so good to feel like things were just going back to normal; wearing a mask as the sole exception. All the MBS faculty and staff really helped us to integrate into the new environment and let us know what was going on very quickly. The format of hybrid classes (classes both online and on-site depending on the students' possibilities) was the perfect answer to the COVID-19 crisis. This way we could still attend classes in small numbers while other students joined us virtually in order to prevent the spread of the virus while still being part of the class.
Talking about classes, MBS offers a wide range of different and specialized courses, from finance to marketing to HR, start-up and innovation and many others. All classes share the common goal of preparing students to face the future with adequate tools to thrive in the upcoming challenging environment of "real-life". I personally chose a finance intensive curriculum and have been more than pleased with the content. The lecturers were knowledgeable and dedicated to their mission, always finding time to answer our questions in case of need. We had a double formation of hard skills (finance, accounting, law, …), and soft skills (business ethics, psychology, …), which gave us enough versatility to calmy embrace the rest of our studies.
Furthermore, it is worth mentioning that MBS students come from all around the world, in my class solely, I had fellow students from France, South Korea, Germany, Russia, America, Hong-Kong and more. This brought a truly international vibe and is a big part of what you expect to get when attending a business school: meeting people from different cultural backgrounds, with different visions and ideas, while still all being connected by the will to work together and perform well. I will never forget the interminable, yet very enjoyable, talk with my fellow comrades after a few drinks in the English Garden on "how to reimagine the world" – it surely was some good time back then!
Naming the English Garden, it actually represents another tremendous asset of studying at MBS and in Munich. Munich is such a lovely city, with its own atmosphere, architecture, numerous beer gardens, and fun traditions. Whoever ends up living in Munich will have so many experiences and activities to do before leaving that he/she will feel like time has been so ridiculously short and has flown by. Whether it's hiking in the mountains near the famous Neuschwanstein Castle, for example, enjoying some delicious Bavarian beers in one of the many green parks scattered amongst the city, or even just wandering in the old town and admiring the Marienplatz: there is clearly no shortage of things to do in Munich. On top of that it is extremely easy to get around in Munich thanks to its super well developed and on-time public transports system. If I were to personally recommend one place to hang out, it would the Westpark. It is a big park in the west of Munich, a bit less known to tourists than the English Garden, but so enjoyable. It has two ponds, a rose garden and many benches where you can enjoy a moment of calm while appreciating the nice view in front of you.
Overall, I was more than delighted with my experience in Munich and at MBS and would warmly recommend anyone who is offered this opportunity to firmly grasp it and get swept away into an unforgettable adventure that will shape you forever.

Thank you MBS and hopefully see you next year at the Oktoberfest, Prost !