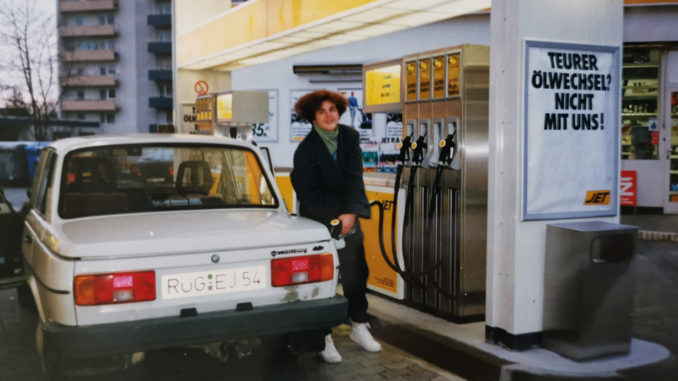 Jana Ribisch was one of the very first students at MBS, which was then still called the Europäische Betriebswirtschafts-Akademie (eba). Today, the alumna works at Raiffeisen Bank International AG in Vienna. But what was it actually like back then? As part of our 30th university anniversary, we asked Jana Ribisch about her memories of her student days.
---
MBS Insights: Dear Jana, what was it like in the early 1990s when you started your diploma studies in Munich?
Jana Ribisch: Exciting! The eba was only just founded in September 1991, so no one knew exactly what to expect. Fun fact: I come from the island of Rügen and drove to Munich in a Wartburg back then – a car brand that was manufactured in the GDR until 1991, a real rarity! (see photo above)
MBS Insights: What are your best, most beautiful and funniest memories of your student days?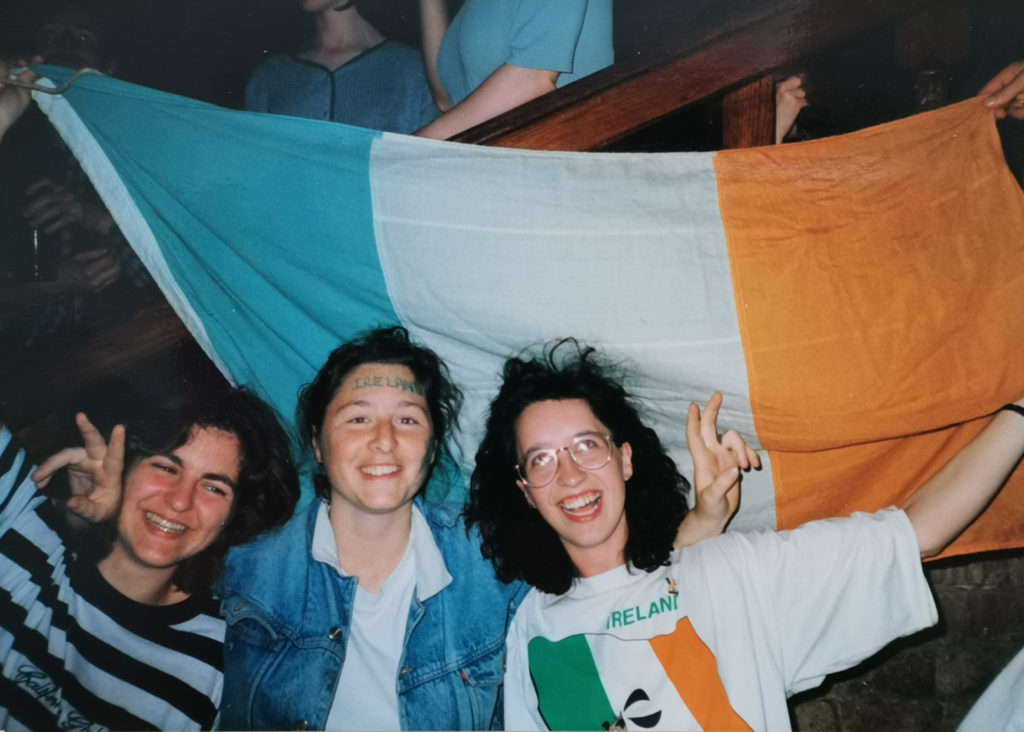 Jana Ribisch: The kindness, openness and trust in our cohort was great. When I look through the photos from the past, it's also impressive and nice to see how easily we were able to plunge into other cultures (e.g. Ethiopia, Italy, France, East + West Germany) through our studies and celebrate life together. That wasn't necessarily a given at the time.I myself spent my semesters abroad in Madrid (1993) and Dublin (1994). The photo shows me enjoying the Irish culture and hospitality and cheering on the League of Ireland.
Overall, I learned a lot during my studies, not only on an academic level, but also important life lessons from my fellow students. Studying and living abroad helped me a lot to develop self-organization, commitment, curiosity and resilience for all kinds of things – for example when looking for a flat or dealing with electricity, public transport or foreign food.
MBS Insights: Which lecturer taught you the most?
Jana Ribisch: Definitely Mag. Susanne M. Zaninelli in "Intercultural Management". The subject has really had a lasting influence on me. In 2000, I post-graduated in "Intercultural Management" (MBA) and in 2003 I added a coaching education to it. And maybe the subject also helped me to adapt in Austria and to maintain my marriage over 22 years, after all, there's a saying: "The biggest difference between Germans and Austrians is the common language." 😉
MBS Insights: Are you still in contact with fellow students and are there any that you would particularly like to see again?
Jana Ribisch: In fact, I'm still well connected with many of my fellow students from back then via various platforms and alumni meetings. I would be happy to see them all again, even those who didn't graduate with us in 1995. If I had to choose one fellow student, it would be Sandrine Cremault. She lives in the USA, which is why personal meetings are unfortunately more difficult and have become a rarity, and I would be especially happy about that! 🙂
---


You are interested in economics and want to acquire in-depth business know-how?
Then the international business degrees at Munich Business School (MBS) are just right for you! At MBS you won't cram dry theory from old textbooks, but learn in a outcome-oriented way and gain valuable practical experience. Convince yourself:

Bachelor's in International Business
Master's in International Business
Master's in International Business I Finance
Master's in Innovation and Entrepreneurship
Master's in International Marketing and Brand Management
Master's in Sports Business and Communication
MBA General Management
Doctor of Business Administration