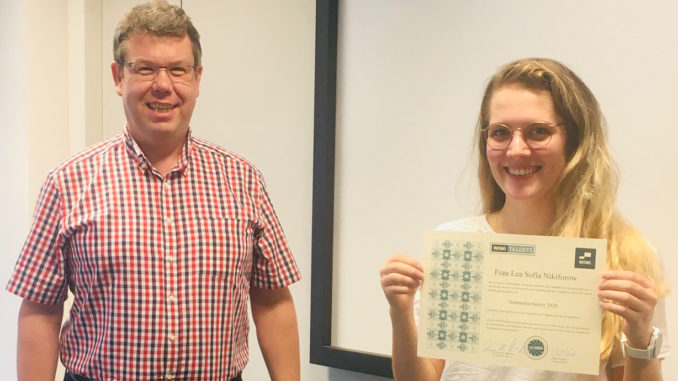 Lea Sofia, who successfully completed her Bachelor in International Business at Munich Business School in July, was accepted into the WiWi-Talents Program for the summer semester 2020. The project of WiWi-Online supports the best students of economics in the German-speaking area. In an interview with Wiebke Lehnert, Marketing and Communications Manager at MBS, Lea and MBS Professor Dr. Arnd Albrecht, who drew the student's attention to the program, give a deeper insight into the WiWi-Talents Program.
---
Prof. Albrecht, can you tell us more about the background of the WiWi-Talents Program? Who is the target group of the program?
Prof. Dr. Arnd Albrecht: WiWi-Talents is a program for the highly talented, for the crème de la crème of graduates in economics. From the several hundred applicants, a handful are selected, who are then published with their profile in the renowned WiWi-Talents Book. This exclusive book is not published publicly, but is made available to HR decision-makers from over 500 well-known companies in the German-speaking region. This is a unique opportunity to establish an exclusive contact to companies in the DACH region and is considered a career booster.
Lea, did you know the program already before or did you become aware of it through Professor Albrecht?
Lea: In early April 2020, I received an e-mail from Prof. Albrecht with the subject "The WiWi-Talents program is going into the 31st round!" and the accompanying statement that the program was certainly a great opportunity for me. I didn't know the program before, but after this e-mail and a look at the website I immediately applied.
Professor Albrecht, why did you choose Lea for the program out of the whole range of students you teach at MBS? Why is Lea a WiWi-Talent?
Prof. Dr. Arnd Albrecht: We certainly have many very good students at Munich Business School. I noticed Lea not only because of her commitment both − in my classes and extra-curricular − but above all because of her clear vision of her (current) future plans and her determination without a dog-eat-dog mentality. After all, her excellent bachelor's thesis reflects this both in terms of content and in her collaboration with the company where she worked and is always welcome as a permanent employee.
Lea, can you tell us more about the application process? What documents did you have to submit and what was the procedure?
Lea: For the application I first created a detailed candidate profile. In addition to personal data and information about the previous educational background, the main focus was on qualifications, strengths, social commitment and experience abroad. Prof. Albrecht also wrote a letter of recommendation about me and sent it directly to the WiWi-Talents team.
The application also includes a detailed future and career plan. Would you like to tell us what your view of the future looks like?
Lea: Following my Bachelor's degree in International Business at MBS, I completed a business internship at Google this summer. I am now continuing my academic career with a double degree in Management & Innovation at HEC Paris and TU Munich. I am aiming for an interdisciplinary career in the areas of marketing, sales and/or strategic management. The unique opportunity of the double degree in Paris and Munich gives me the chance to achieve my professional goals and to develop personally. Afterwards, I am aiming for a permanent position, possibly even abroad. I would like to take on a task that fulfils me. For me, this means taking responsibility, guiding and inspiring people. It is my passion to bring people together and create synergies. In doing so, I want to work close to the economy and be able to influence things directly. My mantra is "lifelong learning" – from fellow people and at work. So I strive to continuously educate myself and to learn new things every day. Thanks to my curiosity and openness to discover new cultures, I am also interested in a career and projects abroad in the long term. It is my personal concern to give something back to society. For this reason, I would like to continue my volunteer work alongside my job.
The efforts have been rewarded. You have been accepted into the WiWi-Talents program for the summer semester 2020. What are you most looking forward to and what do you hope to achieve by attending?
Lea: In addition to comprehensive support, being accepted into the program also means inclusion in the renowned WiWi-Talents Book, which is presented to HR decision-makers of more than 500 major companies in the DACH region. This book contains the CV, the future and career planning as well as the professor's report of the 20 selected WiWi-Talents. I hope that this will enable me to network with companies on a nationwide scale and to make a successful start in my professional life.
Mr. Albrecht, why do you consider the WiWi Talents Program a profitable offer and to what extent are MBS students especially qualified for the program?
Prof. Dr. Arnd Albrecht: Munich Business School is particularly suitable for this, because we not only have very good students of business administration and economics, but also people who do not go through student life purely focused on their studies with blinders on, but also act and get involved in a non-university environment in an attentive, open-minded and responsible manner. So far, in addition to Lea, I was able to bring a Master's student to the final round a few years ago, who then also successfully asserted herself.