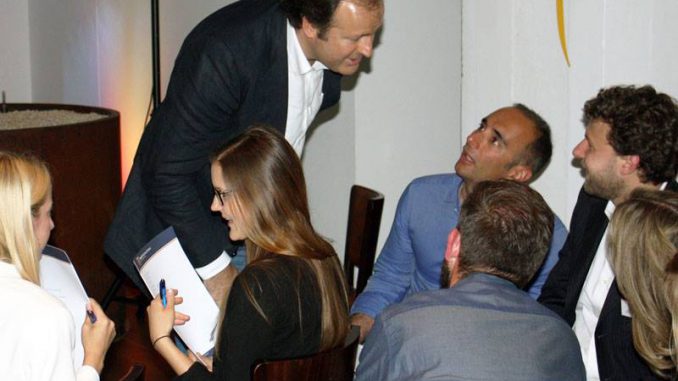 A Caribbean Night – this was the motto of the MBS Alumni Reunion 2015. Matching the motto, MBS had invited its former students to the "Caribbean Embassy", Munich's finest Caribbean restaurant. Approximately 50 alumni and also some current MBS students had come together, amongst them several internationals. Thus, the cosmopolitan character of MBS became apparent once again.
In the location's exceptional atmosphere, the guests were looking forward to seeing their fellow students again, renewing old contacts or making new ones – and spending an unforgettable evening together.
Layla Eberle, Alumni Relations Manager at MBS and organizer of the Alumni Reunion 2015, officially opened the evening and welcomed the guests. Prof. Dr. Stefan Baldi, the university's dean, welcomed the alumni as well and gave a brief overview of the latest developments and events at MBS.
Leadership it is
After this, the Caribbean buffet was opened. The guests enjoyed the many warm and cold South Pacific dishes and choice wines. This was followed by the much anticipated lecture by Rafael de Cardenas, MIT graduate, president and CEO of the online learning platform Hotchalk and lecturer at MBS. He spoke about leadership, addressing the issue from various aspects, highlighting for example the "Characteristics of modern leadership?", or investigating "Where are the risks?" Rafael de Cardenas integrated the audience throughout his presentation, and a small workshop was part of the event as well.
The rest of the evening was spent in lively thought exchange and discussions at the fully occupied tables. Of course, some alumni exchanged business cards. At around one o'clock at night the guests left, carrying with them renewed contacts and the memories of a wonderful evening.
"It is always exciting to hear what our former students are doing today and what they have to tell. Many of them are MBS graduates of the first hour, and in the meantime, so much has happened – at MBS and in the lives of the alumni. I am already looking forward to seeing all of them again," Layla Eberle happily comments the successful Alumni Reunion 2015