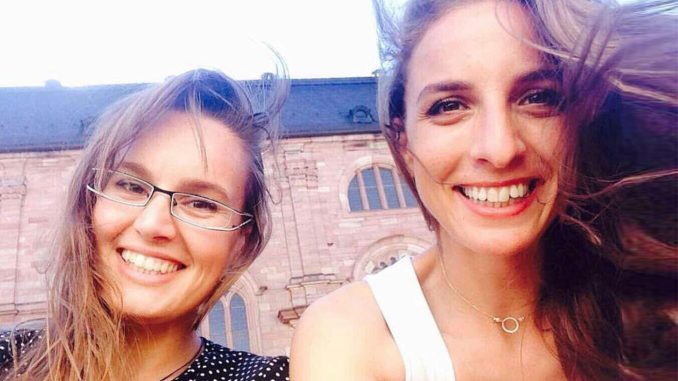 Buddy programs at universities help international students to find their feet in a new location by connecting them with an experienced student in a later semester to stand by their side. Jelena Novkovski, Head of the International Center at Munich Business School, took part in a buddy program during her time as a student – and gained a very dear friend. In this article, she shares her experiences.
---
The image above shows me with my maid of honor. Nothing unusual there, of course: most people who get married have a maid of honor or a best man. But that Jelena (yes, my maid of honor is called exactly like me 😉) would become my maid of honor, no one would have expected. That's because, in addition to being my maid of honor, she was also my buddy during my time at uni.
Let's go back to the beginning.
In spring 2017, I was working as a student assistant in the International Office at the University of Heidelberg. Through my work with the international students, I noticed just how much students coming to Germany from overseas struggled – not only with organizational issues upon arrival but also to make connections. I was able to put myself in their shoes, as I had also come to Germany from abroad to study. So, as soon as I heard about the buddy program, I was immediately on board. As a buddy, your task is to assist international students who are new to the city and the university. I was certain I wanted to do my part – and make it easier for these students to make a start to university life in Germany.
I was assigned Jelena, a student from Belgrade. We agreed that our first face-to-face meeting would just be for a quick coffee, a chance to get to know each other a little. However, there was nothing quick about it: we chatted so much that we totally lost track of time. That was the first sign that we were both on the same wavelength.
Looking back, it seems like there was hardly a single day all semester that we didn't see each other. We either crossed paths at uni or made plans to meet up. Once all of the organizational tasks had been settled – like Jelena's moving into the dormitory, officially registering with the local authorities and opening a bank account – we spent countless hours in the library, talking a lot about university-related issues, and a great deal about academic topics as we were both social science students.
Of course, there were also other topics we discussed and meet-ups we arranged that had nothing to do with university life, especially because Jelena and I got on so well. I had become something of a local in Heidelberg, so I was able to show her a lot of great spots in the city. One of the most enjoyable experiences we shared was definitely the little surprise party I organized for Jelena on the Neckarwiese (a riverside meadow and a popular meeting place in Heidelberg). We had agreed to meet there – but she didn't know that I had a bunch of other friends and muffins in tow to celebrate her birthday. That evening, Jelena held a party at her accommodation and early the next morning, once the party had died down, we all hiked up to Heidelberg Castle to take in the sunrise. It was a truly unforgettable day.
We developed a close friendship pretty quickly. Of course, neither of us had expected that to begin with – and it definitely surpassed my expectations of the buddy program! It was really sad when Jelena left Heidelberg because we had become really close. We committed to stay in contact and, as it turned out, we managed to keep in touch down the years. Our special history and friendship finally led to her becoming my maid of honor. So, the buddy program turned into a friendship for life.
Based on my great experience, I can only recommend taking part in a buddy program to all students in advanced semesters. It's a voluntary initiative that not only helps others but also provides hugely enriching experiences. Although I'm focusing on my relationship with my own buddy here, these programs also allow you to meet a whole host of fellow students from around the world, because friendship groups often overlap. This expands your horizons and helps you to make new friends from every corner of the globe.
My tips for anyone considering signing up to the buddy program at Munich Business School would be:
Be open-minded and warm-hearted.
Don't just help your buddy with organizational issues, show them the beauty of Munich.
Seize the opportunity to learn from each other and foster a cultural exchange.
The most important thing, in my opinion, is just to be authentic and open to new friendships.
And who knows, maybe you will soon have a unique story to tell?
---


You are interested in economics and want to acquire in-depth business know-how?
Then the international business degrees at Munich Business School (MBS) are just right for you! At MBS you won't cram dry theory from old textbooks, but learn in a outcome-oriented way and gain valuable practical experience. Convince yourself:

Bachelor's in International Business
Master's in International Business
Master's in International Business I Finance
Master's in Innovation and Entrepreneurship
Master's in International Marketing and Brand Management
Master's in Sports Business and Communication
MBA General Management
Doctor of Business Administration