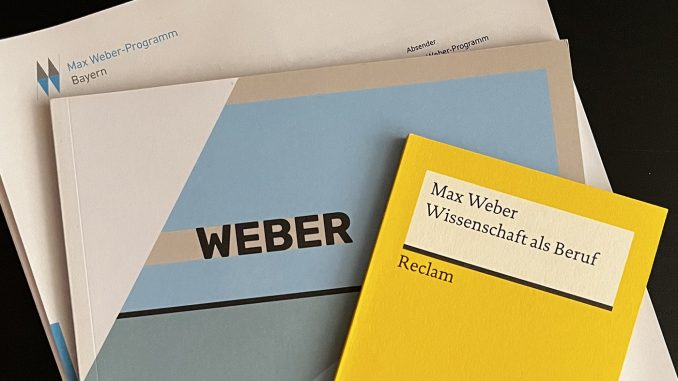 Lucas Reischl, a student on the Bachelor's program in International Business at Munich Business School (MBS), is currently on the home straight of his degree. However, he has also secured a very special honor: admission to the prestigious Max Weber Program operated by the German Academic Scholarship Foundation (Studienstiftung des deutschen Volkes). The program offers Lucas access to ideational and financial support as well as an extensive network of contacts to advance his future career. MBS Insights caught up with Lucas for an interview and asked about his plans.
---
MBS Insights: Lucas, earlier this year, you were admitted to the Max Weber Program (MWP) operated by the German Academic Scholarship Foundation – congratulations! After achieving excellent grades, spending a semester abroad in Buenos Aires and completing an internship at Amundi (which led to a working student position), this distinction is the well-earned crowning achievement of your university career at MBS, which you will soon complete by writing your Bachelor's thesis. What does admission to the Max Weber Program mean to you? And why do you feel it is worth going the extra mile?
Lucas Reischl: In a way, being accepted to the Max Weber Program is the culmination of my studies, save for my upcoming Bachelor's thesis. Receiving a scholarship has shown that perseverance and being fully committed throughout my studies has been worthwhile. Of course, applying for the Max Weber Program involved a certain amount of additional effort, but it has more than paid off in the end. In addition to the financial support the scholarship offers, and the fact it puts the icing on the cake when it comes to my résumé, I also gained valuable experience during the application process at the assessment center. It's pleasing to see that discipline pays off in the end.
MBS Insights: The Max Weber Program offers financial and ideational support in the form of seminars, networking events and so on, with the aim of promoting scholarship holders' specialist and personal development. Which aspects of the program have you accessed so far? And is there anything you're particularly looking forward to in the remaining months of your scholarship?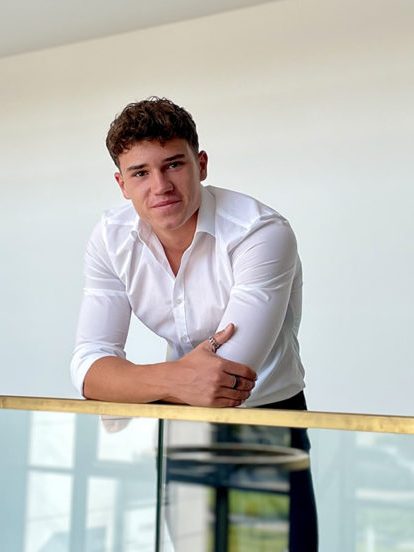 Lucas Reischl: I haven't been able to take part in too many of the activities yet, as I've only been in the program for three months. In addition to the financial support, which is obviously always helpful, I've attended an event for scholarship holders to get to know each other as well as the Max Weber Program's official reception. The part of the program that especially interests me is the language courses, which I think I'll use in the future. I have my eye on the Italian courses in particular. However, I also plan to access support in relation to my Bachelor's thesis and during my subsequent Master's program. Last but not least, it's important to remember that the Max Weber Program offers a hugely valuable network of talented minds and companies. This networking effect is particularly useful later on, when looking for a job.
MBS Insights: Promoting international exchange is a core objective of the Max Weber Program, which also aligns well with our values at MBS. You spent a semester abroad in Argentina last year. How did you find your time there? Could you imagine spending more time abroad with the help of the MWP scholarship – perhaps for an internship, to attend a conference or as part of a research project?
Lucas Reischl: The time I spent in Argentina was very special for me. I think it was the best part of my time at university. In addition to making new friends, improving my Spanish skills and gaining insights into the Latin American economy, I was also able to explore the region's culture, which is something very close to my heart.
I plan to draw on the support from the MWP above all in relation to my Master's program, which I would definitely like to complete abroad. In this context, beyond the financial support, the Max Weber Program also offers a valuable network that will enable me to connect with other members in order to make connections abroad more quickly – which might make it easier to find accommodation abroad, for example.
MBS Insights: Every scholarship holder on the Max Weber Program is assigned two mentors at Bavarian universities. How have you found the cooperation with your mentors? How have they helped you?
Lucas Reischl: Mentors offer scholarship holders a source of specialist and personal advice, including on extra-curricular issues and outside of the semester schedule. They offer advice on issues such as plans to travel abroad and the prospect of completing a doctorate in future. The mentors' specialist expertise and the consistency that comes from being part of a fixed group creates a close, constructive relationship. This provides support and assistance when faced with difficult decisions. Ideally, each group should meet up once per semester. As I work towards my Bachelor's thesis, my mentors are always at my side, and I can call on their expertise and their network in the course of my research.
MBS Insights: Last but not least, what advice would you give to (MBS) students who would like to join the MWP? Are there certain things they should consider before applying? Maybe there are aspects of the multi-stage application processes for which they can and should prepare?
Lucas Reischl: In general, I would recommend taking full advantage of studying at Munich Business School: make sure to revise thoroughly for upcoming exams as well as going out and partying. Fundamentally, the only way to be admitted to the program in the majority of cases is for students to be nominated by their university. In addition, only the top 3% of students can be nominated to participate in the program after completing their third semester. It's important to take the application process seriously because it places high significance on even minute details. I would also recommend practicing good time management and planning your application carefully. The first selection round involves submitting your résumé and a letter of recommendation from a professor at MBS. If you pass, the second round is all about authenticity! There's no point trying to make yourself out to be something you're not, as the jury members will notice it pretty quickly. It's better to rely on yourself, your abilities and what MBS has given you along the way.
---


You are interested in business, want to pursue an international career and get to know the world?
The Bachelor's program in International Business at Munich Business School is the perfect preparation for this challenge! The program offers you practice-oriented teaching, an integrated semester abroad, as well as different concentrations that can be freely selected according to your interests. See for yourself: Bachelor International Business