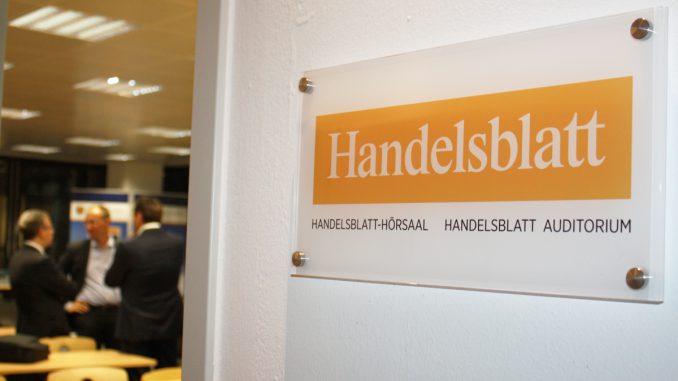 For the first time in its history, Munich Business School has been successful in gaining a business magazine as cooperation partner. Handelsblatt and MBS want to launch a long-term co-operation. In a first step, a lecture hall of the university has been named "Handelsblatt Auditorium".
In the presence of students and staff, Dr. Nadine Westphal, chancellor of Munich Business School, together with Kevin O'Brien, chief editor of Handelsblatt Global Edition and Frank Neubauer, head of B2B distribution at  Handelsblatt, solemnly opened the new Handelsblatt Auditorium. Following this, Kevin O'Brien presented the Handelsblatt Global Edition. He offered deep insights into the history and the business model of the digital and fully English edition of the Handelsblatt. After his presentation, Kevin O'Brien comprehensively answered all questions around the new product and the distribution channels behind it.
"As one of Germany's leading private Business Universities we found an exciting co-operation partner with Handelsblatt. Our students come from over 60 nations and spend their semester abroad at renowned universities all over the world. This international approach perfectly suits the launch of Handelsblatt Global Edition. We are looking forward to a successful co-operation and more interesting projects in the next year", explains Dr. Nadine Westphal after Kevin O'Brien's presentation.
In a subsequent get-together, students had the opportunity to exchange ideas with representatives of Handelsblatt and the university board, and personally discuss and go further into specific issues.