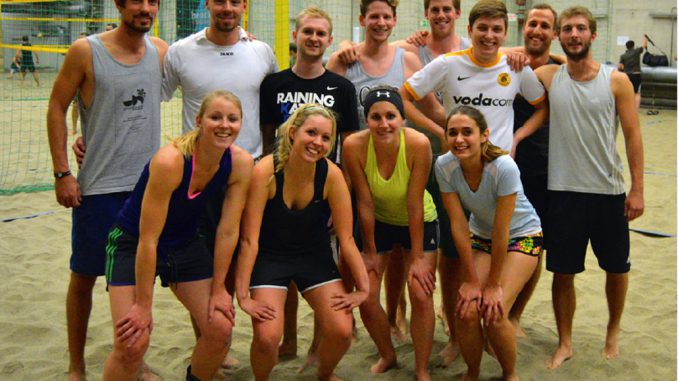 The legendary MBS Beach Masters volleyball tournament entered another round on October 28, 2014, this time themed "Summersplash". At the "Beach 38" location, 20 mixed teams consisting of students of various nations, of employees as well as of alumni of MBS were fighting for the highly coveted trophy "Golden Giovanni". This trophy has been called into life as a tribute to the popular kiosk owner who this year once again provided the prices for the top three and moreover did not miss the opportunity to personally cheer the teams.
After a joint warm-up with Klaus Reithmeier, owner of the Munich-based Lederhosentraining, the sporty events started in a summerly atmosphere. Although the emphasis was put on fun, thrilling matches with the Alumni team. "Hier ich" as the winner of the finals developed. Fortunately, numerous visitors found their way to the indoor beach volleyball event and concluded the evening on a nice note together with the athletes at the after-sports party. A professional DJ as well as the newly formed MBS Band provided the musical background.
Furthermore, the numerous donations in kind of the sponsors enabled a charity tombola. A donation amounting to EUR 200 was generated for the benefit of the Philipp Lahm Foundation.
The first semester of the Master Sports Business and Communication who organized the tournament single-handedly, would like to express their thanks to all participants, spectators and sponsors who made this wonderful evening possible.