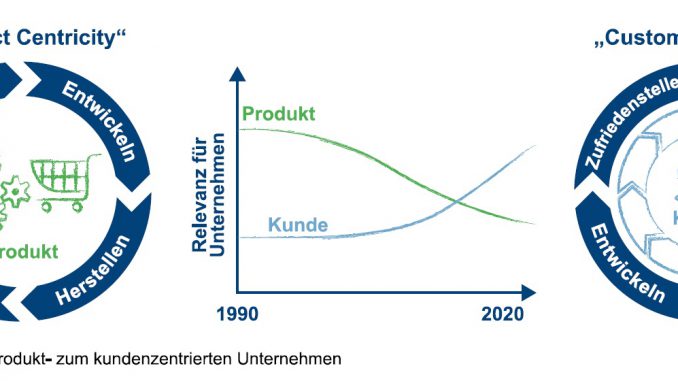 In our times of digitalization, progressing economic liberalization and growing competition, the proverbial customer as a king is gaining increasing importance. And ever more frequently, the relationships of companies with their clients go beyond the purchase of the actual product – with the help of services. It is becoming essential for companies to look at and, if required, optimize its own organization and its products by taking the customer's point of view. Innovative services centered on the needs and demands of the customers are today's key to success. This development where organizations pursue a customer-oriented approach is called customer centricity.
Win-win for both sides
Companies that do manage to align their services directly to their customers' needs and requirements and to generate a genuine differentiation on the market profit from an increased willingness to pay, higher demand and greater customer loyalty. This, in turn, enhances added value. In 2013 for example, 69 percent of the overall economic added value in Germany was generated on the service sector. If a company offers customer-centered services in addition to its established products, then it not only generates new sales potential, but also creates many customer contacts in addition to its product sales.

Where the customer relationship formerly ended with the purchase of a product in the shop, it has become an established fact today that positive differentiation and growth can only be reached by customer-centered services. To offer them effectively, the companies need to know the needs and requirements that their customers are realizing with the relevant products and how they evaluate these experiences. In the end, the winner will be the organization that achieves long-term customer relationships, because these relationships are decisive for a company's market success and image. All of this can be done without even selling a product, as the example of mobility shows (e.g. DriveNow, Car2Go, Flinkster).
Filtering the customers' needs
Ideally, companies develop intelligent service bundles that address the customers in a holistic manner and – so to speak – support them in fulfilling their tasks and needs and meeting their challenges. For the companies themselves, these strategic service bundles imply an improved process and cost transparency and a better competitive differentiation, simultaneously increasing customer satisfaction and loyalty. But what exactly are the optimal services for my company? The best source to find out is an analysis of routine customer behavior. A first step should identify the relevant customer needs – and in particular those of the premium customers. The analysis should relate customer behavior to the various core activities, including specific motivation. Gaining insight into the customers' motivation allows conclusions regarding customer satisfaction. Ultimately, success lies with those service innovations that either support the customers in fulfilling their tasks or meeting their challenges or altogether liberate them from having to deal with them.
Changing company culture
One basic requirement for setting up a successful service business is a change in company culture, because ultimately, an organization's employees must have understood and live out the changed service culture to offer optimum services to the customer. If product-enhancing customer services are developed within the frame of customer centricity initiatives, it is only a logical consequence to enforce service orientation within the company as well. This includes, for example, the integration of services into the portfolio – in addition to the classical products – and also the flexible in and outsourcing of closed value added chains. In view of the more complex requirements to company culture and the employees' competence profiles, entrepreneurial thinking must be anchored throughout the entire company to guarantee success in the service business.
A Master thesis has now examined how aptly the mobility service providers meet the needs of their customers and where fields of potential are. The next posts have more.